Here we are. Right now, here are our feet. All that matters is right now. The future is too far away to be a thought. And the past's impact has led to this group of Shai Gilgeous-Alexander, Lu Dort, Chet Holmgren, Josh Giddey and Jalen Williams sitting right next to each other. Through expert scouting and drafting, and one clairvoyant trade, the sound of thunder is getting louder and louder. 
So, right now, here we are. 
We're in an empty room in the bowels of the Paycom Center in downtown Oklahoma City. Good energy is flowing freely. These five players are in sync with each other. There's a lot of laughter, a lot of jokes, a lot of compliments and some healthy trash talk (Shai swears that none of them have ever beaten him in King of the Court). 
As the core of this squad, these five players have somehow quickly learned invaluable lessons in chemistry. They're very much linked. They pass one ball back and forth to each other throughout our interview. Even though Holmgren missed all of last season with a right foot injury, he was still with the squad and he easily breaks down why the Thunder click so well. 
"This is my first NBA team," Holmgren says, "but I'd say what separates this team from most NBA teams is most NBA teams got a bunch of 30-year-olds and then you'll have some new dudes come in every couple years and, like, cycle through that. There's no real connection because you got the OGs and then you got the lil' bros and it's like, the lil' bros gotta carry the bags, you know what I mean? It's, like, a hierarchy. But here, we're damn near all still kids. So we all cool." 
SLAM 247 featuring one of the coolest teams in the League is out now.
Yes, this group is young. Gilgeous-Alexander is the oldest at 25, followed by the 24-year-old Dort, the 22-year-old Williams, and Giddey and Holmgren, the pair of 21-year-olds. But last season proved how well they play high IQ basketball together, minus Holmgren. Their defense was in the top half of the League, an impressive accomplishment for a group without years of experience. Their offense is an ever-evolving organism of dynamic movement, only possible through selfless harmony.
Mark Daigneault has crafted a system that emphasizes this togetherness. Beyond the highlights of Gilgeous-Alexander's scoring outbursts, Williams' dunks, Giddey's passes, Dort's steals and Holmgren's blocks, a true foundation has been built. It stands on unity and commitment. They've pledged themselves to crisp ball and player movement and highly timed switchability. It's easy to miss. All five of these guys, and many other players on the Thunder, are cold as ice. They play in rare sneakers, rock clothing that displays their distinct auras and move with a general ease. But this is a real basketball team. They can hoop.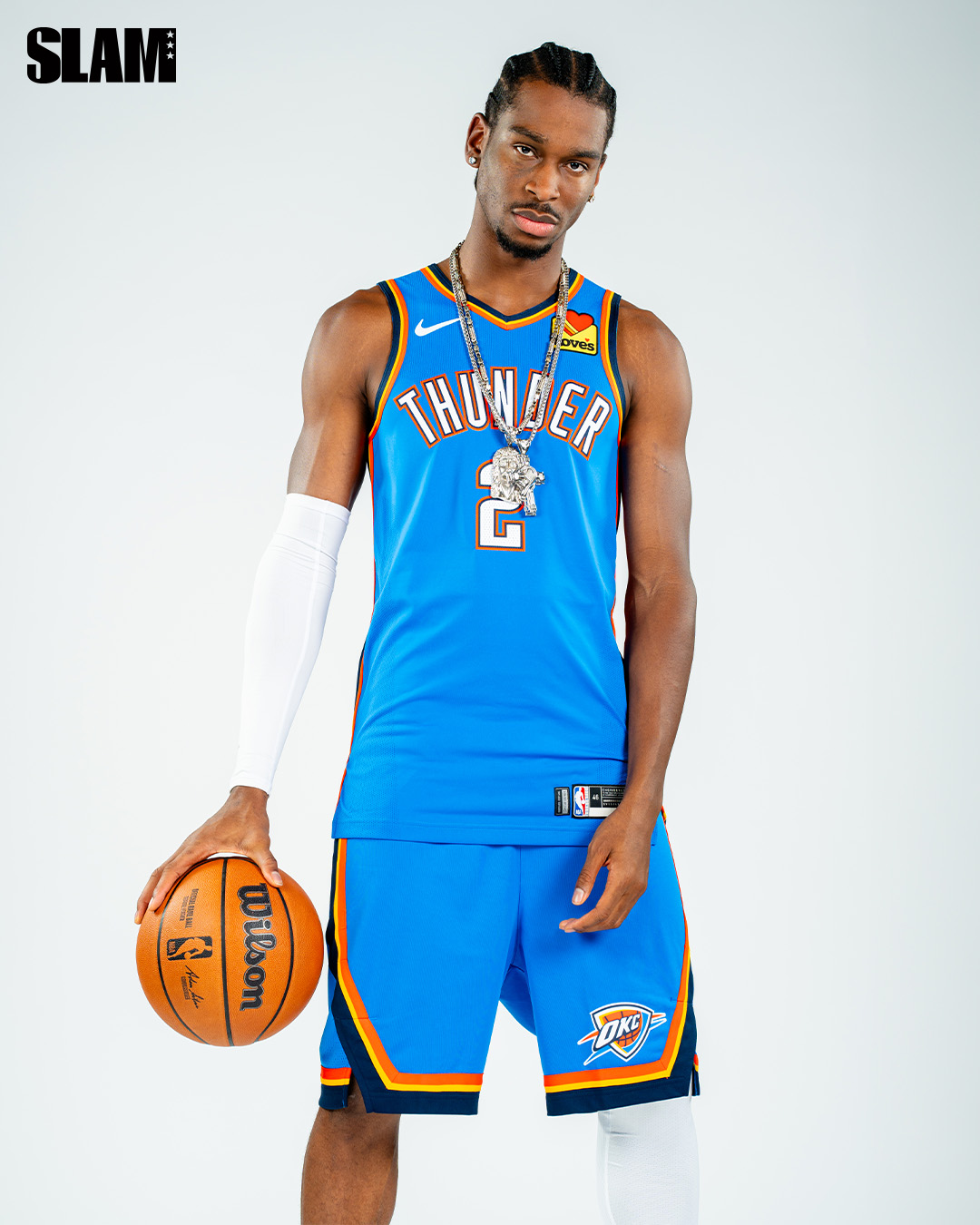 "I'd say what separates this team from most NBA teams is most NBA teams got a bunch of 30-year-olds…But here, we're damn near all still kids. So we all cool." 

– Chet Holmgren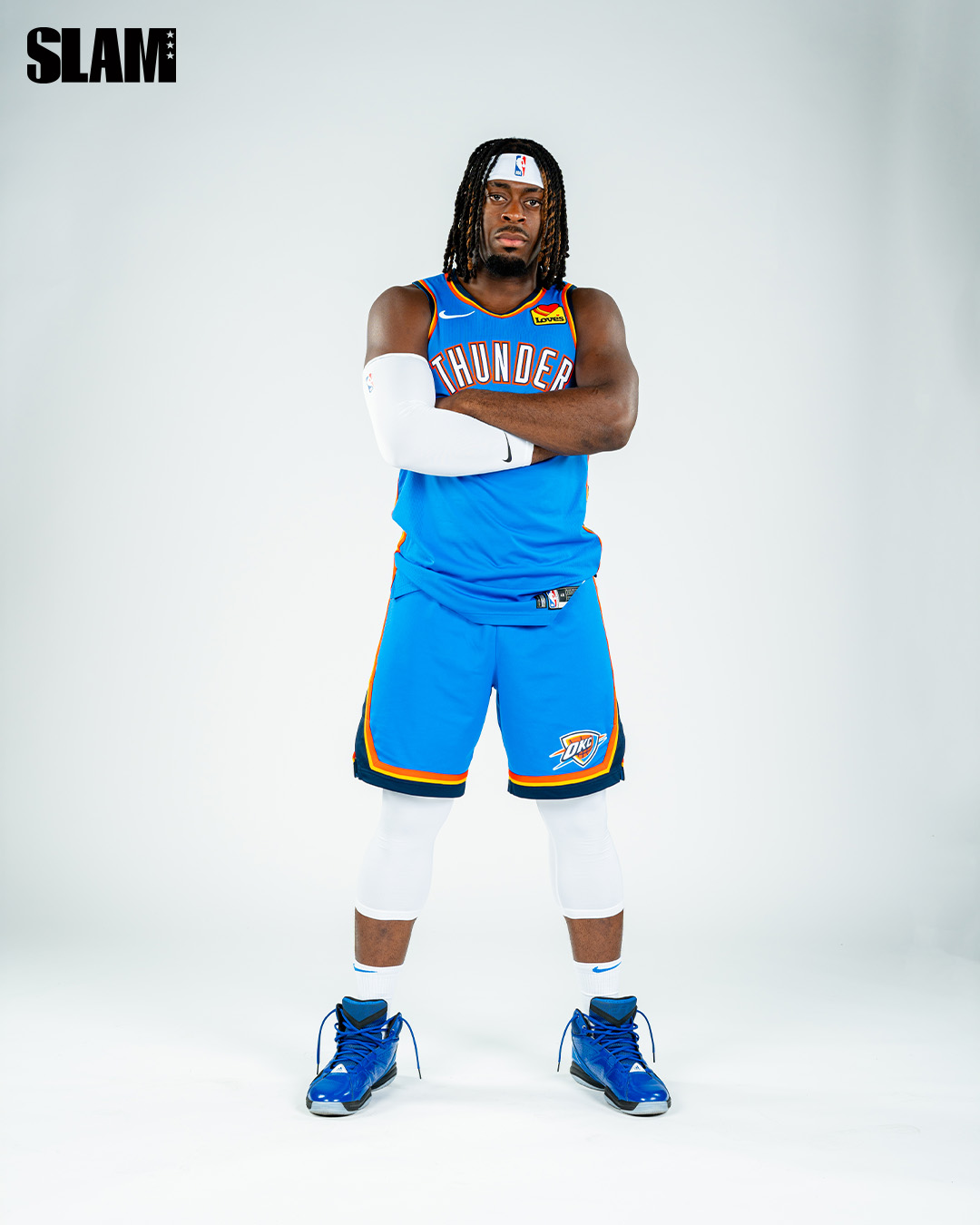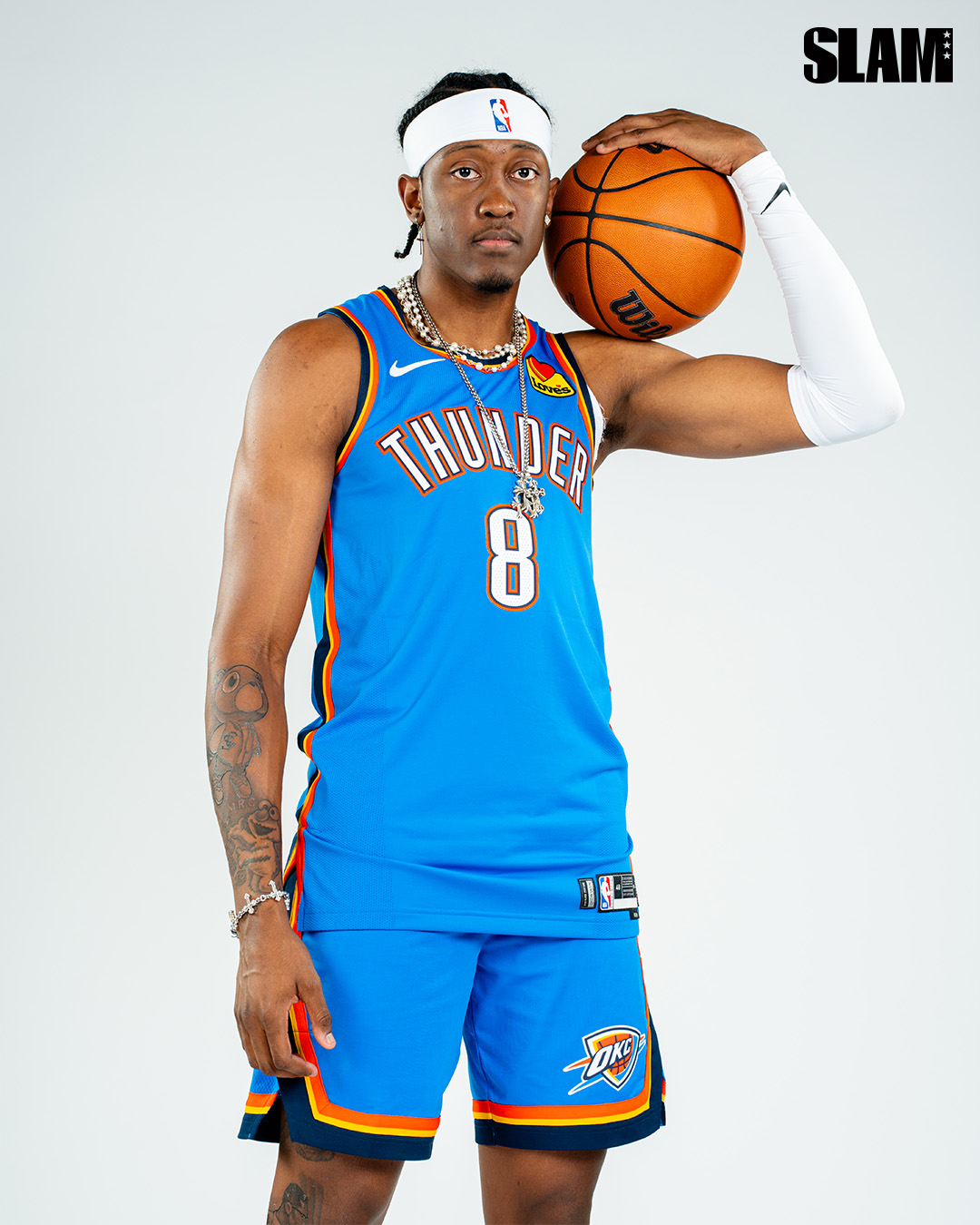 Nothing better illustrates how equally smart and well prepared they are than their strong side cuts. It jumps out immediately when watching Giddey's individual highlights and Williams' individual highlights. The same plays pop up in both film studies. The rhythm to their offense starts to emerge when Giddey drives to the right side of the floor. Williams regularly hits the same cut from the right wing whenever Giddey approaches his defender. Time it out next time the Thunder play. Usually two or three dribbles from the Melbourne native, JDub finds his angle and then…BOOM. A big dunk. JDub already has a few serious body bags. 
"We practice it every day," Giddey says about the strong-side cuts to the rim. 
Hold up, though. Record scratch. We can't know that. Nobody's supposed to know that. 
"Cut that out, bro," Gilgeous-Alexander jumps in after a seemingly nervous laugh from JDub. "We don't wanna give away the sauce." Sitting on the far right, Gilgeous-Alexander looks over to his teammates and says it again with a sly smile. "We don't practice that, bro. We don't practice that. It just happens. They just figure it out," he says with another smile.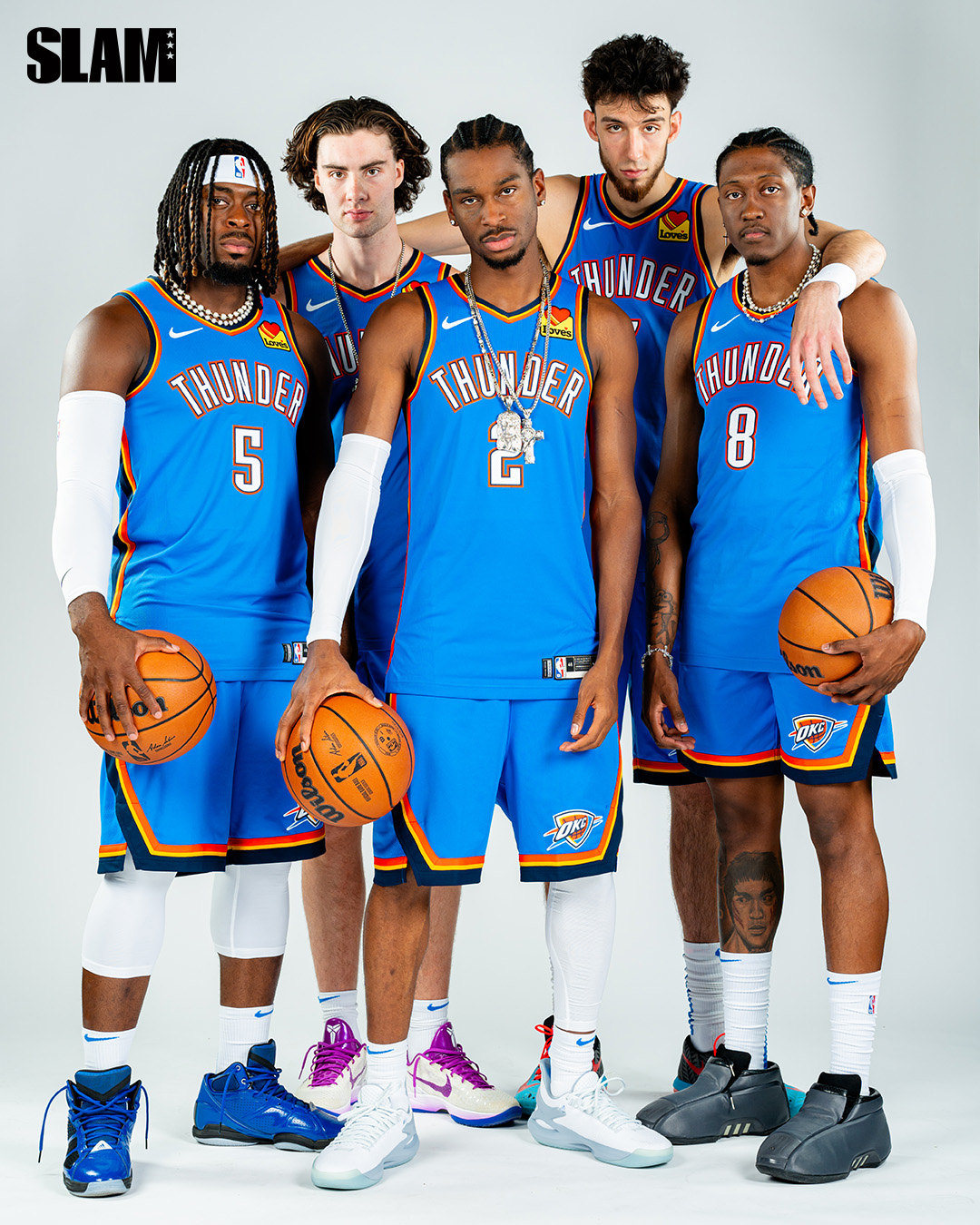 Alright, so Gilgeous-Alexander just happened to average 31 points a night. And Dort just happened to figure out how to increase his total points scored in every season of his career. And Giddey just stumbled upon pulling down 8 rebounds and dishing out 6.2 assists each game. And JDub somehow walked into playing 30 minutes per game as a rook. And Holmgren was the No. 2 overall pick by happenstance. Alright, alright, alright. 
There's no reason for any of it. It all just…happened?
Maybe. But probably not. Because we're here right now in the present, with the past's impact being fully felt and the future too far away to be a thought, we can look at each of these players truthfully. 
There's the dynamic scorer, the young big whose potential might be limitless, the trusted playmaker, the lockdown perimeter defender and the versatile do-everything-forward. To varying degrees, each of them can dribble, pass and find their own looks. To varying degrees, each of them can sink an open shot. To varying degrees, each of them can make game-defining plays. To the same degree, each of them have bought into Daigneault's vision. That vision started with patience. They've been biding their time. For now…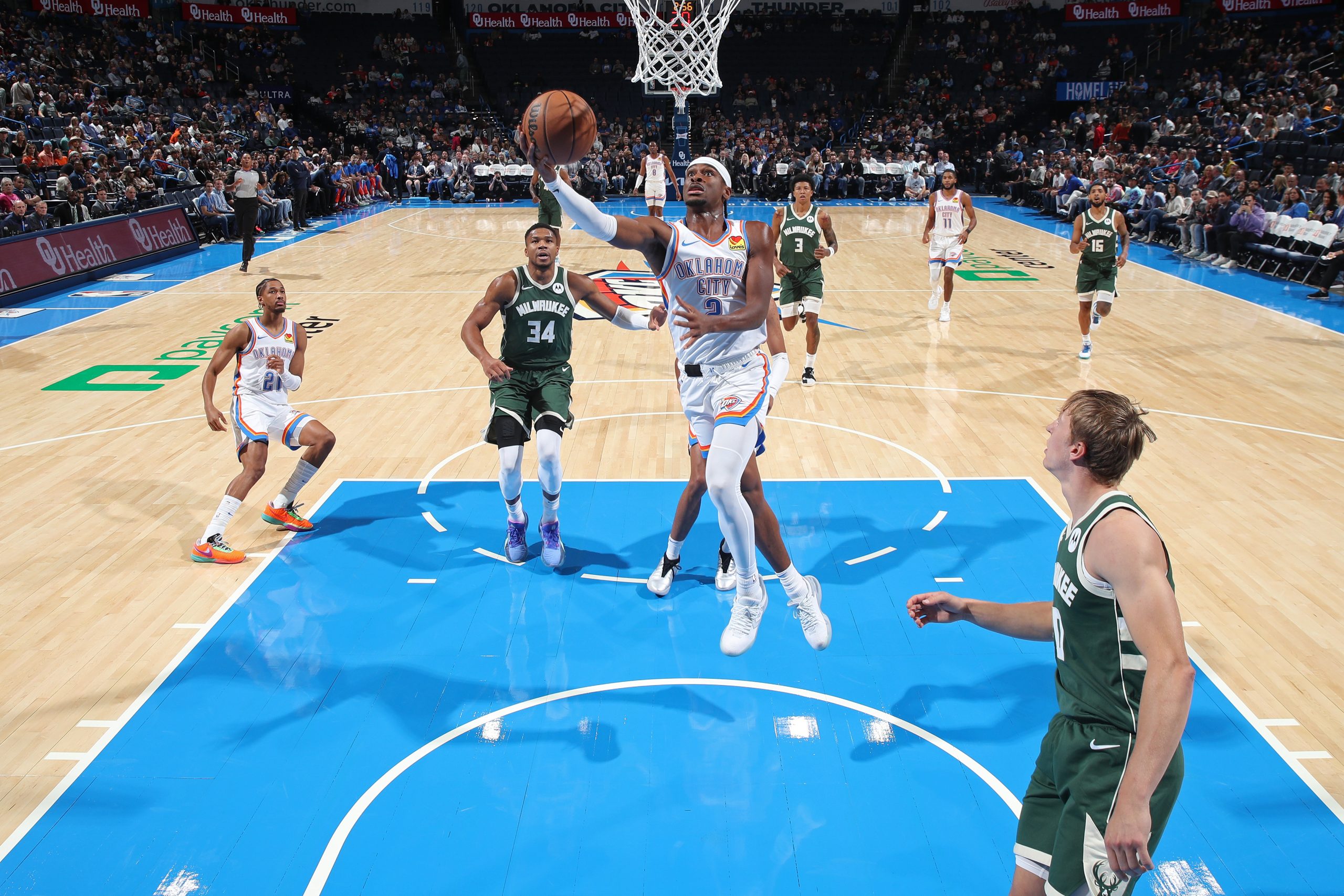 Gilgeous-Alexander's rise in the NBA dates back to his rookie year. He started for a surprising Clippers squad that caught everyone off guard by taking the dominant Warriors to six games in the 2019 playoffs. He was just 20 years old gifting the defending champs with 25 points in a playoff game. There was substance to his game that a lot of people didn't realize. They saw him, and they saw a young kid. He made them see him as an expanding problem. The Thunder saw him as a certified solution. They brought him to Oklahoma City in July of 2019 (the same trade gave OKC the pick that JDub was eventually selected with in 2022). Gilgeous-Alexander's iso game continued to grow. He's become nearly unguardable. Most know him as crafty. Very few know him as a reader. But he's not reading books. He's reading defenses like they're children's books. He gets to his spots and cashes out. A lot of his damage comes from the…duh-duh-duh…dreaded midrange area.
"If you look at it, the most prolific scorers in the NBA and over the years have shot midranges," Gilgeous-Alexander says. "Kevin Durant, T-Mac, Kobe, Devin Booker right now, Bradley Beal, Jimmy Butler. At the end of the day, you just make shots. Where it comes from is your choice, but as long as you make them, you'll be alright."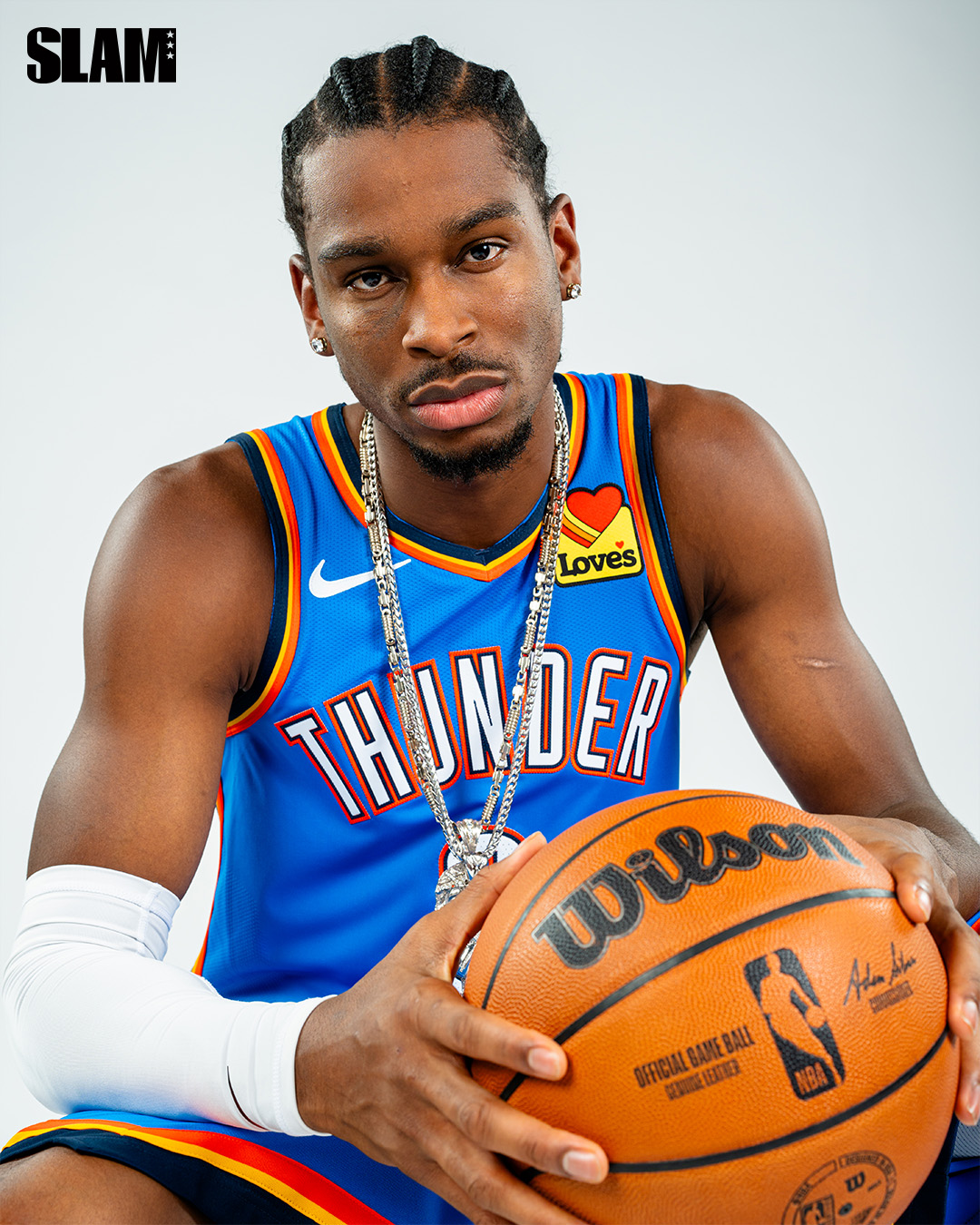 Gilgeous-Alexander plays at his own pace. He's methodical with the ball in his hand. The Thunder, as a squad, play fast, thanks in part to Giddey. He's a pure point guard who stands 6-8, blessed with sightlines high above defenses. Gilgeous-Alexander and Williams sing his praises right after we're sworn to secrecy about those strong side cuts that definitely don't get practiced every day. 
"I'm gonna give you the answer right now—it's Josh Giddey," Gilgeous-Alexander says. "When you have a passer like that, it's inevitable."
"It makes you move," Williams joins in. 
"You have to cut, you have to move," Gilgeous-Alexander continues. "And he'll find you."
"There's only one team in the world with a Josh Giddey," Holmgren adds. 
"I'm being dead serious," Gilgeous-Alexander emphasizes. "A lot of it is Josh. He'll find you if you're open. So get open."
"Vanilla Magic," Holmgren says. 
Giddey silently sits in between his teammates. He's not boisterous. He's just effective. Very effective. 
"It feels good to make other [teammates] feel good," he says.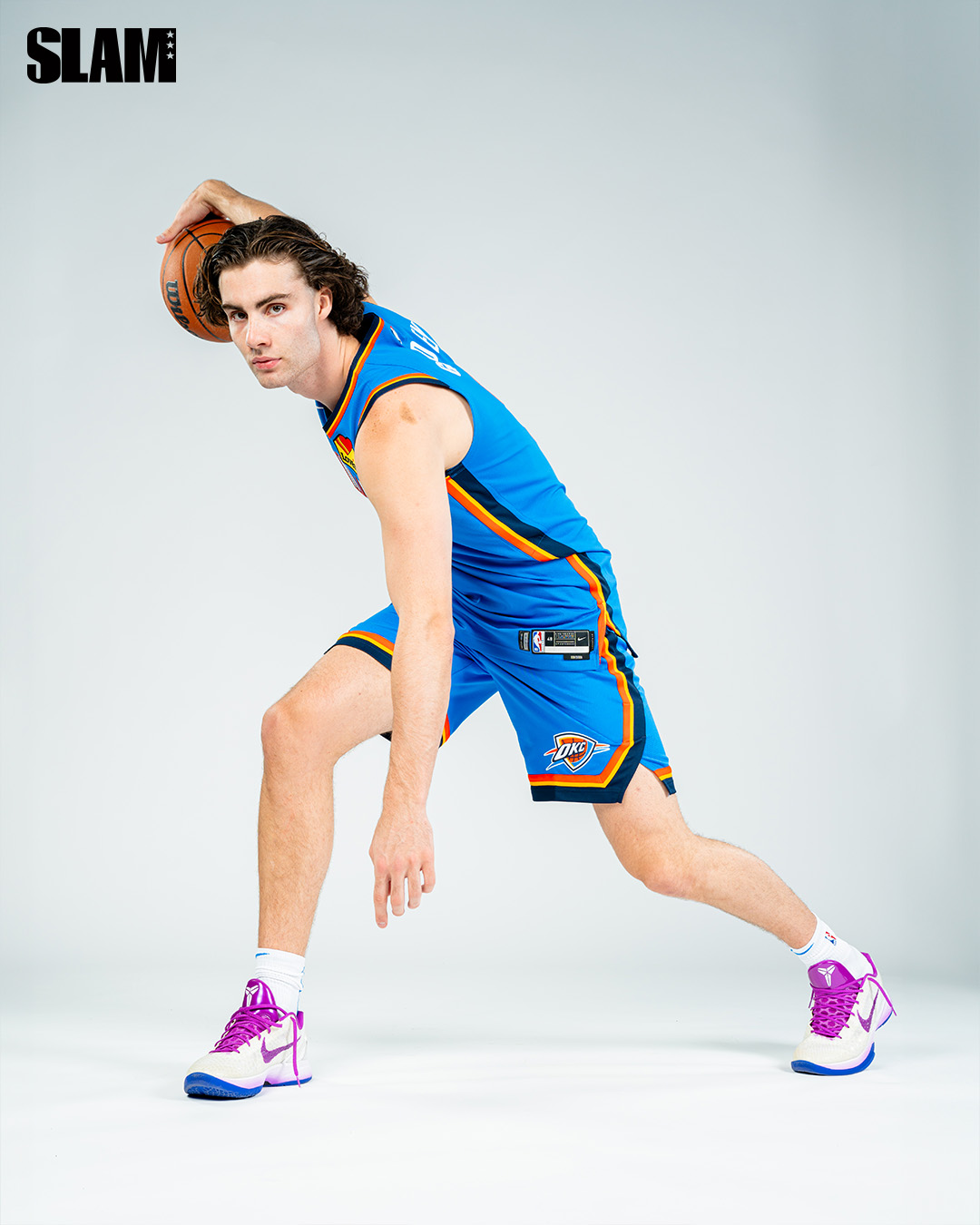 One of the teammates that is consistently on the other end of Giddey's dimes is Williams. They were undeniably aligned with each other. Giddey loves to initiate the offense from below the three-point line. He finds JDub because JDub never stops moving. It seems like JDub has echolocation on for gaps in the defense. But the rook also demonstrated advanced ability with the rock in his hand. He's already efficient in the pick-and-roll, which he credits to spending three years in college at Santa Clara. Whether he's got the ball or is setting the screen and diving to the rim, he knows how to do it far better than most players his age. He played almost every position and role at Santa Clara. His time at school served as a first class education in hoops. Like Gilgeous-Alexander, JDub reads the defense and takes what he's being given. 
"Especially since I got into the NBA, a lot of it has been tailored toward playing off of who's on the court," Williams says. "If I'm out there with them, a lot of it is reading stuff," he says about his high-profile teammates. "Where am I going to cut from or where I'm going to get open shots from? Other than that, it's just kind of, like, going downhill."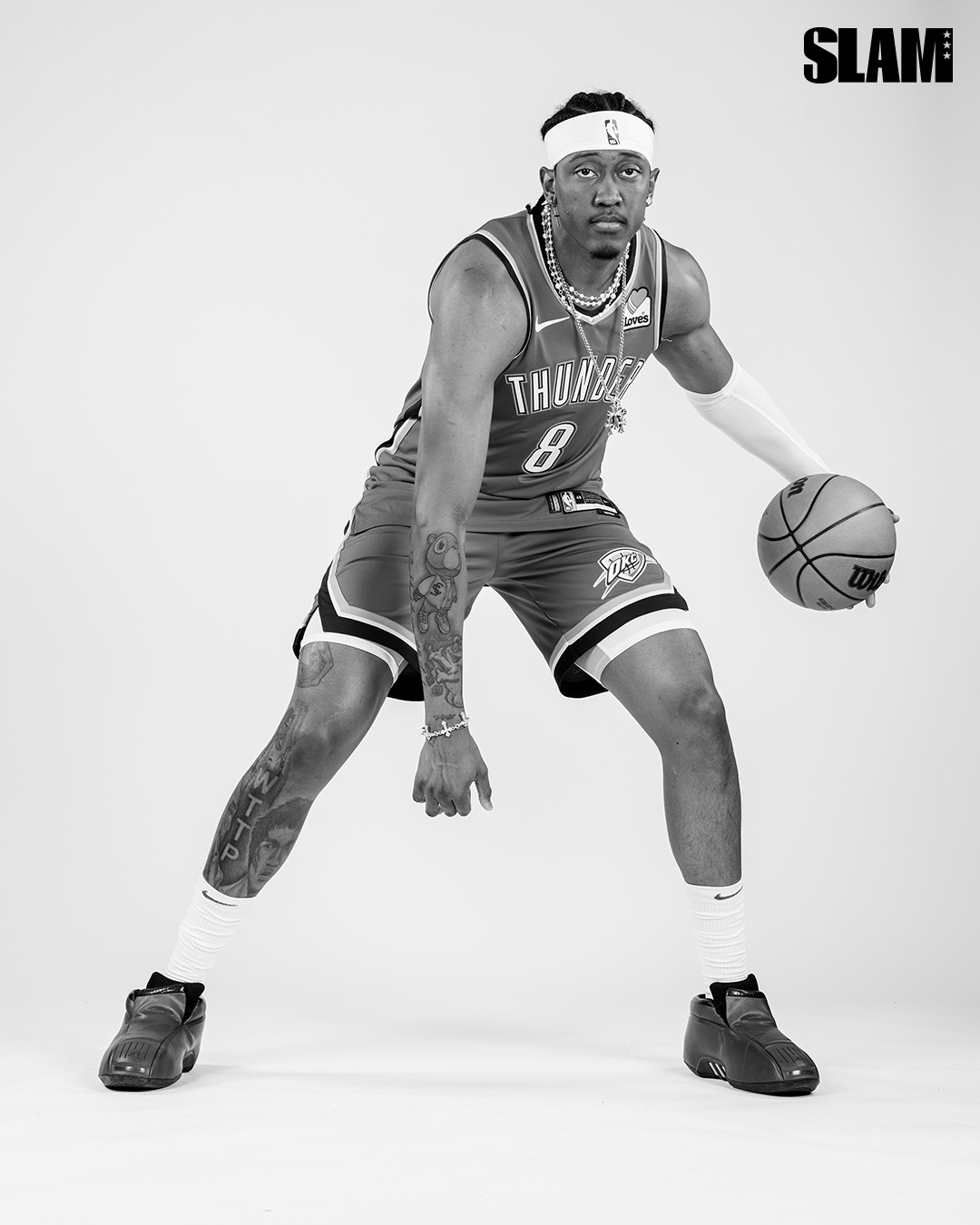 The Thunder do indeed play fast and they drive to the tin a lot. A lot. There are already a handful of names in Dub's graveyard. Those questions about his lack of athleticism going into the draft have been disproven over and over. Not only do those downhill attacks produce Jalen Williams dunks—they also produce Lu Dort threes. Dort has worked extremely hard on his jumper since coming into the League back in 2019. His reputation as a defensive stopper is of course very true. Dort's footwork while evading on-ball picks should be taught to every kid in the nation.
Dort's revamped jumper hides a unique and often overlooked detail. Shooters are taught to extend and hold their follow-throughs. It really does aid in the shot's probability of dropping, especially when shooting from over 24 feet away. Dort, however, rarely holds his follow-through. Most of the time, his right hand retreats. He doesn't hold it up. 
Taken by surprise when it's pointed out, Dort shows how his right wrist has a hitch in it.
"My wrist is messed up, you know what I mean? So when I do it, I'm not doing it on purpose," he says.
The reveal makes Gilgeous-Alexander gasp. It makes Giddey grin. It makes Holmgren stare. 
"Oh my God, I'm learning so much," JDub says. "Wow, I did not know that."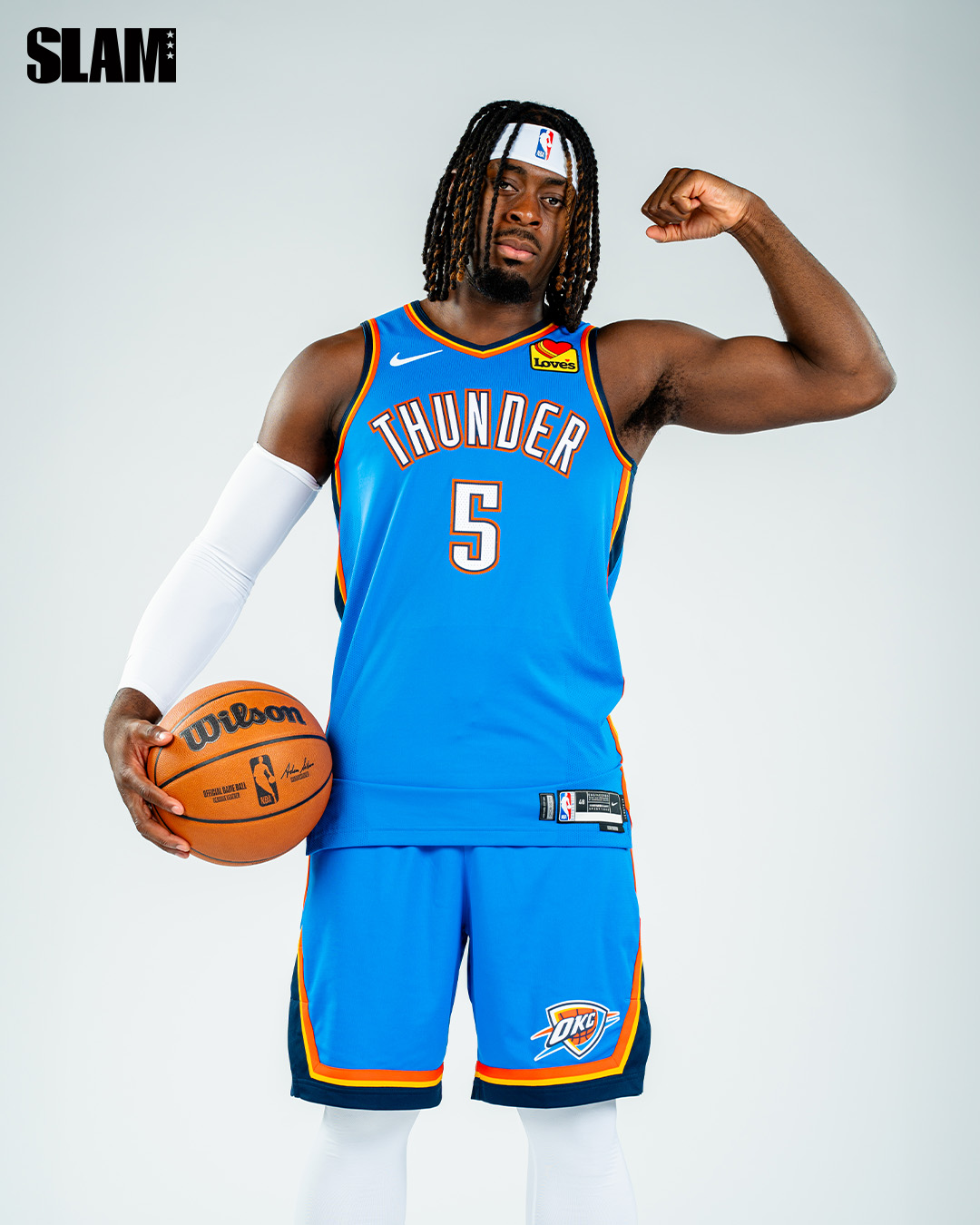 It's a comfortable and natural reaction for him. And it's worked. His shot has consistently gotten better throughout his career, while his defensive prowess has grown, too. He has tons of lockdown knowledge to share with Holmgren. Last season, the Thunder's defensive principles were specifically designed to mitigate their lack of size on the interior. That all changes with the return of the 7-1 rookie. Holmgren is gonna score. OKC's offense will get him open looks. But he's gonna make his name on the other side of the ball. He has switchability in the pick-and-roll, so he'll be tasked with guarding smalls in space. He has weak side swats on lock thanks to his 7-6 wingspan. Plus, he's much more competitive than he looks. People have been trying him for years now. He always responds.
"I really just learned how good the talent level is in the NBA," Holmgren says about his one year away from the court. "You could play great defense and literally not make a mistake and still give up three points. There's great players in this League and great players make plays. Sometimes it's just good defense, better offense."
He's ready for the challenge. 
But that's looking just ahead to the future. It's still a little far away. 
Right now, these five guys got a few more things to do. They gotta throw on some jewelry. They gotta take some photos. They gotta laugh some more. And they gotta fully be where their feet are, down here in the basement of the Paycom Center, all eyes on the coming season.
---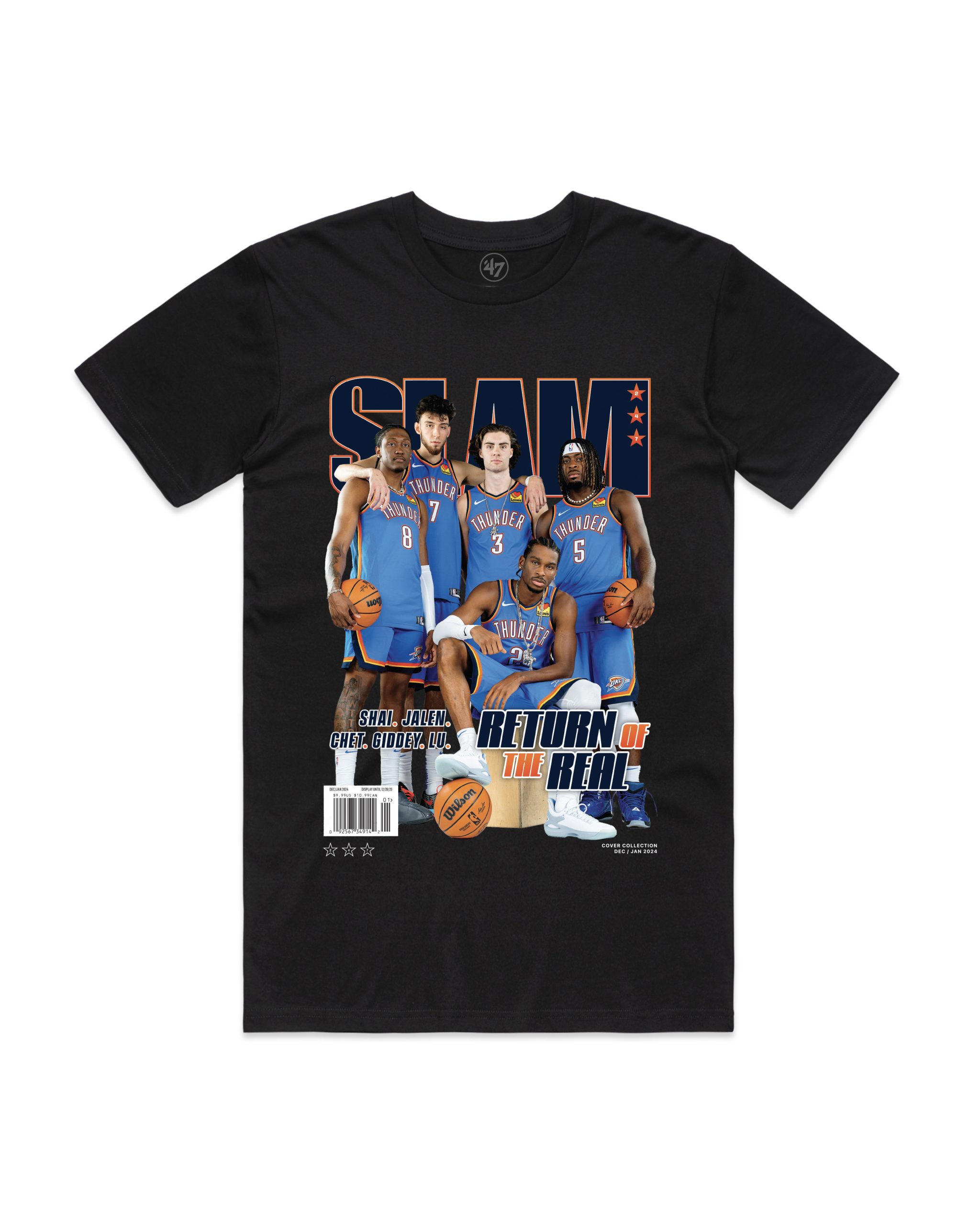 GET YOUR COPY OF SLAM 247 + COVER TEES
Portraits by Marcus Stevens.