How much do you know about Paul George? Like, really know?
The question is a rhetorical one. Many people—the media, casual basketball fans, diehard Pacers/Thunder/Clippers fans—know of him as just an NBA superstar.
He's an eight-time All-Star, won Most Improved in 2013 and has made All-NBA, All-Defensive and All-Rookie Teams throughout his 13 years in the League so far. Long before that, he was known for being the highest draft pick in Fresno State history when he was selected in the first round back in 2010. Then, in 2014, he decided to switch things up by changing his jersey number from No. 24 to No. 13, which also inspired a new nickname: PG-13. He bought all his old jerseys and donated them to his high school. 
"The whole thing behind PG-13 is just coming into my own," he told Vigilant Sports back then. "I feel like I'm at that stage where I'm ready to embrace everything that comes with being one of the young stars in this League. Everyone knows PG-13 is related to television, so the whole thing is being able to enjoy the show and being fun to watch."
In Indiana, PG turned heads. By his third season, he'd emerged as the Pacers' go-to option, and helped lead them to the Eastern Conference Finals in back-to-back seasons from 2012-14. After seven years in Indy and multiple occasions where he battled through injury—including a compound fracture in his leg, which he suffered during the offseason in 2014 that caused him to miss a majority of the upcoming regular season—he was traded to the OKC Thunder in 2017. He tried to redefine himself again, this time as "Playoff P," a nickname which he gave himself that season, right before the Thunder played the Jazz in the first round. When asked about guarding then-rookie Donovan Mitchell, he clarified to ESPN that "Playoff P" is "a fun guy to watch. It's an out-of-body person where I just lock in and put myself in a different zone." 
Then, in 2020, Game 7 against the Nuggets happened. Playoff P only scored 10 points on 25 percent shooting and went scoreless in the fourth. The internet ruthlessly decided "Pandemic P" was a more fitting title for the star's performance at the time. Since then, George has missed extensive time due to injury, including the end of the 2022-23 regular season because of a knee injury.
But that was then, and this is now. At 33 years old, George has seen the highs and the lows of being a professional athlete—the injuries, the losses and the wins. While the opinions of others can help shift and shape narratives, what matters most is how athletes view themselves. And that's what we went out to California in late-August to find out: Who exactly is Paul George? 
"I think I'm a pretty funny person, but I'm also a very introverted person," George tells us. "I kind of keep to myself and I think that's why people don't, or haven't learned much about me through my time through the NBA. But I'm actually a pretty fun, outgoing person. Love to laugh, love to joke. And, I mean, I'm not sure if that will surprise many people but for the people that don't really know me, it can be surprising. At least that's what it seems when we read comments [saying], He's actually funny. He's actually a good dude. So, I think the more I just show [my] personality and show who I am, [the] more people have just gravitated toward it."
Paul George Covers SLAM 246. Get your copy now.
The man himself is sitting in a well-lit lounge at the Proactive Sports Performance, wearing his L.A. Clippers uniform. He was just training and working out in the weight room moments prior—the lounge that we're in right now is on the second floor and looks out onto the training facility and court. Down below, we've got an entire photo shoot set up, which is where we'll shoot George for his third SLAM cover. 
But first, interview time. Initially, PG's demeanor is more low-key as the cameras start rolling. He's not overly energetic or giving monotone answers, with "honestly" being one of the first words he uses when asked how his summer has been going. It's a good sign that, hopefully, he'll keep it real for the rest of the conversation. After all, he's done countless interviews and magazine covers, including with us, before, and has been asked plenty of questions about his career, getting to that championship-level, playing alongside Kawhi Leonard…
If you listen—really, actually listen—to what he has to say, you'll start to understand that there's a lot more to Paul George. He's introverted, yes, but he has also been discovering another side of himself. He's creative, and pretty introspective and honest: while the next generation of standouts—Brandon Miller, Kiyan Anthony—consider him their GOAT, his own measurement of success comes down to one tangible thing: winning a championship.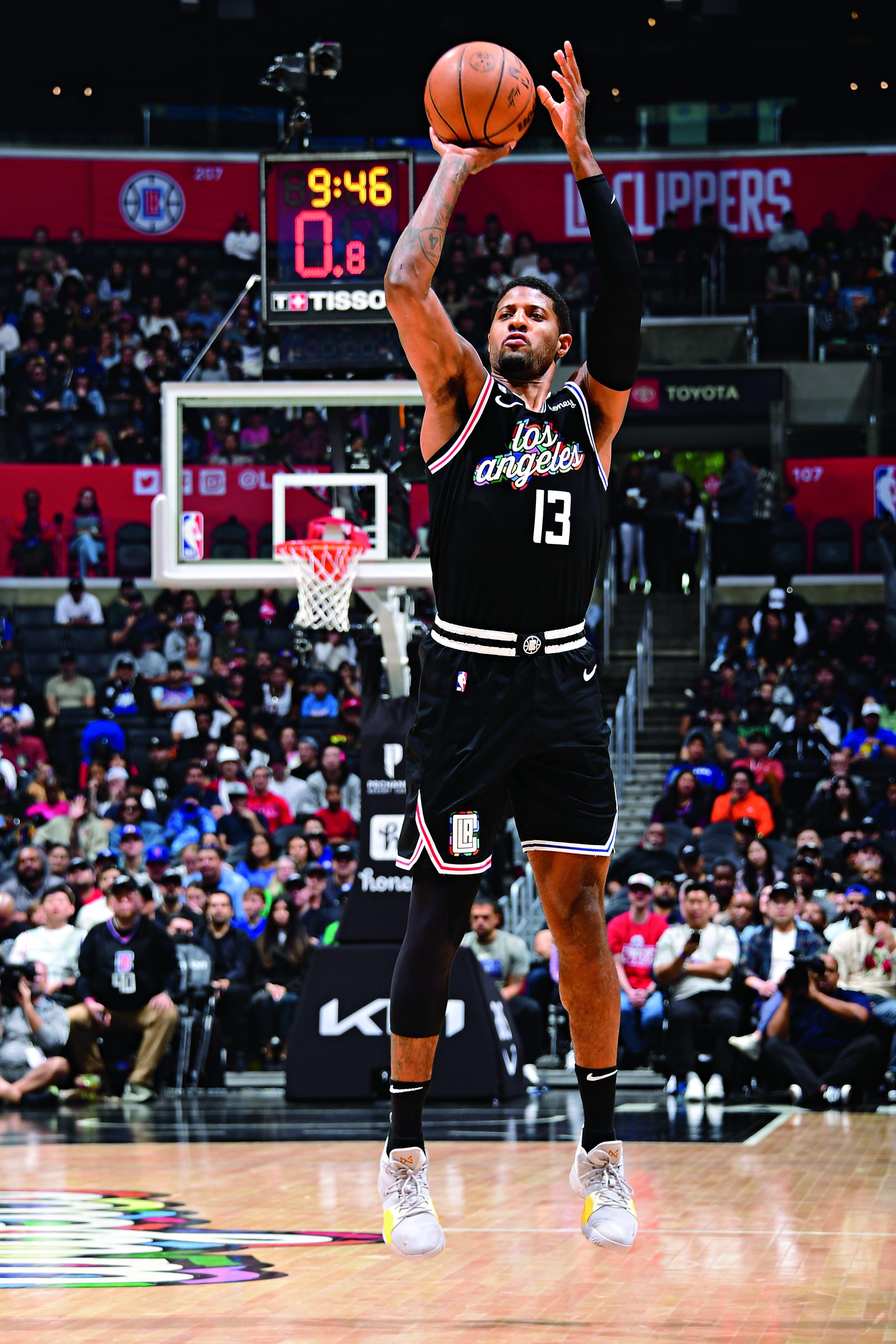 When he mentioned on his Twitch livestream recently that he fully intends to be on his "bully shit" this upcoming season, that wasn't a threat. It was a promise.
Here, Paul George elaborates more on what we can expect from him this season, his approach to his offseason training and how he's discovered his voice—and himself—on the court, in the podcast studio and everywhere in between.
---
SLAM: How are you doing? How has the summer been and what have you been up to aside from training?
PAUL GEORGE: Good. Honestly, [it's] summertime, being a father, it's mostly family time. When the season's done, kids are out of school. [It's a] great opportunity to kind of just be at home with the family, be with my wife, my kids. But that's about it. Apart from that I'm training and, you know, I'm taking my usual summer trips to Europe and vacation. But outside of that, [I'm] putting one foot forward and getting ready for the next season.
SLAM: Where in Europe did you visit?
PG: I was out in Serbia, where my wife is from. I was in Montenegro and Greece.
SLAM: What's it like to be home and able to fully focus on the fam? Can you describe how you go about transitioning from the season into summer?
PG: It's great having the kids home full-time, keeping them active [and] being able to take them to their camps, take them to their practices, their hobbies. It's just great to be a little bit more hands-on and you really find what their interests are once you're with them for longer periods. 
So it's been fun—it's been fun since the season has been done to rekindle that. You get so riled up and caught up with how the season is going that you tend to lose out on stuff, just being on the road and traveling so much. So that's really the great part about having those summers.
SLAM: You've mentioned they're pretty creative—were you the same way as a kid  growing up?
PG: Yeah, I was. I think that's why the bond between my oldest and myself is so strong, because I was the same way. My imagination was very strong. I can draw, create, color—you name it. If I can think of it, I could draw it. So I was pretty good. I wasn't the greatest at drawing, not a portraits person, but I could draw pretty good as a kid. I see a lot of me [in] her.
SLAM: That's fire. In terms of your offseason workouts and training, did you start getting into it immediately after the season ended? 
PG: I took, like, two weeks off just because I was rehabbing. When the season ended, [I had] a nasty leg injury. And when the season was over, there was no point obviously for me to be in the best shape possible. So I took two weeks off to kind of get away from basketball, get away from the facility, get away from training. I thought that just helped me approach when I went back to training a lot better. It helped my mental, it helped my focus and that's about the norm for me at this point in my career—take about two weeks away, go travel, just get out, get away and then I'll come back and go hit it hard again.
SLAM: Has that been your approach in the past? To take time away? 
PG: Yeah, I would say probably the last couple years. Before then I used to, when the season was done, I [would] be right back in the gym the next day. But now as I've gotten older, I kind of enjoy splitting the two—being in season-mode and then being in offseason-mode. The younger me didn't have a family or kids, so the older me kind of knows to separate that, enjoy family time and get after it when I'm ready.
SLAM: Looking back, how would you describe your younger self, especially when you first came into the League.
PG: My younger self was just hungry. He was passionate, he had just the warrior mentality. And fearless. I still have some of those qualities, but it's definitely stronger as a youngin' coming into the League. Now I would say my older self is a little bit more focused, knowing what I want and how to approach it, how to get there. Now it's just [about] trying to stay healthy. That's the biggest key. 
But yeah, that's the separation between myself—where I'm at now and the younger me. I just had that passion to want to be the best and destroy any and everything in front of me.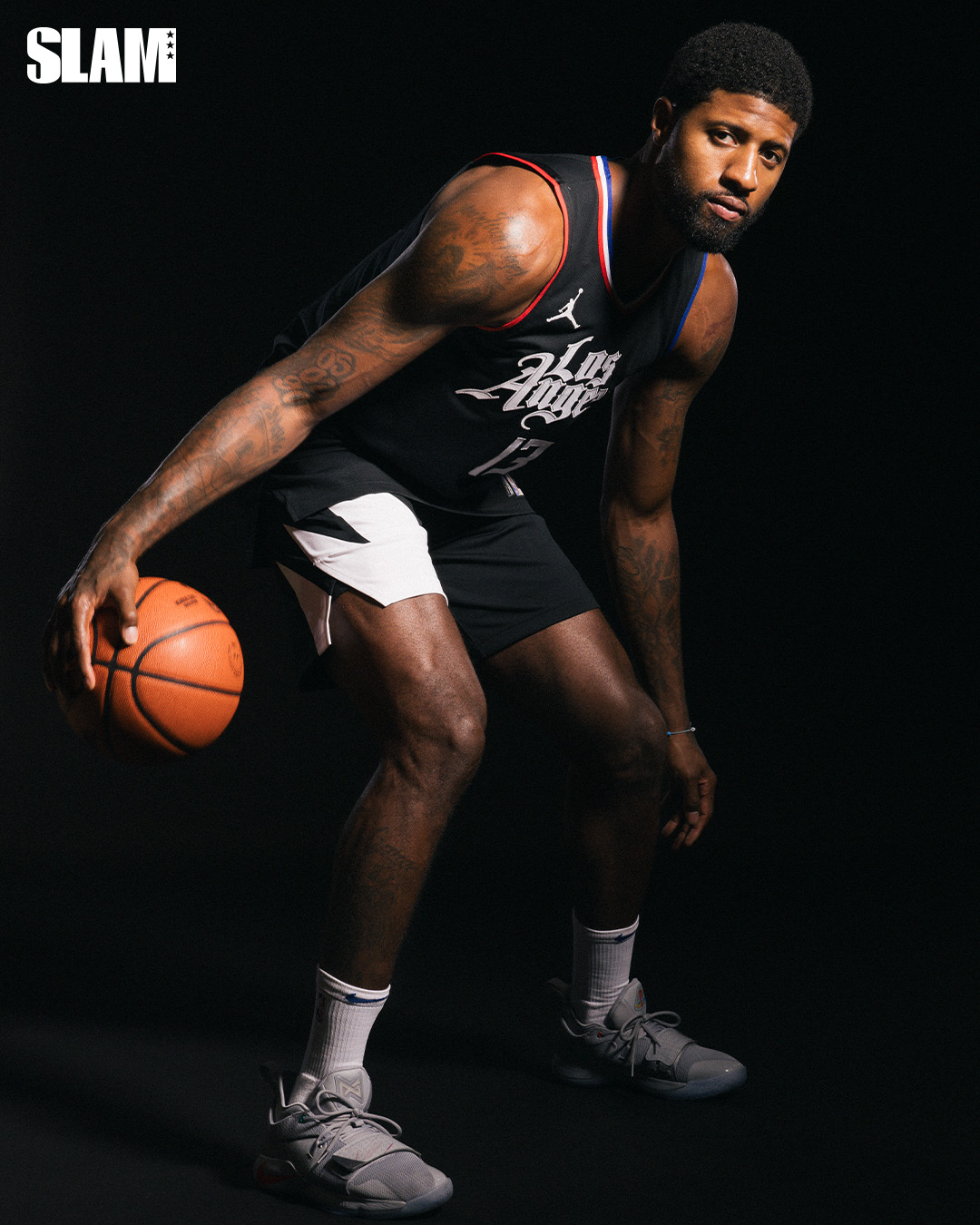 SLAM: What have you been focusing on specifically this offseason in your training? What are your goals going into next season?
PG: Just focusing on the mentality. For me, it's just the mentality. I work extremely hard on improving and getting better, but for me, it's just the mentality—going back to having that 22, 23-year-old mentality at 33 of, every time I'm on the floor, I'm there to dominate and just be the best player on the floor at all times. So that's the mentality I'm going into it [with]. That's how I'm approaching this summer. At the end of the day, I love where I'll finish because if I have that mentality, I know I'm giving it everything I have, and I can live with those results.
SLAM: Is that what you meant when you said on that Twitch livestream that you're going to be on your "bully shit" this season?
PG: One hundred percent. One hundred percent. That's exactly what I meant. I gotta hold myself accountable to that… Every night I'm on the floor, I'm there to dominate. Whether it's [being] more physical, or going right at whoever I gotta go at, you're gonna feel me. I'm having that approach of every time I'm on the floor, I'm there to dominate and destroy you.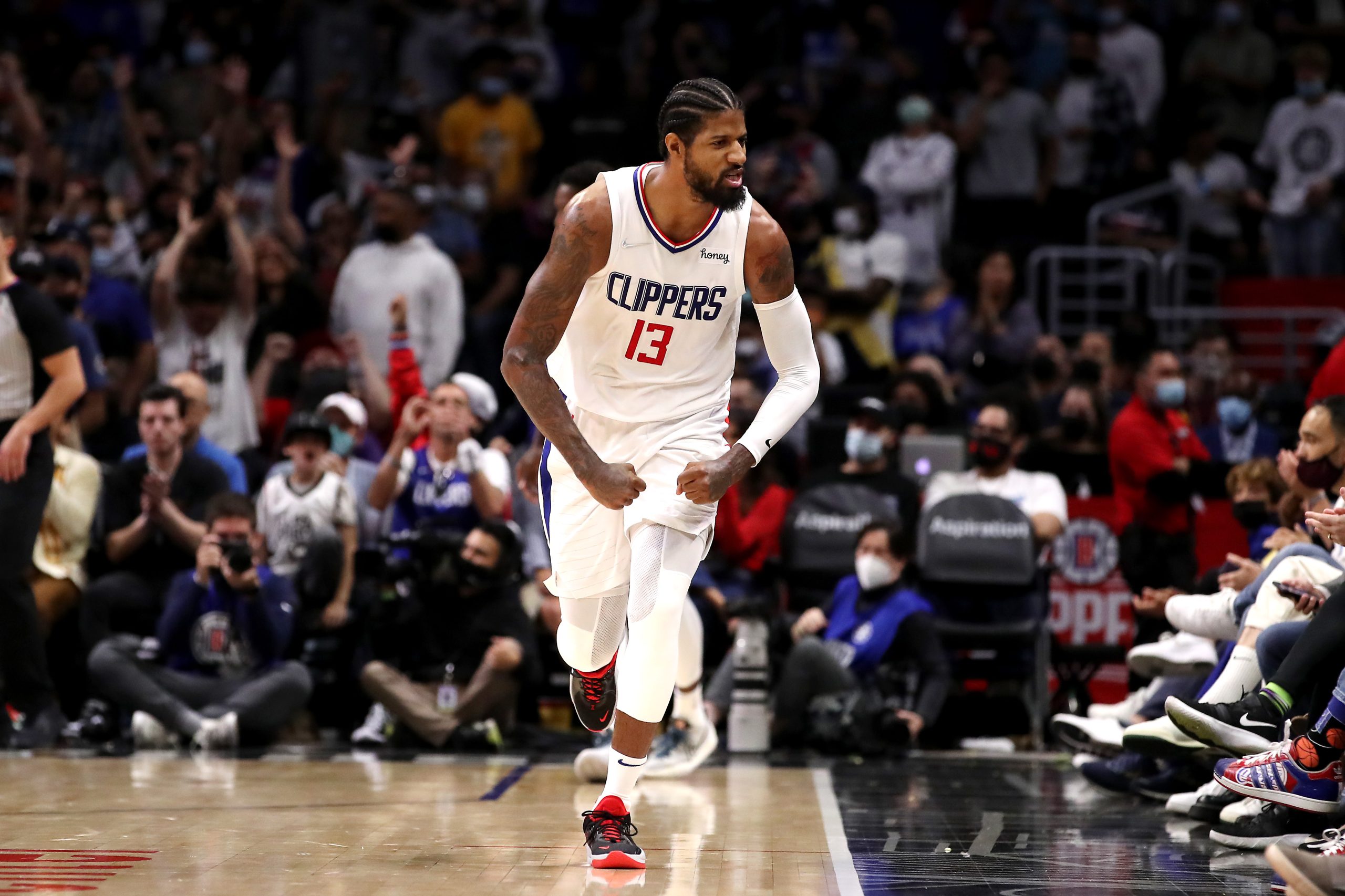 SLAM: When you said that on your livestream, what pushed you to that point? Did you feel like it was something that needed to be said? Was that something that was going through your head already?
PG: Yeah, I mean, it was just a lot of unnecessary talk going around the League of, you know, guys feeling themselves and directing comments toward me that haven't done anything as well. You know, this is the last couple years of my career, so it's all about legacy for me as well. And that's just my approach—I got to finish strong and go back to loving the game and loving to dominate. And again, that's just how I got to approach it. [If] I come up short, that's on me. But that's how I gotta approach it.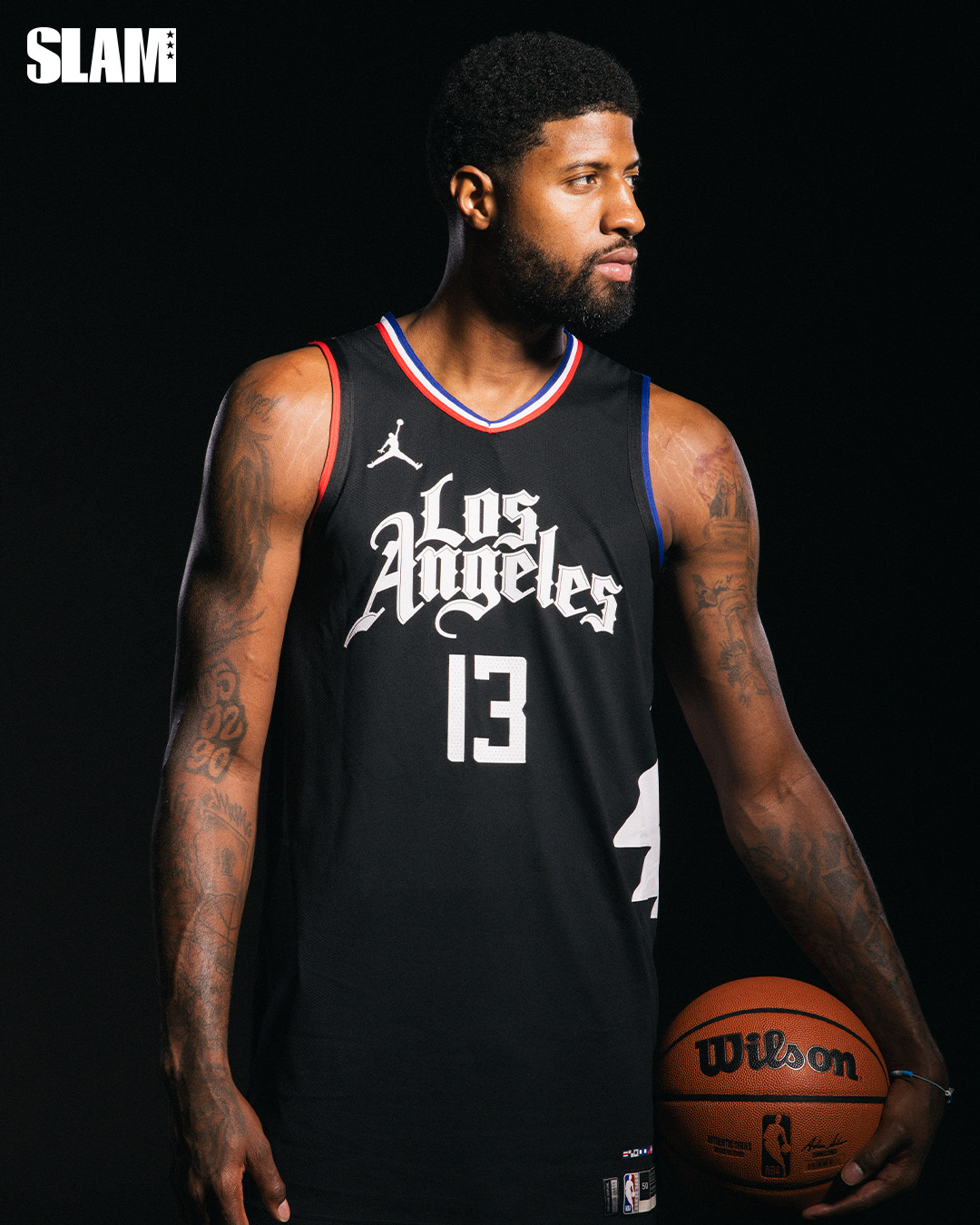 SLAM: You used the words "go back to loving the game and loving to dominate." Was there a time when you didn't necessarily feel that way?
PG: Just through injuries, you doubt yourself. At times, you doubt what you're able to do. But at this point—I had a fluke injury to end the rest of my season last year—but up until that point, I was starting to get stronger, I was starting to feel better, problems that I was having midseason were starting to go away. And that was the best I was feeling. And so, I was coming into my stride, ready to get back into that. But for a stretch, I didn't feel [like] myself just because injuries and stuff was aching and popping up. But I feel like I've been starting to address that every summer, little by little, to where I'm in a great place right now.
SLAM: What does Paul George being on his "bully shit" look like?
PG: Honestly [laughs]…I can't tell you what that looks like. I've been a pretty consistent scorer, been a high-level player for many years. But for me, it's just getting to a level of consistency. And, again, not backing down and destroying whatever I have to [to] get to where I need to get to. So I think it'll be noticeable by the way I play this year.
SLAM: Do you feel like there was a time or I guess a defining moment during your career where you really felt like you were really on your "bully shit"? 
PG: I had that approach of guarding everyone tough, of trying to be the number one option and score on the best player every night while shutting the best player down every night. You know, I just had a mean mentality when I was younger. And that was just how I approached the game. I think I fell away a little bit from that mentality. And so again, all of it is just trying to be back, centered [and] to where I was when I came into this League.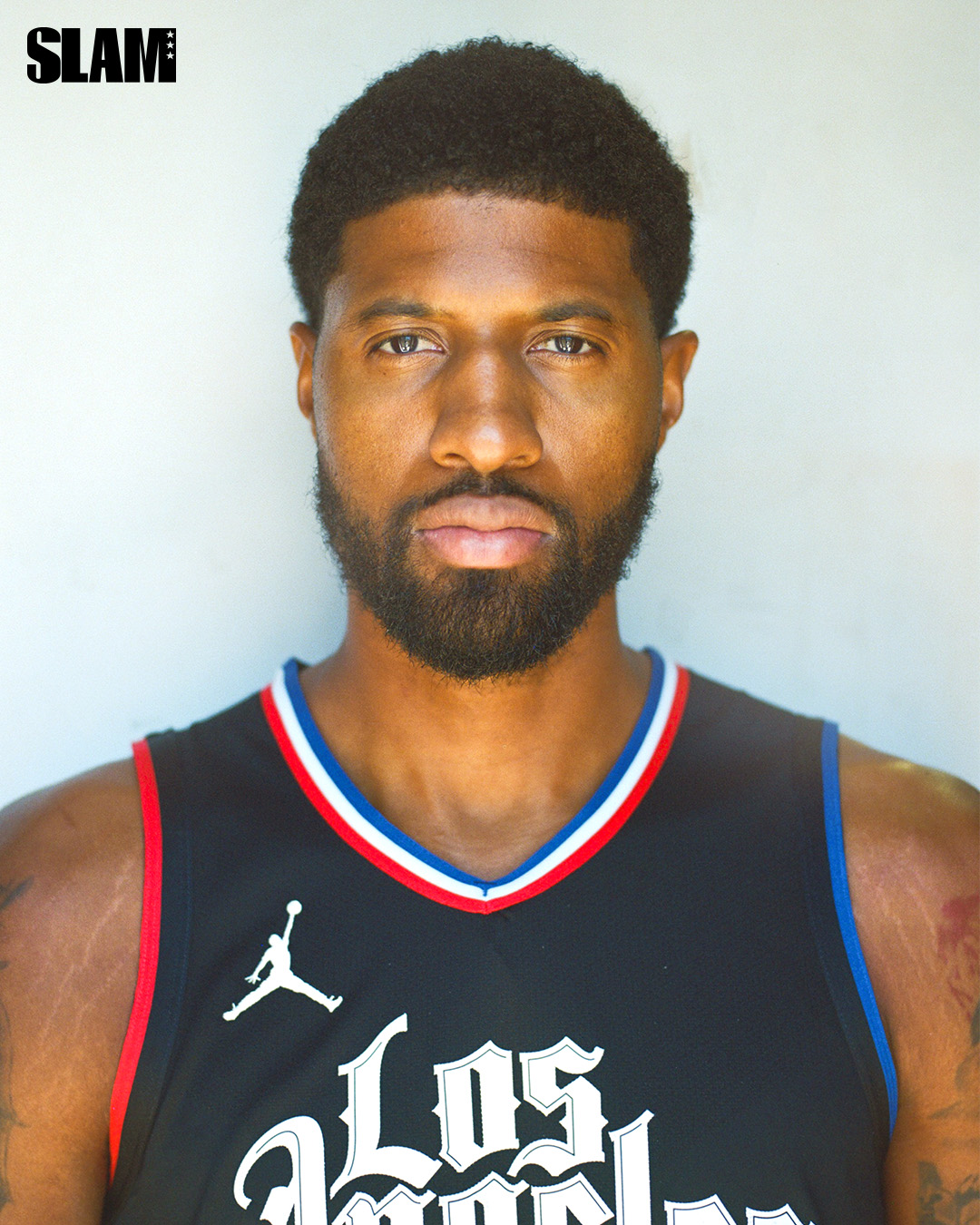 SLAM: When you were referring to guys in the League, or in general, having things to say about you, what was running through your head? 
PG: I mean, everybody has their right to say what they want to say. Everyone at this point in time has an opinion. That doesn't bother me, but the way you go about it, and the way you approach it, I'm gonna have to have something to say about the way things are handled at some point. And that's just where it's gotten, so, you know, it's just about having—I don't go off of what I've done, who I've been in the League. To me, I view it as: if I've won or if I haven't won. And I haven't won. People tell me all the time, Don't doubt yourself, don't this, don't that. I don't. I know what I've accomplished. I know what I've done in this League. I know whose ass I've busted in this League, who I've put what numbers on in this League. That don't mean nothing if I haven't won a championship. Yeah, it'd be a great résumé when it's all said and done. That's cool. But for me, I measure myself in the success I've had in the League—if I get a championship, that's what it's all about. So, yeah, the regular stats are cool and all, but I got a bigger goal of winning [and] establishing myself as a champion.  
SLAM: Have you always had that standard of success? 
PG: Yeah, I mean, coming into the League, early on, the first couple of years [it was about] establishing myself and just getting better and wanting to be an All-Star, wanting to be on that superstar level, wanting to carry a team and wanting to be the best defender on the floor. That was kind of [my] individual goals. But once you make it to that point, take it a step further, now that has to mean something. Being the best player, being the best defender, being on a good team—like that all has to start to equate to something. Now I'm at a point where every year I'm training, and that's the goal—to get a championship. And so if I come up short, like, nothing else matters that year. At this point, I failed the year, I failed the season, if I didn't win a championship.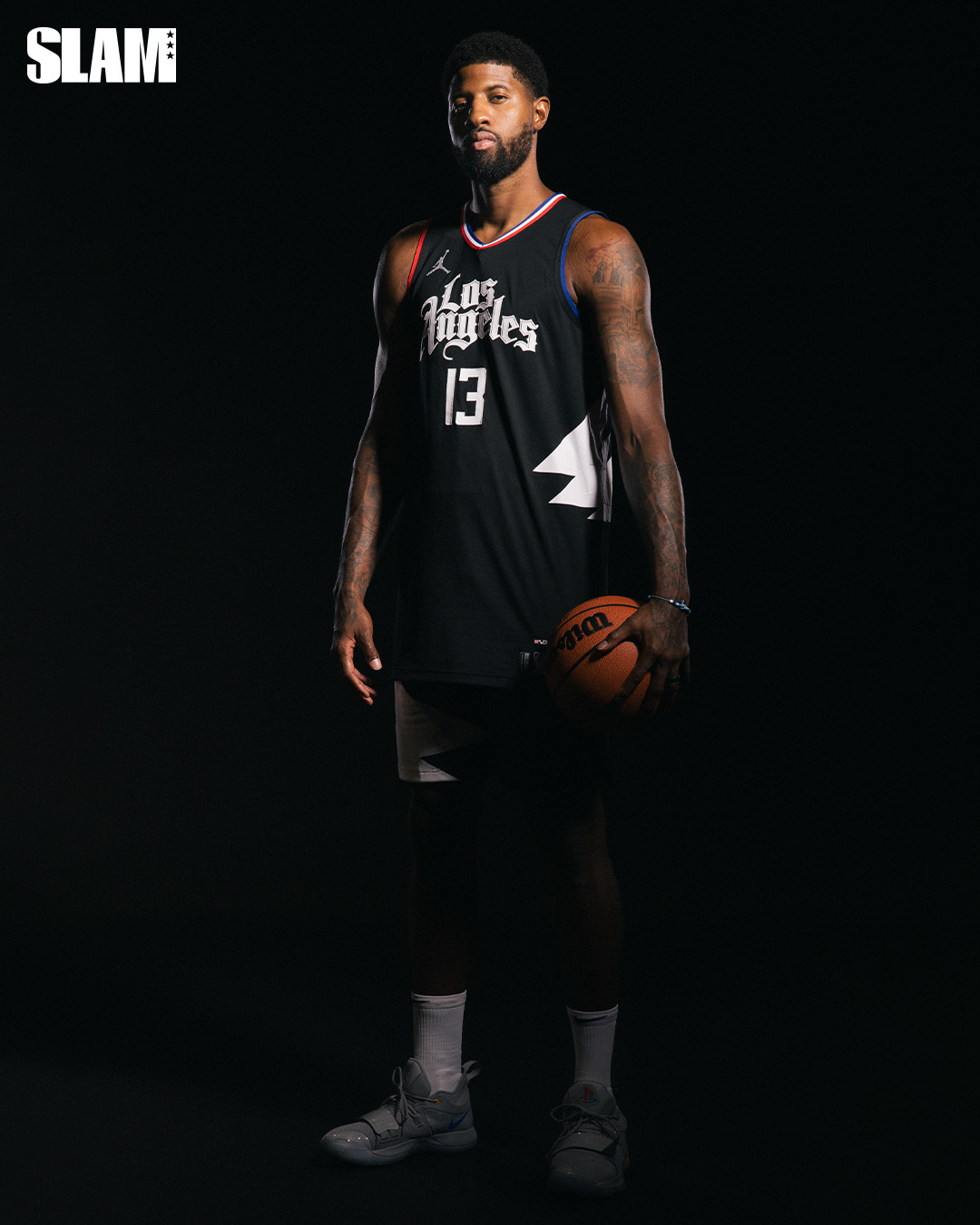 SLAM: Let's get into your podcast. To start, do you feel like this is one of the first times you've really been outspoken in terms of sharing your own opinion, talking to other athletes and analysts? 
PG: Yeah, I think so. Because, you know, for the longest [time], as a young guy, you want to say the right stuff, you want to protect the organization, you want to protect teammates, you want to protect yourself, image, brand, all of that good stuff, right? But you lose sight of like, Am I really answering this the way I want to answer it? Am I really getting off the thought or the idea that I really want to say? And sometimes after interviews, I'm like, you know, Fuck, I should have said what I really wanted to say. Or, I should have told them what really happened or how it really went. Or, how I really felt.  Now, with my podcast, I can do that. And I think that's just the beauty in it. 
SLAM: On that note, what's it like doing the interviewing after having been interviewed so many times? Do you feel like you have a different perspective of what goes into it? 
PG: Yeah, what I found doing it is [that it's] very therapeutic, because a lot of stories that I've told, or a lot of stories that we've talked about, were things I held on to and haven't really [gotten] that out. Whether it's been good moments, bad moments, fun times, bad times, it's just been therapeutic to express certain stories. For example, the conversation with DeMar [DeRozan] that we had about playing each other in high school, I have always felt how I felt leading up to that moment playing him in high school, but it was great to hear how he felt leading up to that moment playing me in high school. So conversations like that were great to kind of reflect back on and share that moment and share that story with somebody that I'm pretty good friends with, but we've never talked about that. And so it was just great to go back [down] memory lane and pick up on things that we've been through and experiences. Because otherwise, you hold on to certain stuff and [are] weirded out by how to share or reflect on some things.
SLAM: What's the biggest thing you've learned about yourself, now that you've gotten into podcasting? 
PG: That I'm not just good at basketball. [laughs]. Nah, I mean, I knew whatever I put my time into I can be successful in. That's what kind of person I am: if I lock in on something, I work extremely hard to be good at it. And being in the podcast space is another notch to reassure that. It's just been fun. It's honestly been fun. I never in a million years would have thought that I would be interviewing other players, talking about stories, being in front of a camera as much as I am, especially at this point in my career. So, you know, it's just been a great roller coaster. And I'm just enjoying the ride at this point.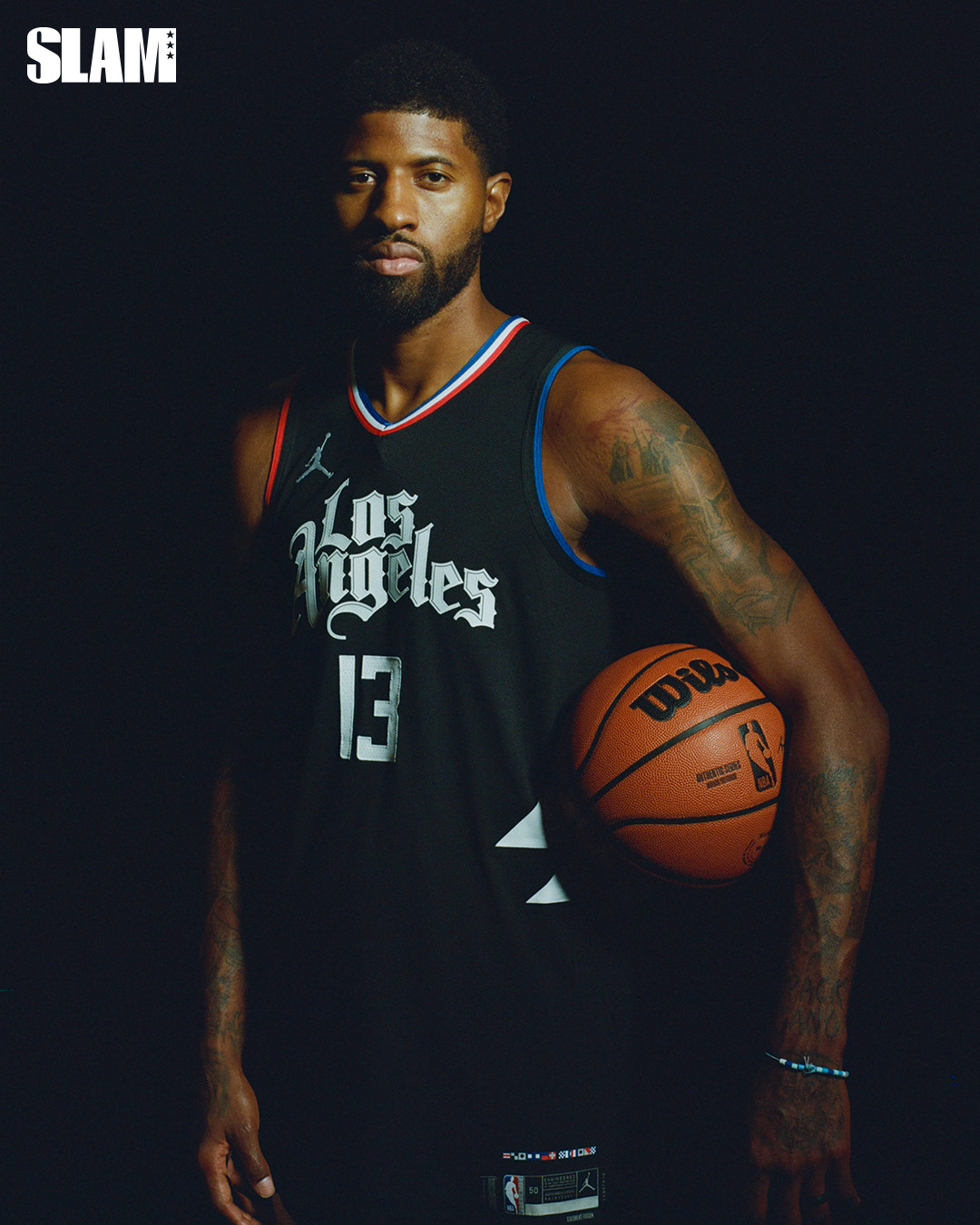 SLAM: Did you always feel that way—that you're really only viewed as Paul George the basketball player?
PG: Not necessarily, but I do think people didn't know much about me. I felt I was—everyone thought a certain way, based off of moments I've had in basketball, moments on the court, off the court. And that's the only thing that they can pinpoint on me. But actually watching me in a podcast setting, getting to talk, getting to laugh, making jokes. I think people see me in a different light. And that's what I appreciate, that they can separate [it, like], Oh he's totally different. I thought he was way different. I had this perspective of him, [but] he's actually a cool dude. He's actually funny. He's actually this, that. Which I am. I'm just as normal as anybody else. 
There's definitely an appreciation there for fans for allowing [themselves] to re-introduce themselves to who Paul George is.
---
SLAM 246 COVER TEES OUT NOW!
Deyscha "Sway" Smith is an Associate Editor at SLAM. Follow her on Instagram/X, @deyschasmith and Tik Tok @deyscha.
Portraits by Atiba Jefferson. Action photos via Getty Images.