Maybe you've heard of the birthday paradox. It's the probability equation stating that if you have 23 random people in the same room, there's a 50 percent chance that at least two of them will share the same birthday. Sounds wild, right? 
If you think that's crazy, wait until you hear about the Atlanta Hawks' backcourt. All-star guards Trae Young, 24, and Dejounte Murray, 26, not only share the same birthday, September 19, but their demeanors also mirror each other. Both are offensive assassins with unselfish tendencies on the court. Both are loving fathers at home. Both are perfectionists who recognize they've had some early season shooting struggles. Both are problem-solvers who know what needs to be done to get on Boston's level in the East. Must be a Virgo thing.
SLAM 241 is available now featuring Trae Young and Dejounte Murray. Shop here.
The Atlanta Hawks can't explain any of it. They just hope the city's first NBA Finals appearance is being manifested in the cosmos. Scientific anomaly or pure coincidence, the fact that these birthday twins are standing in the same gym, wearing the same Hawks jerseys and posing for the same SLAM cover at this very moment is just one sign that the team is heading in the right direction. The two guards sat down the day after a tough loss to talk family, focus and, of course, basketball.  
---
SLAM: We're told that today is your first true off day in a minute. If you weren't doing this interview and photo shoot, what would a typical off day look like?
TRAE YOUNG: I'd spend it with my family. I'd spend it at home. If you have a couple of days between games, you definitely want to find a way to get away from basketball, whether it's spending time with your family, going to a movie or whatever it is. For me, personally, I just think it helps your mind to escape it for a little bit, because basketball can be every day. Sometimes it's good to have an off day where you can get away from it.
DEJOUNTE MURRAY: For me, I got my family out here with me [too]. I love being around my family. You know, I'm a homebody, so I always fall into the trap where I turn basketball on and just sit there and watch a bunch of games around the League. But mainly, [I'm with] my family, watching movies. Like [Trae] said, trying to escape from it, because basketball is something that we do every day. And when you get them off days, you gotta utilize being with your family because we are away from them for a long time.
SLAM: You had a tough loss against Boston. How do you reflect after a game like that? Do you watch film immediately?
TY: I would do it right after the game, fresh off of it. I mean, I probably can't sleep, so it's no reason to just sit there and watch anything else. You might as well just go put back on the game and learn from it. Within the next day, it's overwith, so you gotta get ready for the next day or the next team. The NBA's so fast. You can't hold on to a loss or a win for too long.
DM: When I got home, I ate dinner and I was able to watch the game. I was telling Trae, just knowing how the game went and how many threes they hit, it's early [in the season] and they showed us that we are a new team. We got a lot to learn, work on and get better at. They've been together. But it's no excuse. We lost. But like he said, you move on. We play again Saturday and then on Monday. You can't really just stay put in one place, on one team. You win, you lose and you move on to the next one.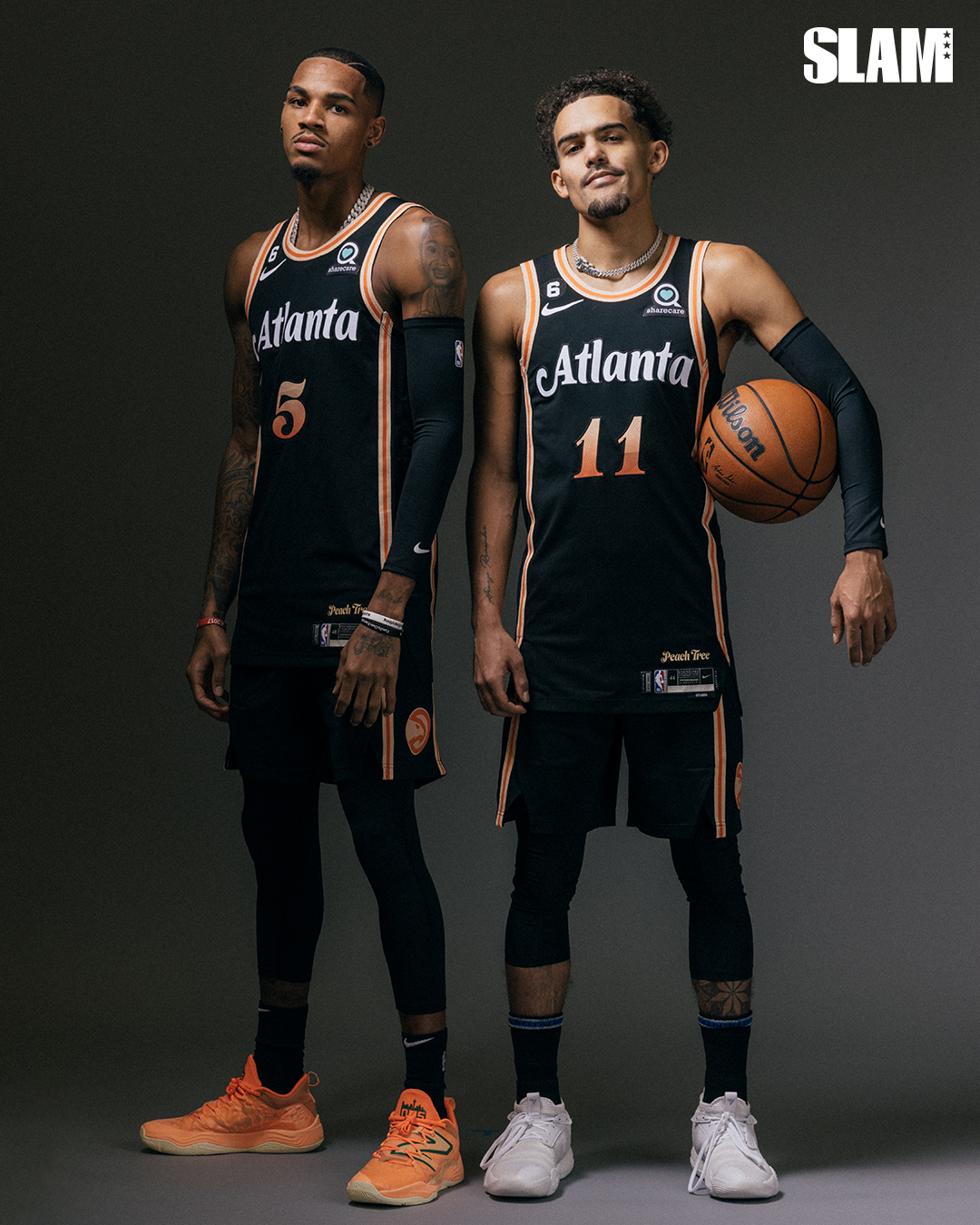 SLAM: Speaking of young teams, how would you assess how things have gone so far? 
DM: I know that I could be way better. 
I know he could be way better. It's something that we talk about, whether we're texting, heading to practice or on the plane. Just trying to find ways to push each other and get the best out of each other. But also making sure our team is involved and making sure that we're doing it as a whole. So, the grade? We're nowhere near where we should be, which is fine. It's early and it's a long year. And I believe that we'll get to where we belong.
TY: I think it's going as smoothly as it can be. I mean, it's a new team. We got new pieces, pieces that are playing major minutes and [serving] major roles for us. I think, even in some of our wins, we haven't played as good as we wanted to. I think this is an adjustment period. I'm pretty happy where we're at right now, but I know we got a long way to go. We both talk about it, like he said, about what we need to be better at and what we can be better at. But I think it's just a part of this adjustment period of being with new teammates, thinking you want to be the best for the guy next to you. You want to make it as easy as possible for the next person. But as we keep playing more games, it just becomes natural. 
SLAM: Trae, you knew Dejounte before the trade. What have you learned about him that you didn't know before becoming teammates?
TY: It wasn't really too much that I didn't already know, just from our conversations and us talking. As soon as the trade happened, being able to go up to Seattle, playing in that pro-am together, and then being able to have dinner that night, chop it up and get to know him even more [was great]. We were fortunate enough to really get to know each other a little bit before the season. So, now that the season is here, we're not focused on [getting to know each other]. I mean, that's going to be a focus all year, but that's not at the forefront. We've already gotten to know each other. We've spent time with each other. We know what we like and don't like. We know how we're family people. It's been great so far. We just gotta keep going forward. 
SLAM: Dejounte, have you learned anything about Trae?
DM: He's chill. He's smooth. He's got swag. I've told him before that I've been a fan since he was in high school. He's younger than me. I'm that much involved in basketball and the sports world [that I noticed him]. Just being around him, I be seein' him swaggin'. He likes his Chick-fil-A. Just learning all that stuff. It's dope that we were able to do it before training camp. It wasn't just like, Oh, we got to camp and now we trying to get to know each other and have conversations. It was right away.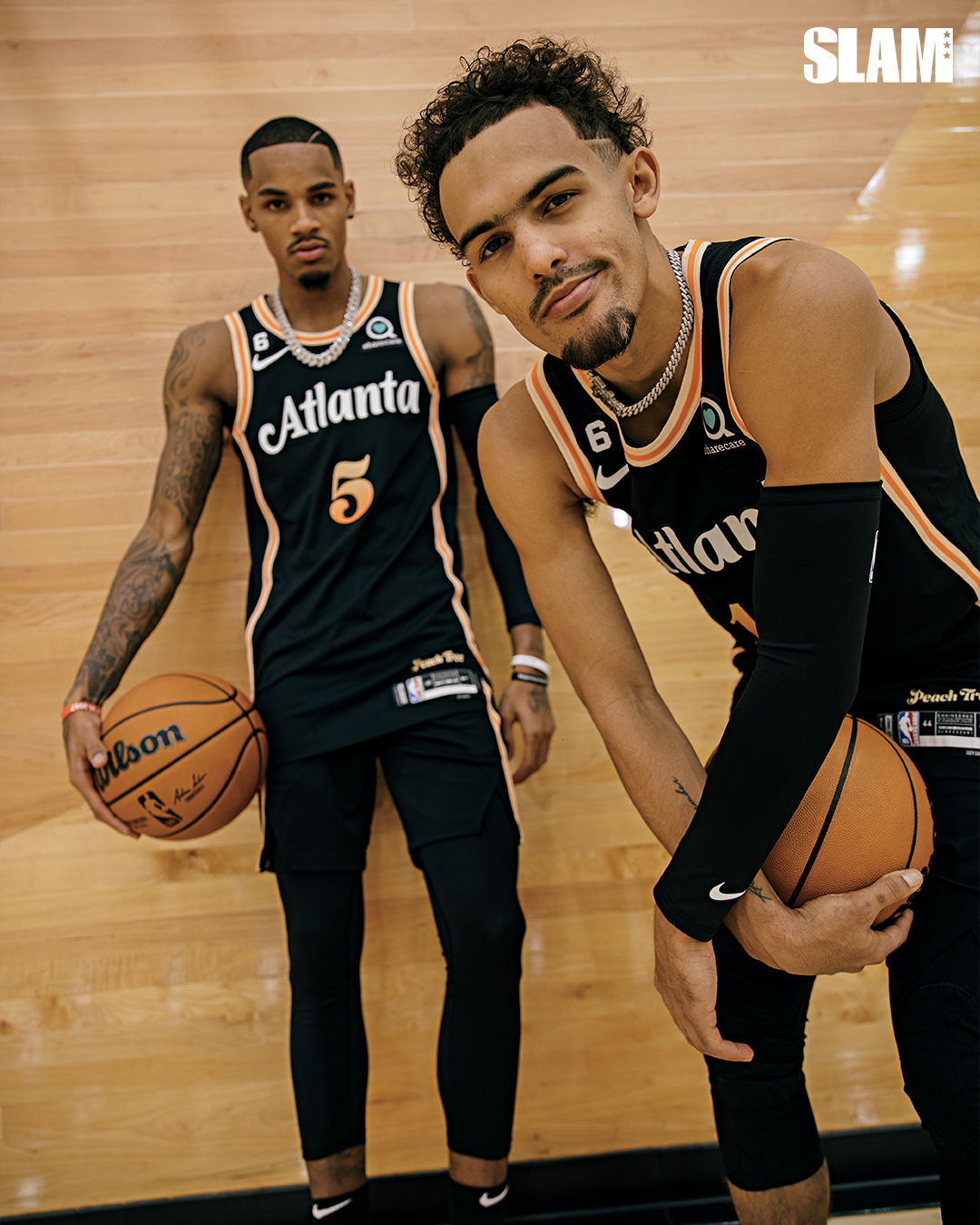 SLAM: Anytime you look courtside at a Hawks game, you're gonna see 2 Chainz, Lil Baby, whoever. Tell me about the Atlanta you've gotten to know over the past few months.
DM: It's what I expected. We came and played here last year. One thing I do is look at the arenas, the fans and just the culture wherever we're playing because it's different everywhere. One thing that stood out to me last year [in Atlanta's State Farm Arena] was that you could feel the atmosphere and feel a different culture just playing in the game. And like I said, I watch a lot of hoops. When I'm watching these games, you see how much fun the team's having. But also, you can see how involved the fans are. And obviously, all the celebrities coming out, showing that they love watching hoop and that they love the Hawks just makes it better for us as a whole, representing Atlanta, Georgia.
SLAM: Trae, you recently became a father. How have you changed since the birth of your son?
TY: I think everybody who has a kid understands how it just puts things into perspective for you. Certain things that were important to you may not be as important. Or some things that were important, you make them even more just because your son or daughter is here. For me, just having Tydus has been a blessing. It's been a growing process every day. It's crazy how fast they grow, for sure.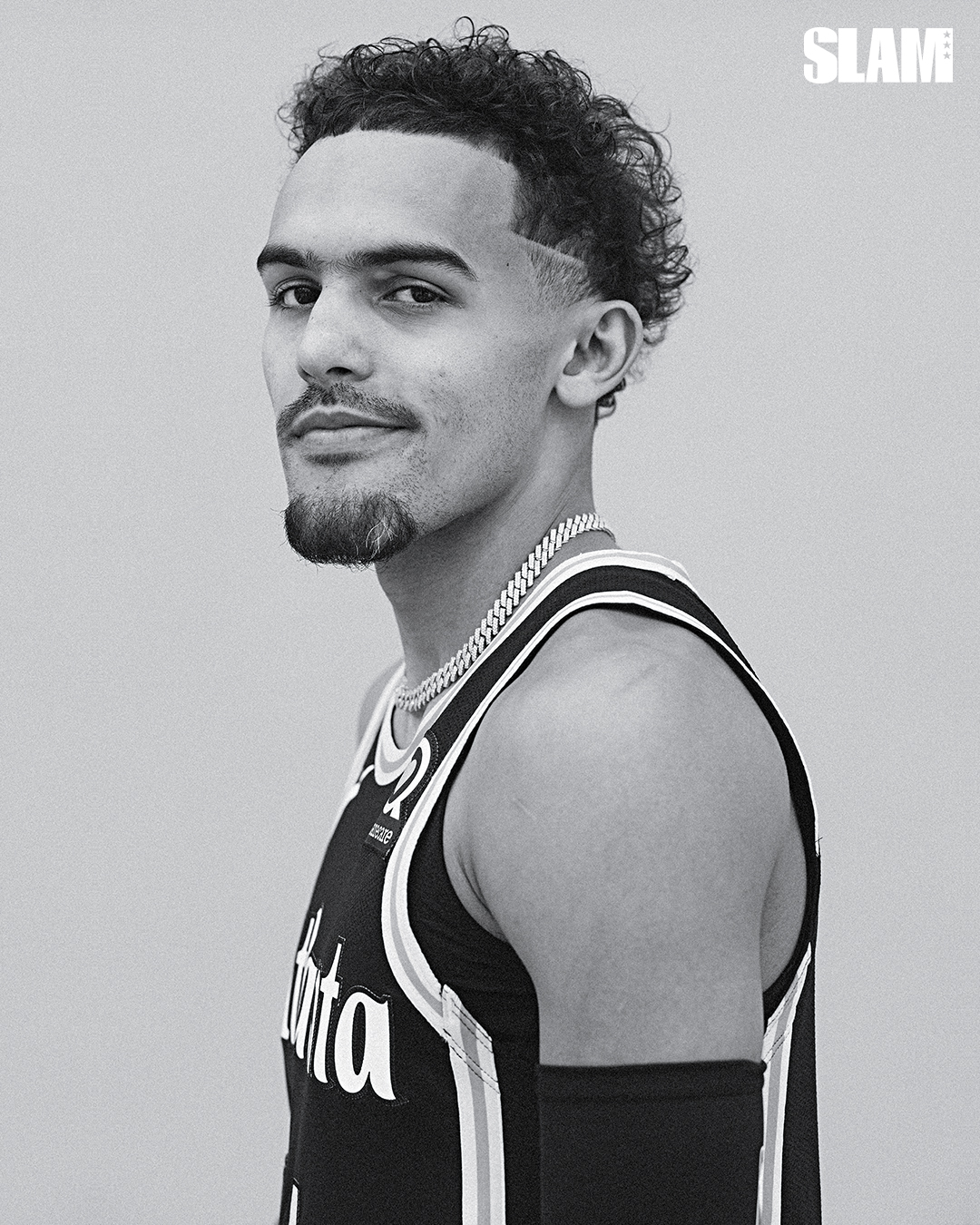 SLAM: Dejounte, your name doesn't come up as much as it should when people talk about the most exciting players in the League. Do you use any of that as motivation? 
DM: I do it for the love of the game, since I was a kid playing with my older uncles in the neighborhood all the way to the AAU, high school, college to now. I never fell into none of that. I always believed in, "Don't believe the hype." Hard work and dedication are gonna get you to where you need to be. My motivation is where I come from. Each and every day I wake up, knowing where I could be or it could be worse, knowing my situation and how blessed I am, that's all the motivation I need. 
My daughter being able to be in the gym and seeing me work hard and ask, Dad, why you work so much? and being able to explain that to my 5-year-old is motivation for me. People got their own opinions and you gotta allow them to have that. I don't fall in love with none of that—the good, the bad. I just try to stay true to who I am.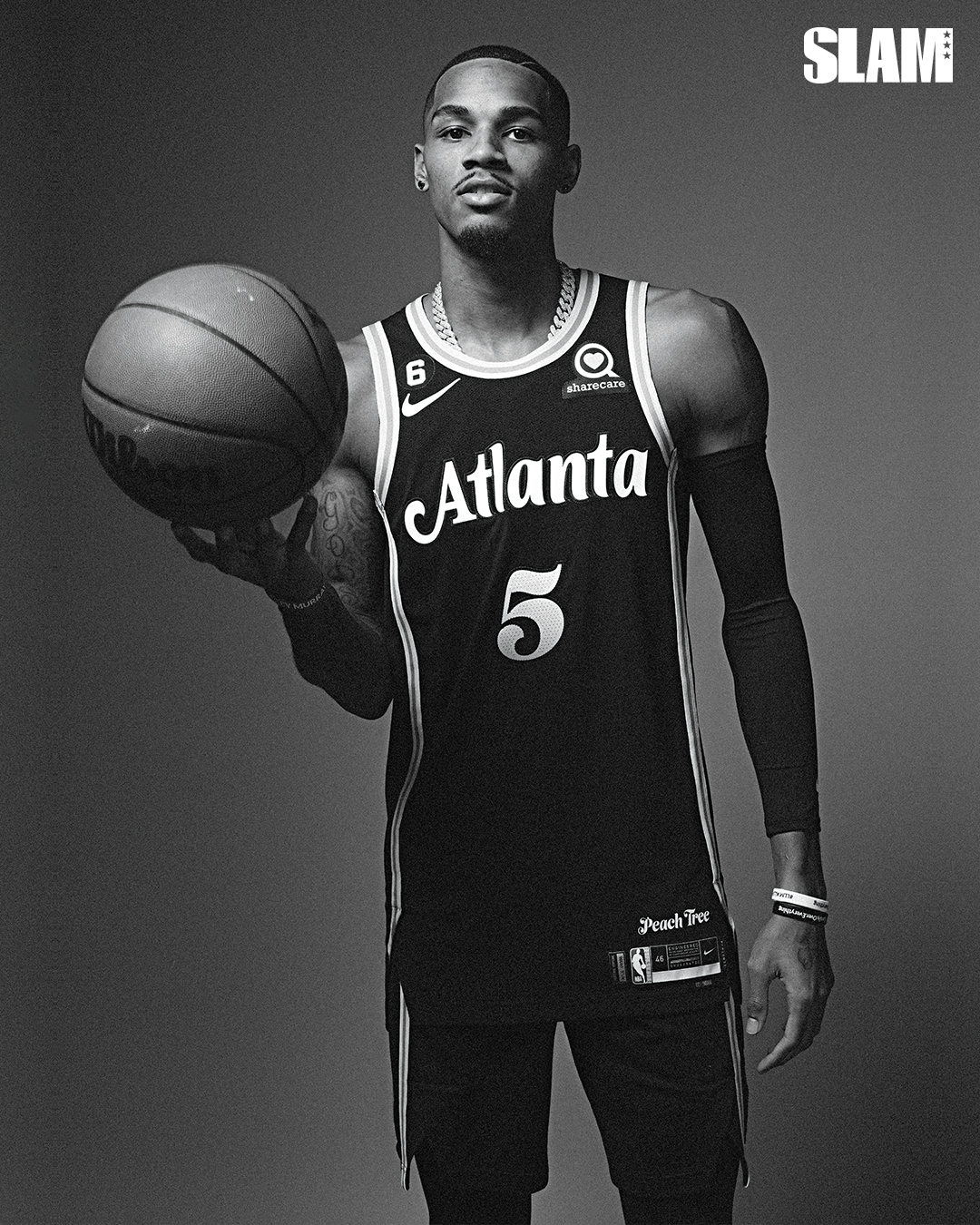 SLAM: Speaking of opinions, over the summer, a lot of folks said you two couldn't make it work, but you always said you could. How were you so confident that you could play together? 
TY: I think it's just because we both know what we bring to the table—the cerebral part of the game. We're both really good basketball players, knowing we can both score but [also] knowing we can both get each other involved and both get our teammates involved. It's just basketball at the end of the day. A lot of people wanted to overthink it or think it just can't work. [Dejounte] has so many skills that, maybe, I don't have. There's some things that, maybe, I do that he can't. We bring it together and it can form something special. We both know that and we both know that winning is all that matters to both of us. That's what he was brought here to do.
DM: For me, it's just fuel for the fire. I love that type of stuff. I love the doubters. I love making people eat their words without me having to say a thing. Like I've always said, of course it's going to work. If you love hoop—like really, really love it—you're going to do whatever it takes to win. My main thing when I came here was, Trae, be yourself, but just know I'm here to help. You get what I'm saying? I came here to help. And that's the main thing. Whatever I can do to help this team and help us reach the levels we want to reach, we're gonna do that by any means. 
---
SLAM 241 is available now in this exclusive Gold Metal Edition and Cover Tee. Tap in.
Portraits by Diwang Valdez.