To get in, you'll need your ID. Show it to the doorman, and then take the elevator. Turn left.  There's a white door down the hall; in there, a camera crew is crammed wall-to-wall. There are portraits of former Brooklyn Nets players everywhere, but that's not who everyone is staring at right now… 
"EVERYBODY ON MUTE!" 
Jonquel Jones, the charismatic New York Liberty star, belts out the lyrics to Beyoncé's "Energy," a song off her Renaissance album. It's August, and we're all inside a workroom-turned-glam room at the Nets practice facility, where Jones, Breanna Stewart, Betnijah Laney, Sabrina Ionescu and Courtney Vandersloot—the Liberty's starting five—have spent the past hour or so getting their hair and makeup done before the big moment: their first-ever SLAM cover shoot together as a newly-formed squad. The energy inside the room is a bit hectic, as videographers and producers shuffle in and out, checking to see if our cover stars are ready. 
Almost. But for the first of many times today, we've got Beyoncé lyrics to sing. After JJ, who is sitting right next to Sab and near Betnijah, cues everyone to go silent (an iykyk trend tied to Beyoncé's Renaissance tour), the music continues. 
"Look around, it's me and my crew. Big energy…"
In one of the salon chairs, a hair stylist is finishing curling Breanna Stewart's long, brunette locks. Sitting nearby, Courtney Vandersloot is getting eyelash extensions and smiling to herself as she covers one eye, noticing the difference. Sab is the first one ready for photos, and we follow the All-Star guard across the hall to the practice court, which has been turned into a set with a white seamless backdrop and tons of studio lights. 
Off to the side, there's a table full of vintage goodies—old-school digital cameras, an actual flip camera and a polaroid camera—which Sab immediately gravitates to once she's done posing for flicks. It's then that we learn how much of a girl's girl she is, which is internet-speak for someone who respects and values their female friendships. One minute Sab is hyping her teammates up, the next she's posing Sloot for her own photo-op moment with a glass of champagne that someone brought on set.
This is the same Sabrina we once crowned the "Next Queen of New York" on the cover of SLAM 231, but who said a queen has to rule alone? Sab came into the W as the NCAA's all-time leader in triple-doubles, the No. 1 overall pick in 2020 and, undoubtedly, one of the most popular young players in the League. Then the team signed Betnijah Laney ahead of the 2021 season, and since then, excitement has been steadily building in Brooklyn. Now, with Sab, Laney, JJ, Stewie and Sloot leading the way, the New York Liberty are the No. 1 team in the East at 32-8—the franchise's best regular-season record ever.
While the media pushes the narrative that the WNBA has entered a "superteam era," history shows that superteams ain't new in the W. The Houston Comets won the first four championships in the League's existence between '97-2000, and then the L.A. Sparks won back-to-back 'chips in '01 and '02. The following year, the Detroit Shock won their first title and then another one in '06. The Minnesota Lynx won four titles in seven years between 2011-2017. 
To call this Liberty squad a superteam makes it sound like they're a machine that's been programmed to dominate, rather than a group of women who have come together and decided—both individually and collectively—that they want to be the best. 
"I think we're just super humans," Sab says when asked about the superteam label. "I just feel like we all have a story to tell, and we're all at such different parts in our careers, but when we all come together, that's really the joy in being part of a team."
Biggest show in Brooklyn. SLAM 246 featuring the New York Liberty is out now.
---
The story of how this squad joined forces didn't start with Stewie—JJ was technically the first to join the Libs when she was traded back in January—but Stewie's free agency announcement did shock the world. It was one thing for the Liberty to have a new superstar in JJ, but when Stewart started posting those emoji-filled tweets, everyone, including Kevin Durant, was hyped. Another star teaming up with JJ?! "They cookin'," KD said on his podcast, The ETCs. "They bringing the best talent to New York." 
Then, on February 1, Stewie pulled a move reminiscent of when Yoncé dropped Lemonade: she posted only a Statue of Liberty emoji and a video of her switching into a teal-colored long sleeve warm-up shirt. Just a day later, Courtney Vandersloot pulled her own WNBA insider moment by tweeting that she'd also signed with the Libs. To put in perspective just how crazy elite a trio of Stewie, JJ and Sloot is, we're talking three WNBA titles, 14 All-Star appearances, seven First Team All-WNBA selections and three All-Defensive First Team selections, plus Stewie's two Finals MVPs, regular season MVP and Rookie of the Year title, Jonquel's Sixth Woman of the Year award and Courtney Vandersloot's place in the record books (she's ranked second all-time in assists). They're all undoubtedly future Hall of Famers. 
Still, it's crazy to think that there was a time when Stewie's decision almost didn't happen. "I was back and forth a lot, really," Stewie tells us. "It was between Seattle and New York.
"The three of us [Sloot and JJ] were talking a lot during free agency," she continues. "But also knowing who was on the Liberty before us and that's Sab and B making sure that we want to come here to win."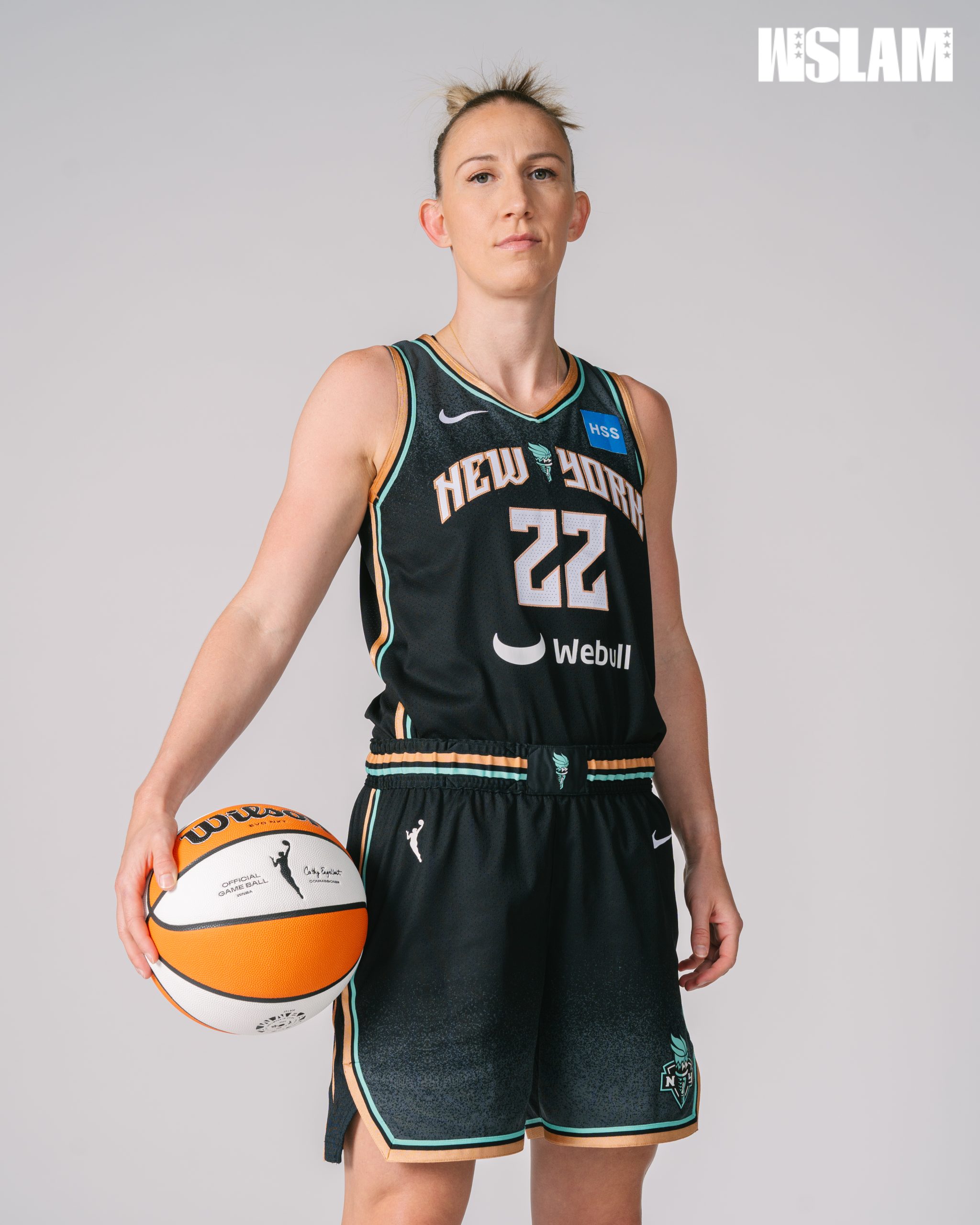 Now that she's in Brooklyn, Stewie has continued to solidify her rightful place as one of the most versatile players to ever play the game. She was out here setting records on day one, literally—in her Barclays Center debut against the Indiana Fever, Stewie scored a franchise-record 45 points. She's currently averaging a career-high 23.3 points per game (second in the W) and once again being mentioned in the MVP conversation.
On set, Stewie is poised and exudes a cool and collected type of confidence; she's even rocking her own signature sneaker, the Stewie 2s, in all the photos. For the next 10 minutes, the 6-4 star is just as involved in the creative as she is in being the main subject. She poses with the camcorder and asks if we've got a pair of sunglasses she can throw on, too. The lights end up causing too much glare on the silver shades, but with only a few minutes left to get the perfect shot, she shines the brightest. At one point Stewie turns and stares directly into the lens with her blue eyes, giving us that look. Lights flash as our photographer snaps away. Pop! Stewie tilts her chin down, this time holding her gaze. Pop!
Throughout her seven years in the W, Stewie has done it all: won championships and MVPs, been the face of the Storm alongside the legendary Sue Bird. At this point, what fuels her to keep playing at such a high level?
"Mine is probably perspective," the former UConn Husky says when asked about her source of motivation. "Obviously loving to win and loving to compete, but also realizing that these moments don't last forever, and having a glimpse of that through an injury. Some of us have been through injuries where we've had to be out for seasons and stuff like that. So, never taking anything for granted, but also knowing that I have Ruby at home, looking up to me [and] watching every single move that I do, and making sure that I'm continuing to help make this team and this League better for her if she wants to play, but also the next generation."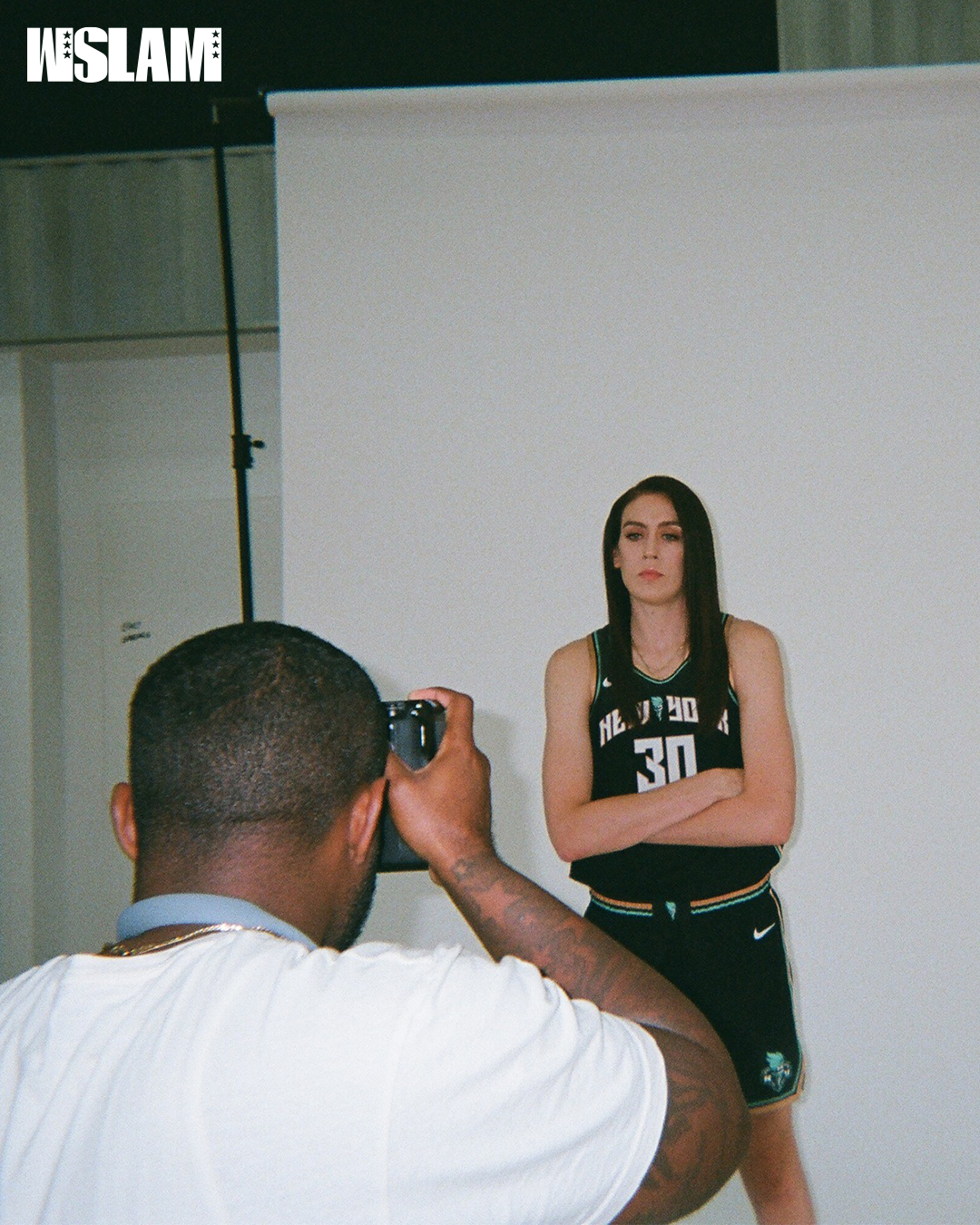 Stewart and JJ entered the WNBA in the same year, 2016, as the No. 1 and No. 6 picks, respectively, and have played together overseas on UMMC Ekaterinburg. For JJ, her move to New York happened after a trade request prior to the start of the 2023 season. "I didn't know who was joining me yet," Jones says. "When I looked at it, I was like, regardless of who joins me, I feel really solid with that decision." 
Now that she's found her groove with the Liberty, JJ has reached another level: she's had 11 double-double performances so far and just dominated in the Commissioner's Cup Championship in August with 16 points, 15 rebounds and 2 blocks, all while shooting an efficient 50 percent from the field. She shines on set, too, cracking jokes and flashing her ever-present smile in most of the photos we take. The team's PR person asks if we want pictures of her with her Commissioner's Cup MVP trophy, and as the 6-6 forward holds her latest achievement, that smile gets even wider.
"I'm very happy to be in New York and be playing with these ladies," she says.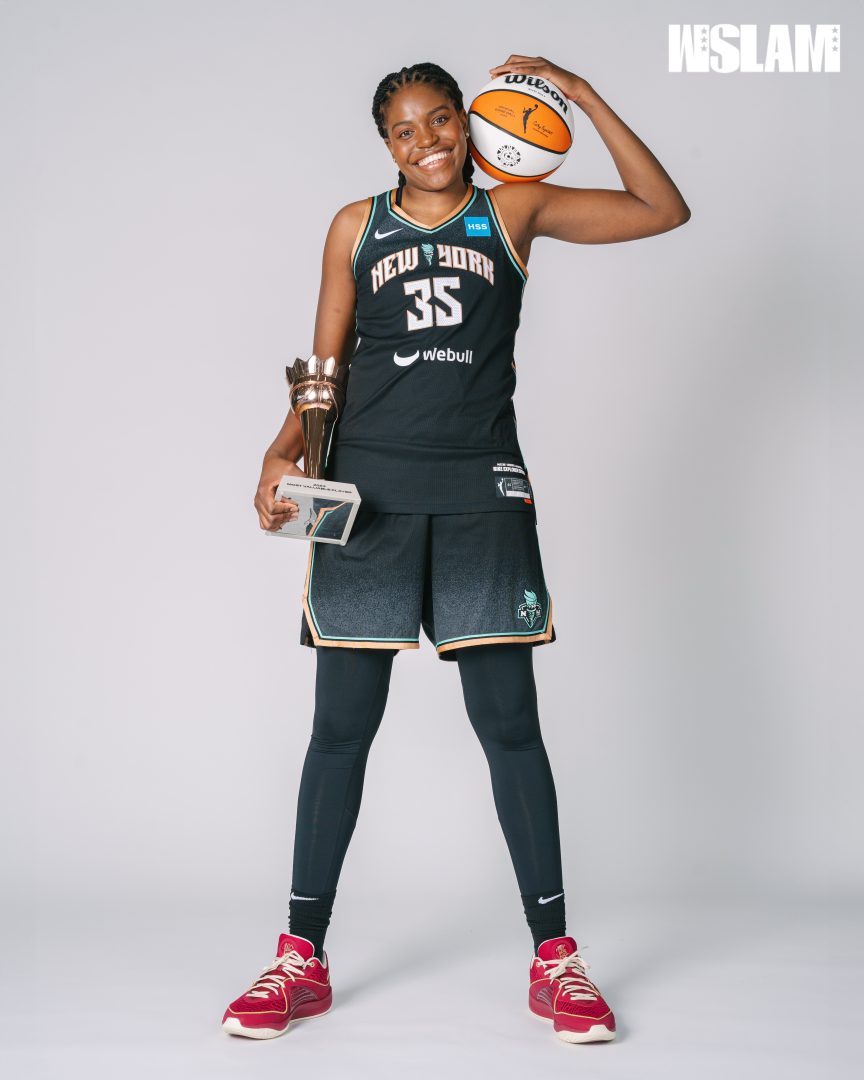 Sloot also had to trust in the vision when it came to whether she'd leave Chicago, where she spent over a decade with the Sky and set numerous records, or take her talents east. At first, she admits she was hesitant. "To be frank, I was trying to find a reason not to [leave] because the move to New York was just, like, never in the cards for me," she says. "The more it went on, the more conversations I had of course with these ladies here, the ownership and coaching staff and everything, it was just like, this is an opportunity that I can't pass up on. This is what I work for. This is what I dreamed [of]." 
As one of the smoothest, coldest floor generals in the W over the past decade, Sloot's led the League in assists per game every year since 2017, with the exception of last season. When we caught up with her for this cover, she had just passed Ticha Penicheiro for second all-time in assists. 
This is what I work for. This is what I dreamed [of]."

– Courtney Vandersloot
It was during the playoffs last season that Sloot saw what she was in for—the energy and atmosphere in Barclays, the fans and, most notably, what kind of squad the organization was building. "We were the away team, of course, and everybody's cheering against us, but I still [remember] just this energy and I was just like, Wow, this is awesome. They're really building something here…You could tell they were in a really good place, they were on an upward…"
"…trajectory," JJ chimes in. 
"Thank you, JJ," Sloot continues. "I just wanted to be a part of it, and I remember that it was such a fresh feeling for me when I was in the free agency talks." 
---
That trajectory wouldn't have been possible without Betnijah and Sabrina helping set the foundation. B, who is in her eighth year in the W, needs no introduction, and she certainly didn't need to make one to her new teammates. Drafted in 2015, just a year before Stewie and JJ, she played with Stewie for USA Basketball and attended various camps when they were younger. She was a rookie on the Sky when Sloot was in her fifth season and suited up alongside JJ in Connecticut in 2018.
"For me, the chemistry and everything, it just kind of came naturally," she says. 
JJ felt it, too. While she admits that she "didn't know Sabrina that well" initially, she did reach out to her before deciding to come to New York. Since joining forces, JJ's been impressed with how well they've gotten along. "I've been so amazed with just how well our personalities mesh on the team," she says. "That's really like my little sister, like we're always goofing off together, always doing silly stuff."
Sabrina, averaged 17 points, 5.6 boards and 5.4 dimes for the season, has dropped 30-pieces on numerous occasions and nearly broke the internet with her near-perfect performance during the All-Star Three-Point Contest in July. Go back and watch the highlights. Notice her approach, her form, her confidence. When she gets to the right corner, Sab smirks. It's clear she's having fun. The crowd goes insane and the camera pans to Sloot, who is equally as hyped. We all just witnessed, in real-time, one of the League's brightest young stars go 25 of 27 from three and break the contest record for both the WNBA and NBA. That's pure star power right there.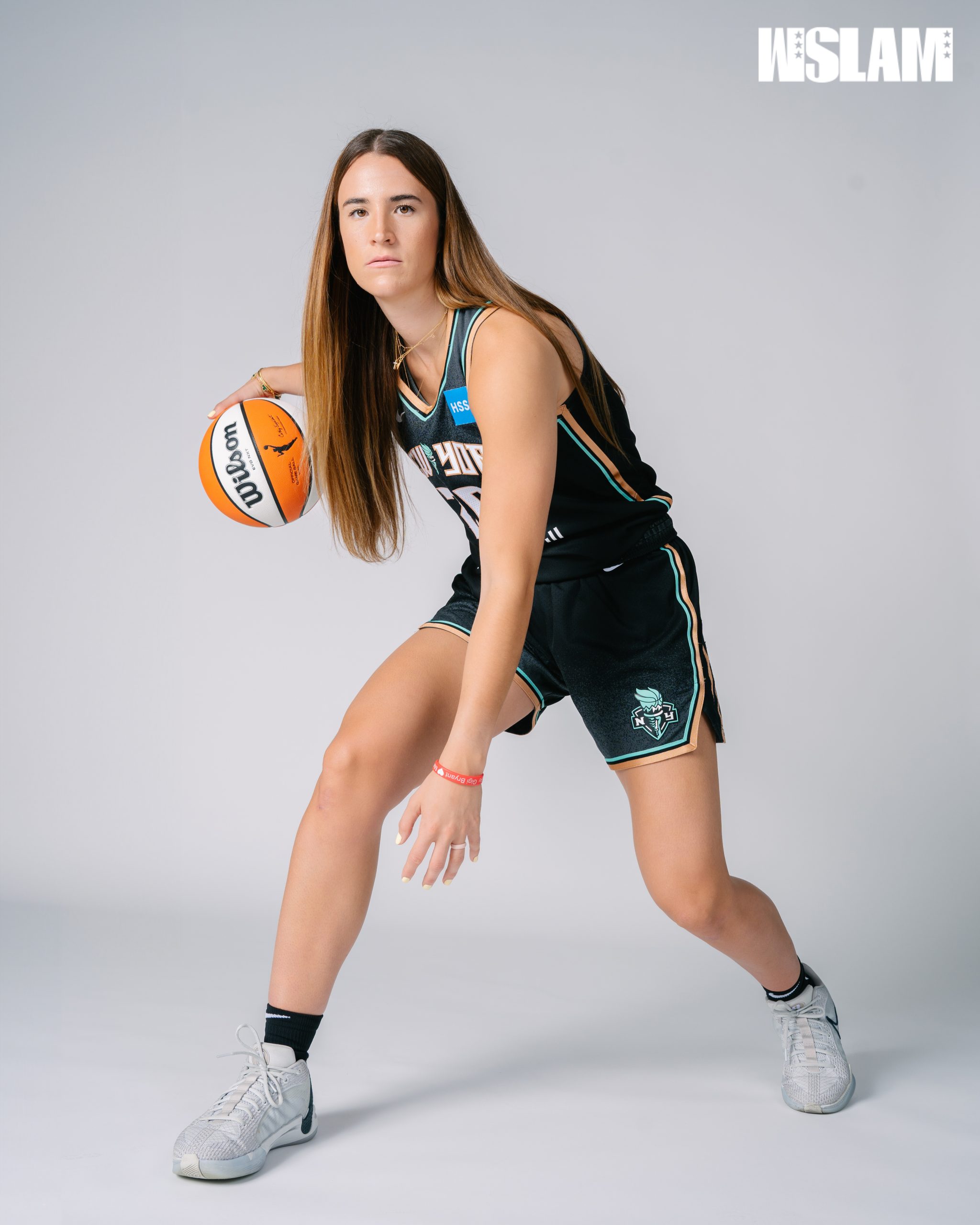 She wasn't done breaking records either. In the Liberty's 96-89 win over the Sparks on September 7, marking the team's eighth straight victory, Sab broke the WNBA single season record for total threes (121), which was set by the GOAT Diana Taurasi in '06. 
"I'm really proud to just watch the way that [Sab] has grown in this League," JJ says. "Just the level that she has been playing at this season has been amazing."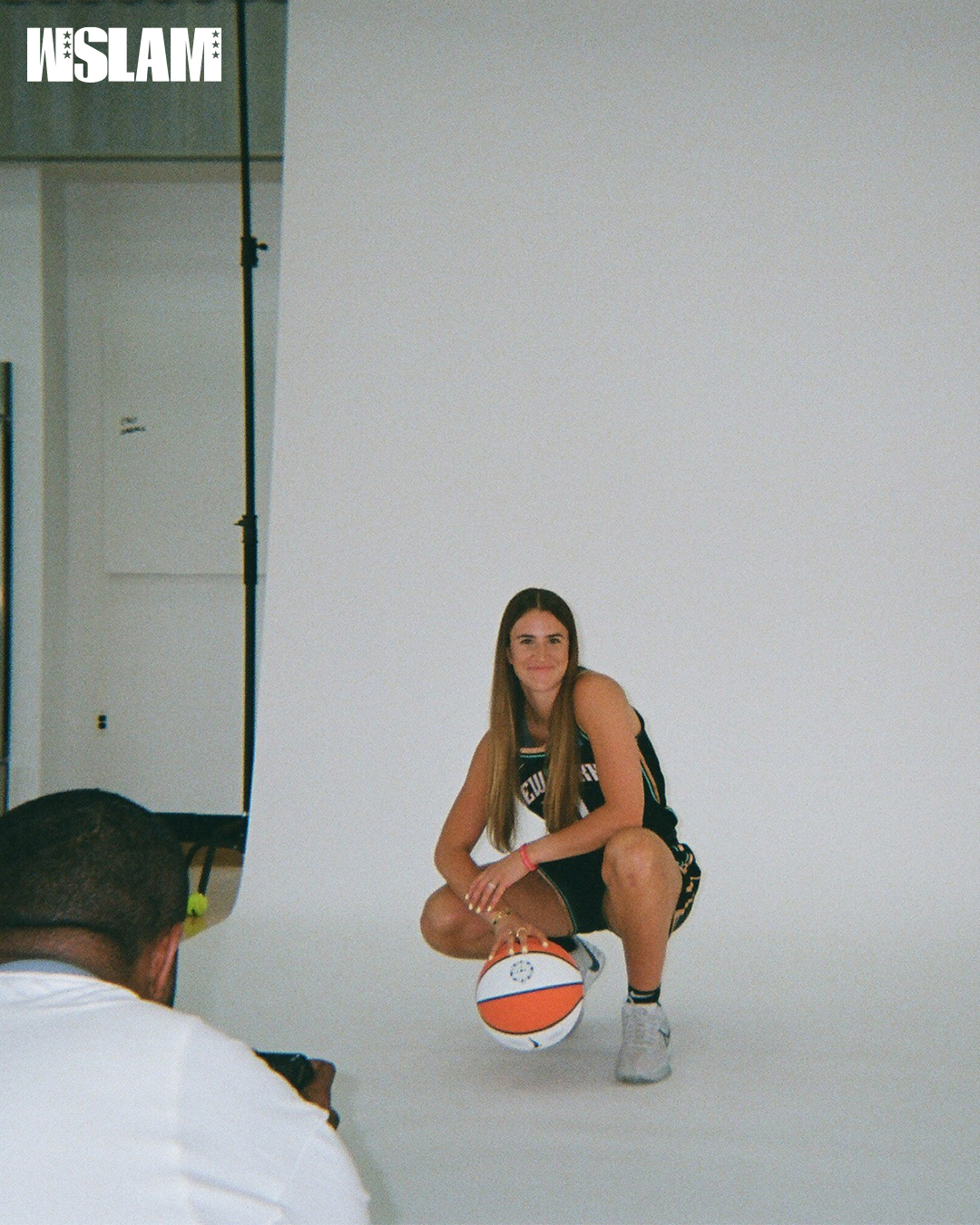 Then there's Betnijah, who exemplifies what it means to stay confident and true to who you are, both on and off the court. After having a breakout season in 2020 while on the Atlanta Dream—including winning Most Improved Player and being named to the All-Defensive First Team—Laney has elevated her game on both ends of the floor since signing with the Liberty in 2021. Look beyond the box score and simply watch the way she moves from the moment she gets the ball, pulling off behind-the-backs and spin moves reminiscent of a 6-0 dancer (Laney took ballet, tap and jazz classes when she was a child).
With her physicality and quick instincts on defense, Laney's typically tasked with guarding the other team's best player, too. Her role, as head coach Sandy Brondello told WNBA.com, is to be the "engine that gets everyone going."
Adds Stewie: "I've known B for a really long time, and the way she is as a two-way player, making things really difficult, taking advantage of whatever matchup she has offensively but also [being a] defensive stopper. Hard-nosed player, never stops, does [the] dirty work, does whatever the team needs."
Betnijah also has a way of commanding any room she's in. On set, it's B's show when she poses in front of the camera—without needing any direction from our photographer, she effortlessly switches angles and stares deeply into the lens. To quote one of her favorite artists, Beyoncé, Betnijah's giving I'm that girl energy with each hair flip. Having spent the past three years in Brooklyn, B knows what the city is about, from the food scene (she's got a whole list of the best food spots) to the way New Yorkers carry themselves. "Brooklyn people just show up," she says. "That New York atmosphere, that gritty, [it's] loud, [they're] into it, they're backing us. They've shown up and showed out, and so it's kind of a give and take. We're giving them a show [and] they're fueling us."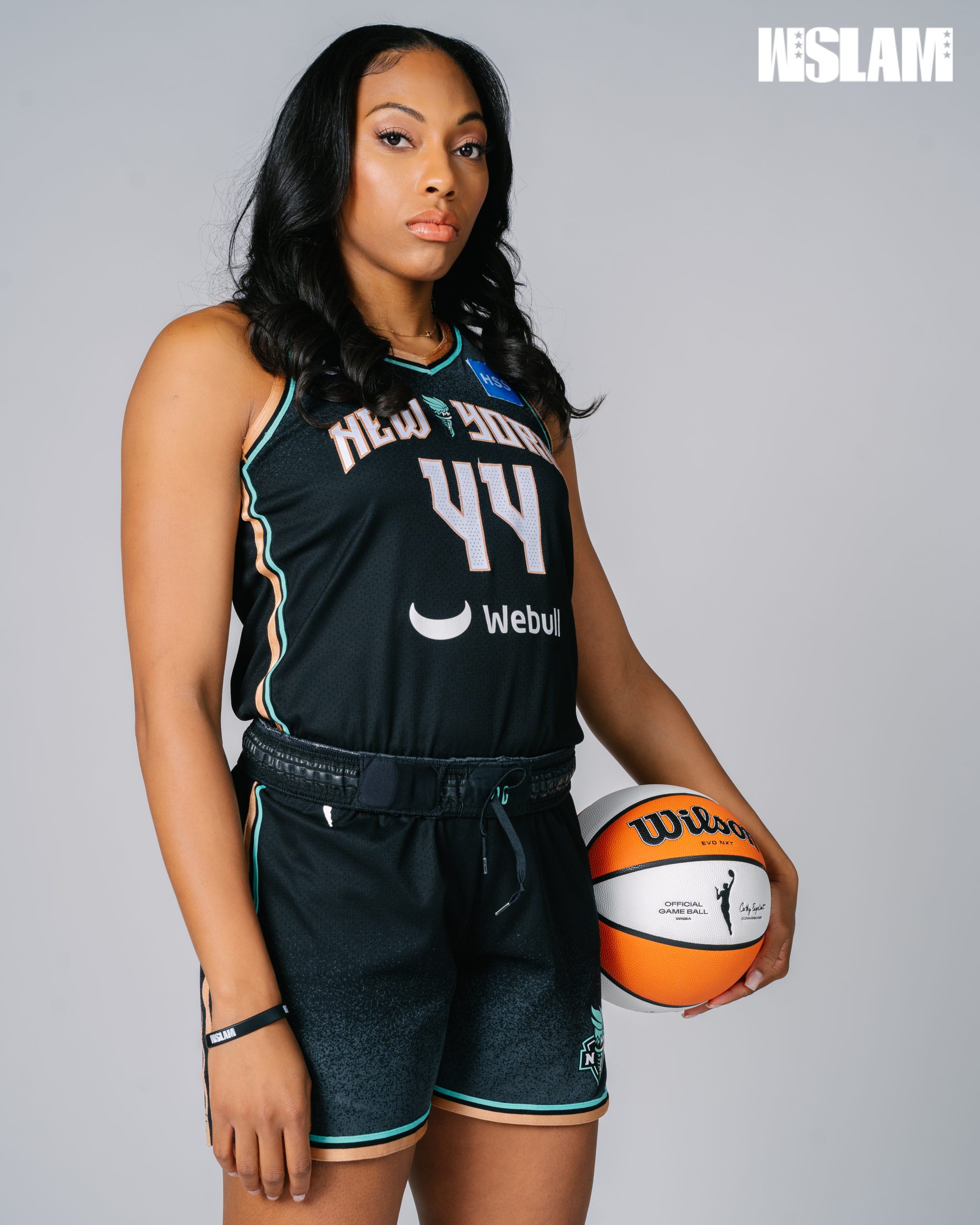 Together, Laney and Sab have been at the forefront of what the Liberty have been building toward. With a new team dynamic and roster changes, it could've been easy for egos to get in the way of the Libs' success this season, but it's actually been quite the opposite. "It's really hard to put a team with this much star power together and for it to succeed," Sabrina says. "But I think when you have players that aren't only playing for themselves but playing for one another, and from the beginning, we've all committed to playing for one another and wanting to see each other succeed in whatever it is that that individual wants.
"And we've really been bought into that because I think to our core, that's just who we are as individuals, and I think that's why we're playing the way we are and we've been having the season that we have been having in such a short amount of time [despite] not really knowing each other and playing with each other for so long, 'cause it's just who we are. And we've really stayed true to that."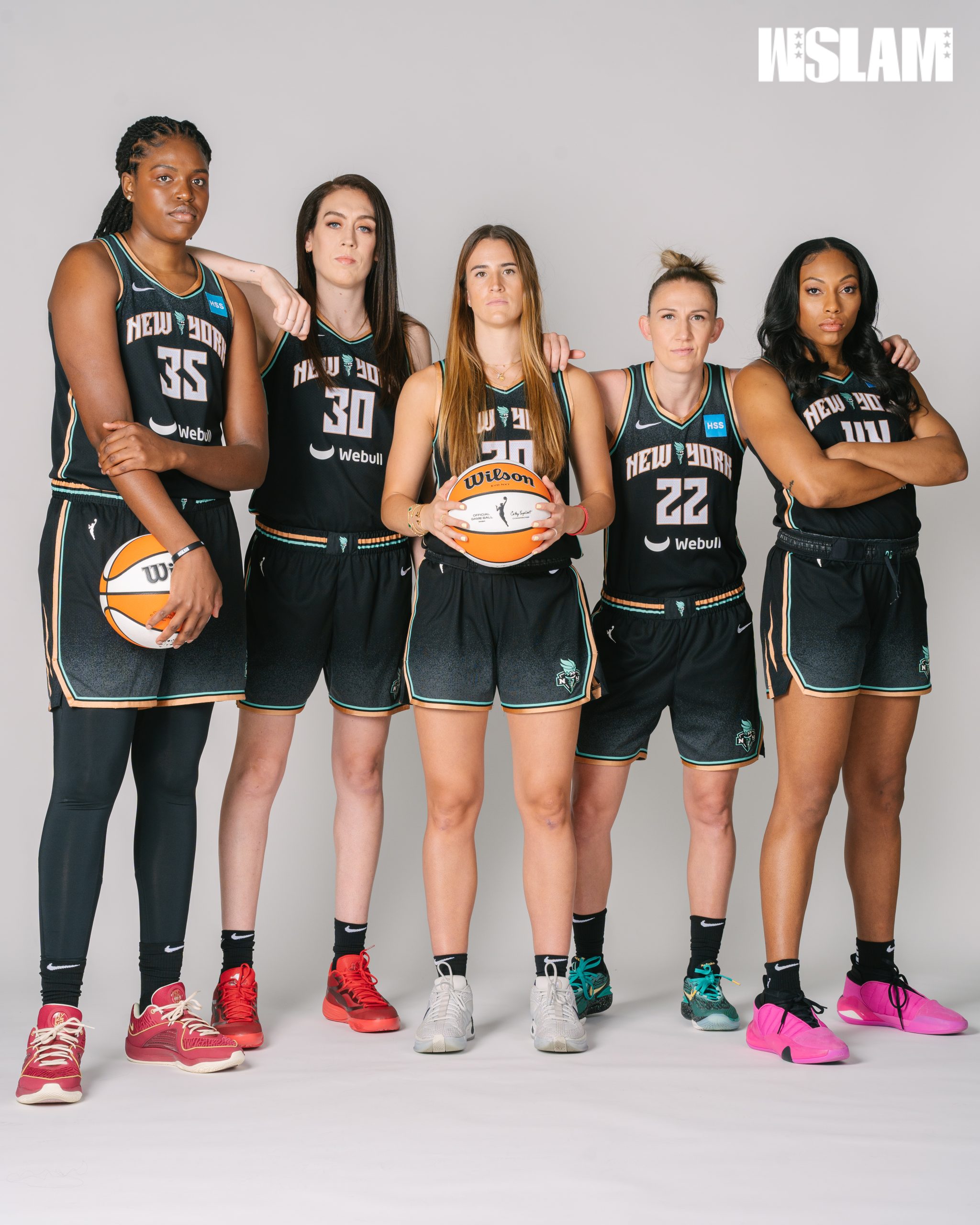 As much as this story is about them, our cover stars aren't the type of people to make things all about themselves. Ask Betnijah about her "why" and what motivates her and she brings up her niece, JJ (who she calls "Little JJ" when she's around Jones), and how she wants to continue to "inspire [and] be role models." Big JJ wants to win, but she also wants to succeed for her family and all the people "who have sacrificed" to help her get to where she is today. Sab brings up the process, and how they're able to "look back" and see how much the organization has grown. 
They're all playing for something bigger than themselves. As they look to bring a championship to Brooklyn, they all recognize that this team represents the new era of the W. An era of player empowerment, of women making power moves. "I have obviously been in the League for a long time, and for so long there wasn't a lot of player movement and there wasn't a lot of this," Sloot says. "Stewie touched on it, our ability to kind of control our careers and do what we want, create this buzz. Women's basketball is at an all-time high right now, so why not take advantage of that? Take control of our careers, do what we want, be where we want. And for all of us, that was here."
For Stewie, it's simple. "Everyone," she says, "is chasing greatness."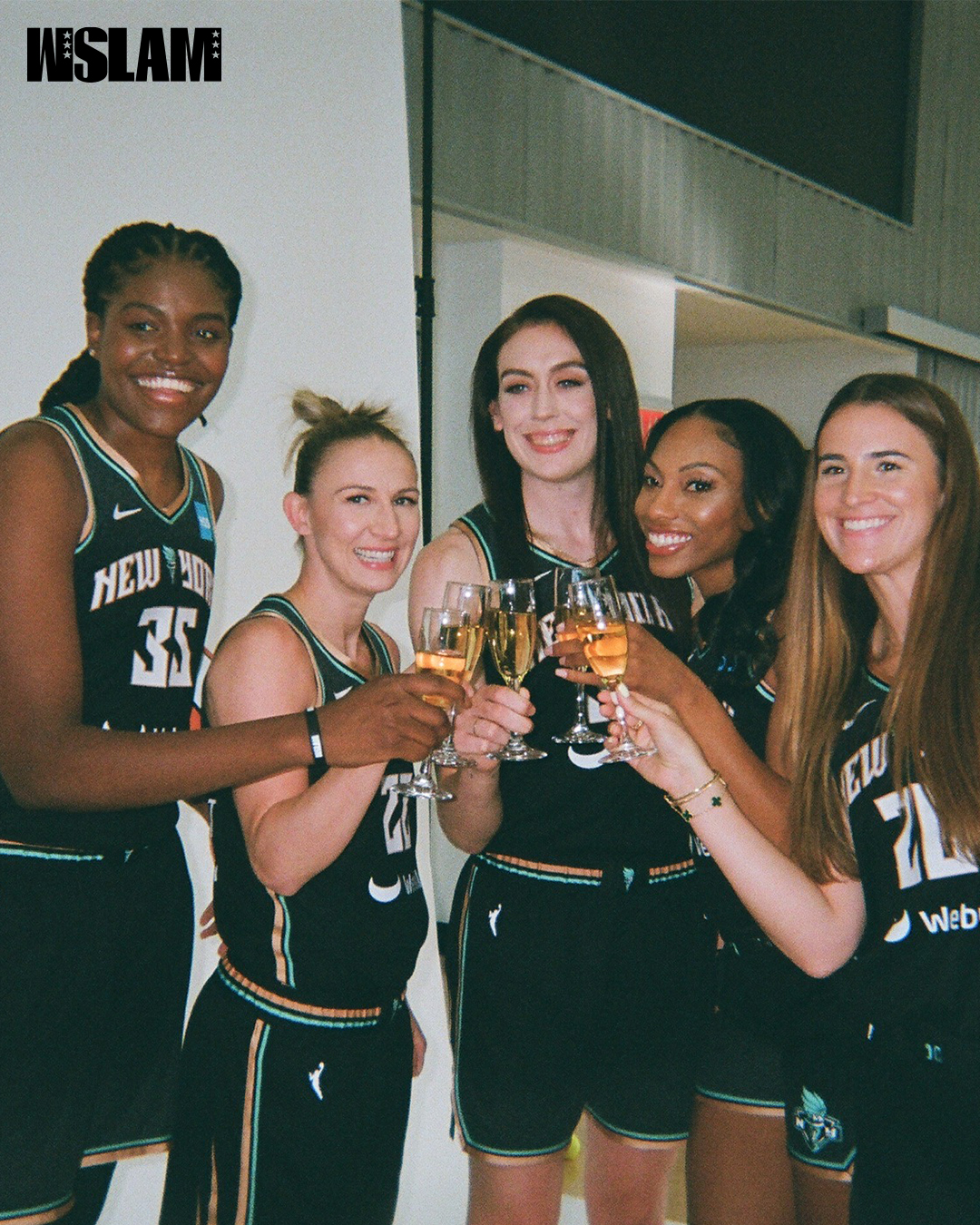 ---
SLAM 246 COVER TEES AVAILABLE NOW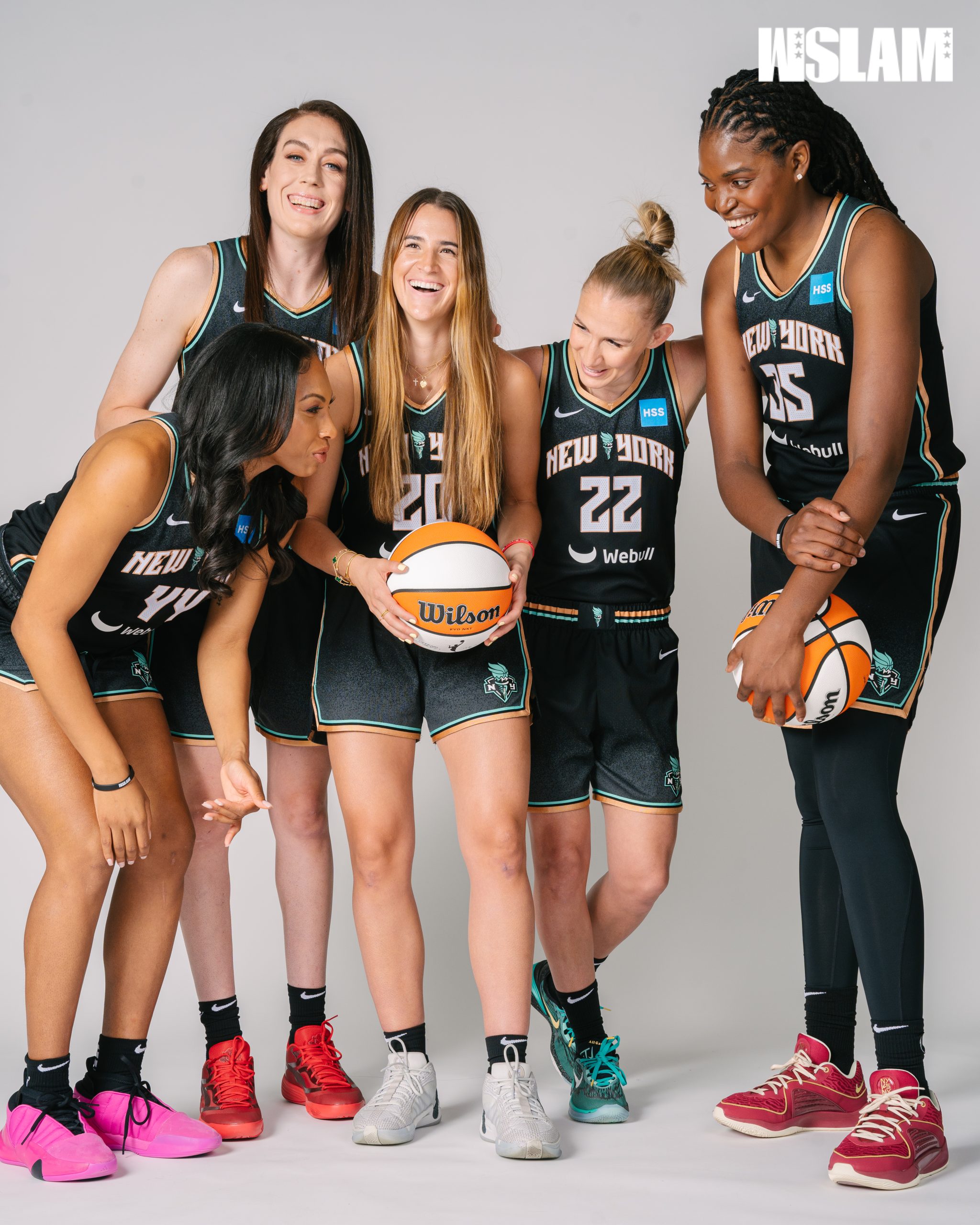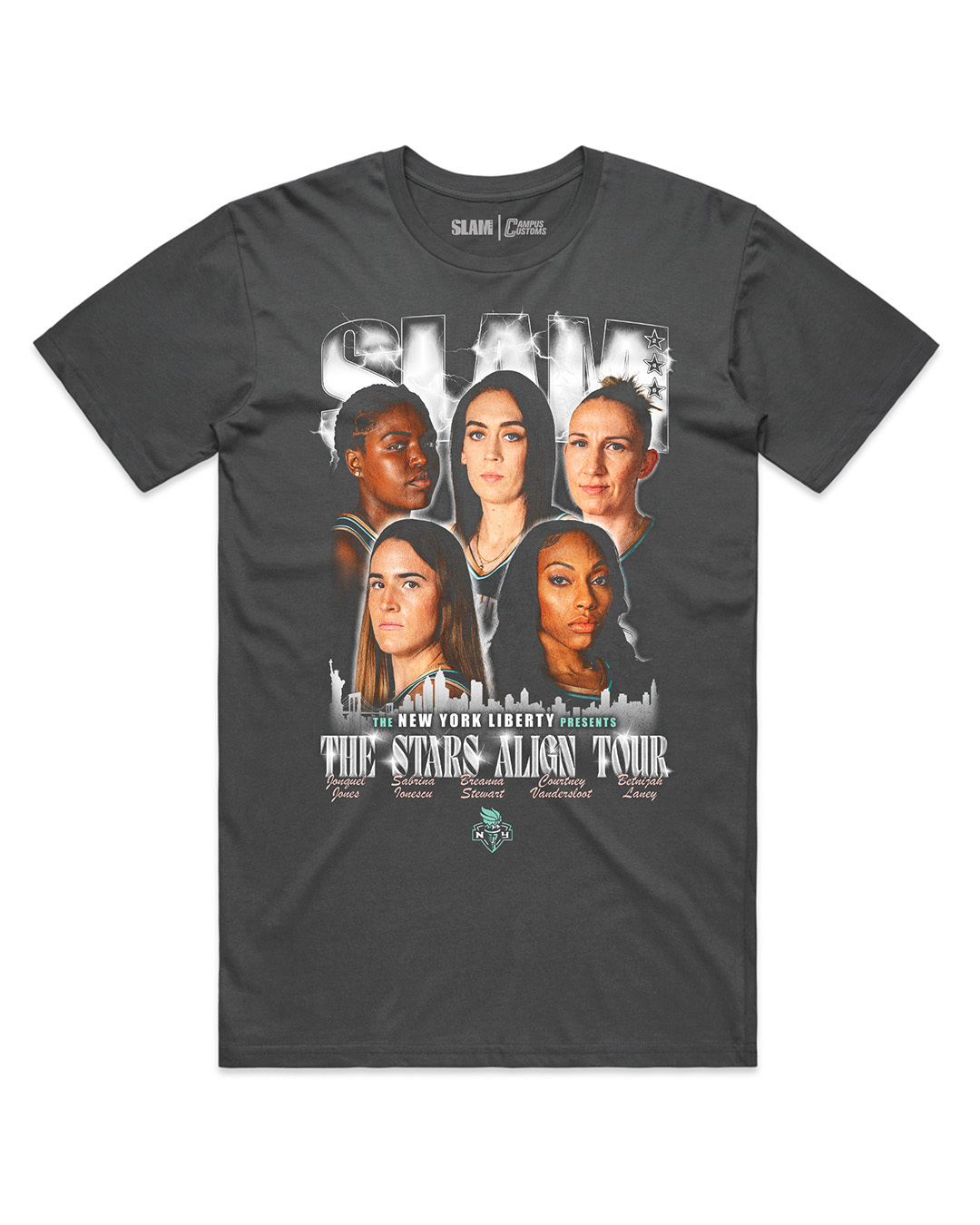 Welcome to The Stars Align Tour. Consider this New York Liberty SLAM 246 Cover Tee as our official "tour merch" as the Libs continue dominating the WNBA.
---
Cover Story: Deyscha "Sway" Smith
Photographer: Marcus Stevens
Cover Design: Lester Padilla
Cover Shoot Producers: Sway, Sole Ortiz Ruiz, Arvind Pitchai
Video:  Eli Selva
Intern: Haben Fessehazion
Graphics: Erica Davis, Abdel Kyle Traore
SLAM Social: Arvind Pitchai
WSLAM Social: Sole Ortiz Ruiz, Mya Peterson