This story is featured in the latest issue of SLAM 246. Shop now.
Alyssa Thomas is having a season like no other player in the W. Two years after rupturing her Achilles tendon while playing overseas, the Connecticut Sun forward is dominating every facet of the game and stuffing stat sheets on a nightly basis. AT is averaging a career-high in points (15.5), leads the League in rebounds (9.9) and ranks second in assists (7.9). 
"It was super hard," Thomas, who's in her 10th season, says about away from the game. "That whole process—that was my first major injury, which I needed surgery on. I was playing some really great basketball. There's always that in the back of your mind that you won't be the same player…It was a very hard recovery mentally and physically for me."
The stigma that comes with suffering an injury of that magnitude—whether she'd return to normal form—crept in the back of her mind, but Thomas knew she couldn't sulk despite feeling like she hit rock bottom. During that dark period, DeWanna Bonner, her All-Star teammate and fiancée, came to her aid to let her know there was a light at the end of the tunnel. 
"She came to see me after I had my surgery, I hadn't left my room and she wasn't having it," Thomas says with a laugh." She made me come out of my room and took me out. From that moment on, that jump-started me to getting my stuff together and attacking the rehab."
On the eve of the playoffs, AT has a League-record 27 double-doubles and is the first player in WNBA history to lead the League in total rebounds (394) and assists (316) in the same season. Thomas also became the first player to post 25 points, 10 rebounds, 10 assists and 5 steals in a game. She joined A'ja Wilson and Breanna Stewart in the MVP race. 
"It's huge," she says of the recognition. "I think that's the highest accolade you can get as an athlete in this sport. For your name to go down as an MVP, that's something that stands forever. With so many great players that are playing now and have gone through this League to be an MVP, and [to] stand with all other MVPs—like I said, the hugest honor you can accomplish."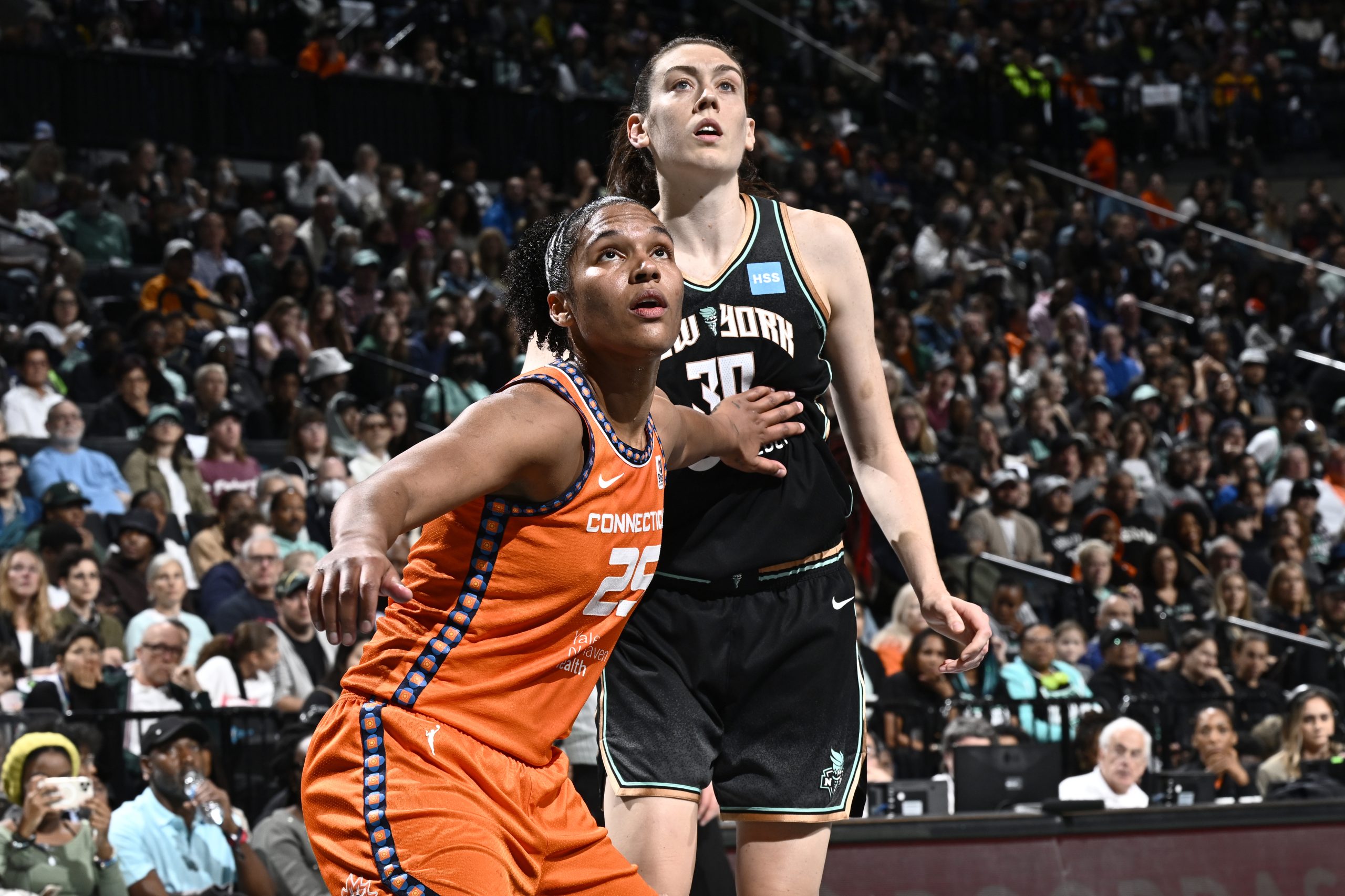 Thomas acknowledges that she likes to let her game do the talking and doesn't get caught up in all the hoopla of the MVP race, rankings and championship favorites from outsiders. 
"For me, it's a lot," she says. "I'm not one that's big on social media and all the attention, so the fact that there's something with people talking about the race or interviews asking why you should be the MVP—I'm definitely ready for the MVP [talk to be over] so I can focus on the playoffs."
Despite being an MVP contender and leading the No. 3-ranked Sun to a 27-13 regular season record, Thomas feels she and the team have been overlooked throughout the season. 
"When you look at the preseason rankings, we were nowhere near the top," she says. "So many people talked about [the fact] that we lost [in the WNBA Finals] and kinda forgot about what we did have. We really are a contender, and I don't think anyone's been talking about us."
Whether she's named MVP or not, AT has her sights set on something bigger than individual accolades: a WNBA championship. After falling short in 2019 and last season, the do-it-all forward is hungrier than ever and focused on bringing the franchise its first-ever title come October. 
"The one thing about me is that my game is different," she says. "I bring a different look to the game, yet I'm playing hard each and every game—the same intensity and energy level. The biggest thing is I've never changed who I am as a player, made my style or how I play basketball fit into this League. I think that's a huge reason why I'm having a season that has never been seen before."
---
Photos via Getty Images.