Since his professional career began a little over a year ago, Mac McClung has lived in five different cities and played for six different teams. He's jumped from one coast to the other, from the G League to the NBA, from a starter to a backup.
"It's been crazy, but that's how the game goes," McClung said in an episode of "The Break," an original series produced by the G League. "If I got to play for all 30 [teams] to make it, I'm going to play for all 30."
Life on the fringes of the NBA is often a roller coaster. And even for a former high school superstar and social media sensation like McClung, the spotlight doesn't shine very bright in the G. Nonetheless, the 6-2 guard out of Texas Tech has quietly been making big strides. 
After going undrafted in 2021, McClung eventually landed with the South Bay Lakers, the affiliate of the Los Angeles Lakers. He averaged 19.6 points, 5.8 assists, 3.3 rebounds, and 1.2 steals through the first 13 games of the season before being called up by the Chicago Bulls in mid-December. Hundreds of players entered COVID-19 protocols that month, which led to an unprecedented number of opportunities for G Leaguers. McClung signed a 10-day contract with the Bulls and made his NBA debut almost exactly a year ago (2 points in 3 minutes against the Hawks). Chicago gave him a second 10-day, but McClung did not receive any more playing time, and returned to the South Bay Lakers in January. 
First known for his jaw-dropping dunks, the 23-year-old has shown his versatility as a pro. Back with South Bay, he averaged 21.6 points, 7.5 assists, 6.8 rebounds, and 1.5 steals, winning the 2021-22 Kia NBA G League Rookie Year award (previous winners include Paul Reed, Quinn Cook, Tim Frazier, and Robert Covington). In April, Los Angeles rewarded McClung with a two-way contract and brought him up for the final game of the regular season. He capped a solid performance (and a Lakers victory) that evening with one of those signature jaw-dropping dunks…
Despite a successful, albeit hectic, rookie year, and an impressive showing at 2022 Summer League, McClung did not make an opening day roster. He turned down million-dollar offers from clubs overseas, instead opting to rejoin the G League and keep chasing his NBA dream. As a member of the Delaware Blue Coats, the affiliate of the Philadelphia 76ers, McClung has thrived in various roles this season. He dropped a career-high 44 points in November and notched his second career triple-double (21 points, 10 rebounds, 10 assists) shortly after. On some nights, he's provided a much-needed scoring spark off the bench; on others, he's been the Blue Coats' primary playmaker, running the offense and facilitating for his teammates.
SLAM caught up with McClung during the recent G League Winter Showcase in Las Vegas. Delaware won both of their games at the annual scouting event, with McClung averaging 12.5 points (on 59 percent shooting), 7 assists, 4.5 rebounds, and 1.5 steals.
---
SLAM: What was your mindset heading into the Showcase? 
Mac McClung: Just to make the most of whatever my role is for the team. We won, 2-0, that's always great. Wish we were in the winner's bracket. But yeah, just make the most of it. Show that I can fit in in any situation.
SLAM: How are you a different player this season compared to last season?
MM: I think I just became better at adapting to situations. I feel like if you've seen this year, I've played multiple different roles for this team. And I feel like I've been a positive influence in each and hopefully people notice that and notice that I can adapt to any situation. 
SLAM: Is there anything specific that you worked on this summer?
MM: Really just film work on patience. When your minutes get cut or something, people often want to force things. I kind of learned to [hold] that back and also just play the game the right way no matter what the situation is, which sounds easy but it's harder than it sounds.
SLAM: Can you sum up what this past year has been like for you, with all the movement up and down and to different teams/cities? 
MM: It's been a rollercoaster, if you let it be. That's one thing I was talking to my parents about. If you let success determine your happiness, it'll just be a rollercoaster, instead of just buying into each day and the process. That's one thing I've done. And I'm doing what I love every day. Me getting better every single day is my goal—not [moving] up and down [from the NBA]. So when I have that time, hopefully I can capture it. 
SLAM: Any specific moments that encapsulate just how chaotic last season was for you?
MM: If you look at the whole situation, I've changed multiple teams. Other teams picked me up. Here, in [Las Vegas] Summer League, I ended up with the Warriors, when I started with the Lakers. It's just being able to adapt, man. That's just the League. You've got to control what you can. I can't control what team I'm playing on or if someone wants to give me an opportunity. I just always stay ready.
SLAM: Can you describe your thought process when you were deciding whether to rejoin the G League or sign with a team overseas?
MM: I'll shout out my best friend, Zac Ervin. I was offered quite a bit of money to go overseas—like, probably I could change my life with that money. I always tell myself I'm going to stick it through until I make it [to the NBA], because I believe in myself. And you get offered that stuff and you're like, Oh, man. That changes. But my boy Zac was like, "Man, that's not who you are." Because we worked out every day from seventh grade to senior year. Every single day. He was like, "Man, you weren't in the gym for that." So I'm like, Damn, that's not who I am. Let me get it while I'm here. 
SLAM: How was your brief experience in the NBA last year beneficial? What did you take away from it?
MM: It's good just seeing it and learning. I think that's the biggest thing—experience. When it comes to growing, people talk about, you can work on certain things, but experience is so valuable, man. Being there before is valuable. I got to touch the NBA a little bit and I got those nerves out, those jitters, and I got to see what it's about. And I'm ready whenever my next opportunity comes.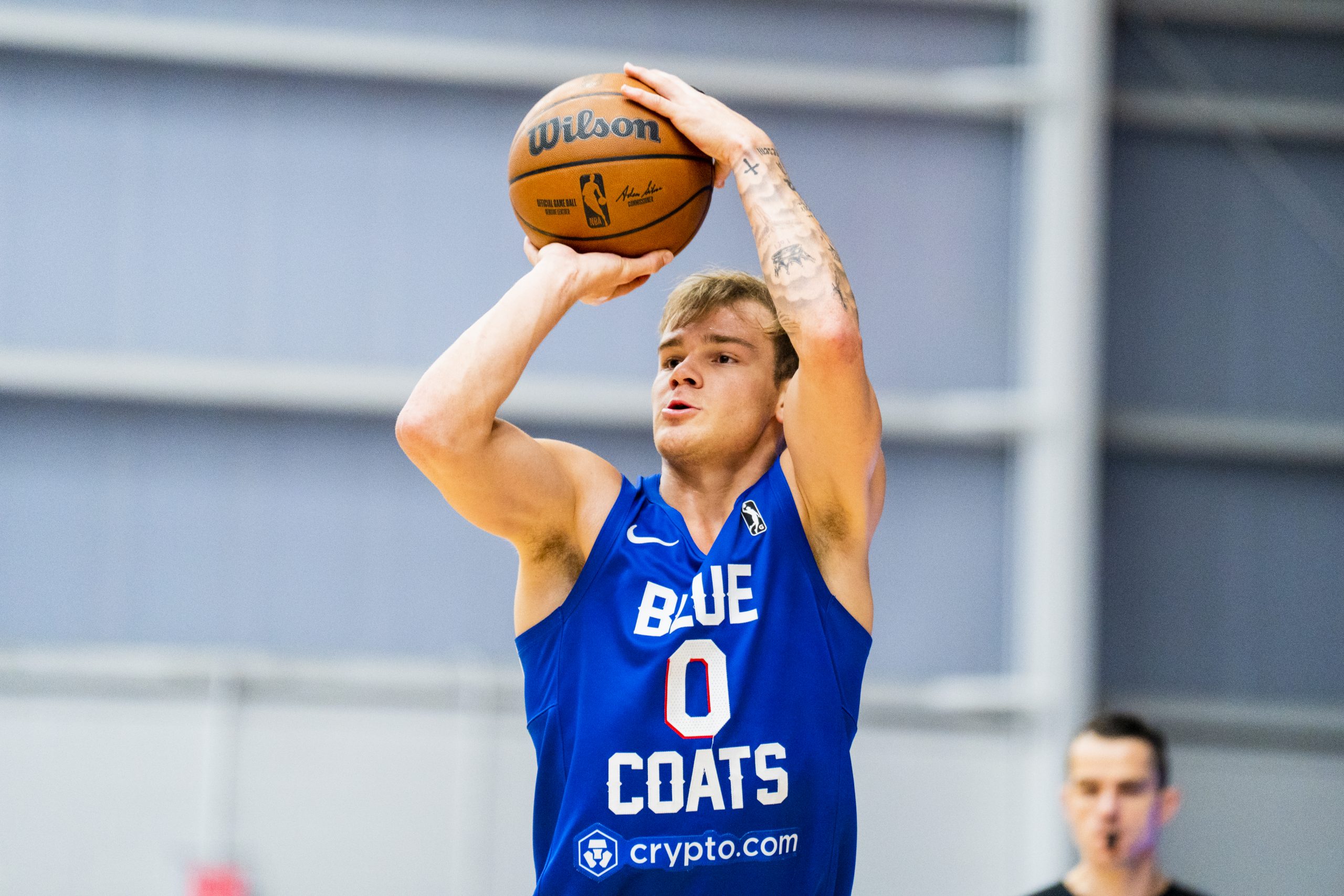 SLAM: What can you provide an NBA team right now? 
MM: Multiple things—that's what I'm trying to show. I'm diverse. If you need me to come and be a point guard off the bench and get others involved, I can do that. If you need me to score, I can score. I'm going to be active—I'm going to be rebounding, diving on the floor, just [providing] energy in any way you want me to.
SLAM: What's the biggest misconception about your game? 
MM: When I was in college, I wasn't much of a point guard. But I think if you watch these games, I really get my teammates involved.
SLAM: What's the biggest misconception about life in the G League?
MM: People just don't understand how lonely it is, I don't think. It's not easy. Andre Ingram told me, "Every five days, something changes." In the G League, something is changing every five days.
SLAM: What are your overall goals for this season?
MM: Just to keep growing each day, man. I want to play in the NBA. I believe I'm an NBA player. But that will come when I keep working on each day, trying to grow each day. 
Photos via Getty Images.