Here comes a chorus of applause from the crowd at Quai 54 in Paris. These passionate people call France home and they call Slovenia home and they call America home and they call other countries unknown home. They're loud enough, animated enough and forceful enough for the makeshift court that Jordan Brand has constructed just under the Eiffel Tower to quiver slightly. The collective love echoes high above the red and blue of the 94×50, beyond the Tower and out to the rest of the world, where eager eyes await updates through the internet. The rhythm of clapping and the melody of cheers is for the arrival of Luka Doncic. 
Doncic strolls in, entering stage right, with his very first signature sneaker, the Jordan Luka 1, on his feet. He's wearing the "Quai 54" colorway while a village of people trail him to center court. He smiles nice and big with the Tower framed in the background. He then pops a pair of shades on, cops a seat and gets ready to watch a squad from his homeland of Slovenia play a 20-minute exhibition against a local French team. 
The midday sun wants attention in the worst way, trying to outshine Doncic. It's an unrelenting type of scorching with no cloud cover and dry winds. The only silver lining to be found in the weather is that the cerulean canopy is wondrously gorgeous. The Parisian architecture was built with stunning purpose. Very few structures obscure the sky's grandeur. 
The blistering July sun doesn't slow down the adoring masses. Some of them have learned about Doncic by watching the Dallas Mavericks. Others learned about him by watching Real Madrid. Some of the very few lucky ones learned about him by seeing him on the streets and at the courts of Ljubljana, Slovenia. We've all come to expect that expectations carry no weight with him. He inhabits the unexpected. Two seconds of his reactive decision-making with the ball have started to last much longer than just two seconds. The packs of Luka fans both here in Paris and around the globe have come to hold on to those fleeting moments where magic is proving to be real. Whether the spectators are French, Slovenian, American or from somewhere else, the many perceived differences of their lives are simplified by the connection shared through a language they can all see—brilliance on the basketball court, translated for all the planet by Luka Doncic. 
KICKS 25 featuring Luka Doncic is out now.
All roads have started to lead to Luka these days. More and more of his peers talk about how unstoppable he is. His fan base continues to stretch, both geographically and age-wise. Opposing coaches are losing sleep over him. The NBA résumé is getting bolstered in the same way his EuroLeague accomplishments caught attention from shining sea to shining sea. A particularly important set of eyes started watching him at some point along the way. Michael Jordan noticed the world's player. He and Jordan Brand scooped Luka up and have set him down the path of being a signature athlete. 
But this tale doesn't begin in Paris. 
Ljubljana, Slovenia, Luka's hometown and Slovenia's capital, is the City of Dragons. Old stories say that the great Greek hero Jason slayed the dragon that lived in the waters of the Ljubljanica River before the city was founded. Time and oral traditions have changed the dragon's role from monster to hero in Slovenian mythology. The mythic beast was a part of Doncic's upbringing. Now Ljubljana holds a Dragon Carnival every winter, and there is a dragon on the city's coat of arms, as well as its flag, its river walls, its manhole covers, and even on the logo of NK Olimpija Ljubljana, the local football team. The city's Dragon Bridge, home to four copper dragon statues, has become famous across the globe.
"Really nice," Doncic says about the Dragon Bridge. "And you have restaurants all over the river."
The bridge lies underneath the grand hill where the city's ancient castle, which held an exhibition in 2018 called "The Dragon of All Dragons," was built long ago. Wings and fangs are everywhere throughout the capital. 
The fire that Doncic plays with has been boiling in his veins, passed down from the blaze of the dragons that dot his city. But he's not all consumed by flames. He can spot the beauty.  
"Just how nice it is," he says about what would be the biggest surprise for a tourist visiting Ljubljana. "Almost everything is green. I think you guys would be surprised how nice it is. You have mountains, you can go to the sea, you can do anything, and it's still all green. It's really nice."
One of the launch colorways of the 1, the "Natural Habitat," is dedicated to Ljubljana. 
"This colorway of my home country Slovenia, it represents its colors," he says. "It means a lot to me because it is my hometown. This is a special shoe. The green with the logo. The insole is green. It represents all the green stuff in Slovenia."
But this tale doesn't end in Ljubljana. 
Doncic says that the biggest moment that has propelled him to where he is now—coming off a Western Conference Finals appearance, posing for this cover with his signature sneaker, all of the other success he's already enjoyed—was the decision he made when he was just 13 years old. 
"I think that time I moved from Slovenia to Madrid, it was really tough," he says. "I left all my friends, my family and school there. I think that moment prepared me for what I am now."
"Now" is the version of Luka who is a seasoned world traveler who's capable of speaking four languages (Slovenian, Spanish, English and Serbian). He was bred in environments that grown men can't handle. He's played in dozens of championship-level matchups. He had to learn how to care for himself without any family. Then there's the game. The list of what he racked up between 2015-18 is silly: 
EuroLeague champion in 2018; EuroLeague MVP in 2018; EuroLeague Final Four MVP in 2018; Liga ACB MVP in 2018; 3x Liga ACB champion; EuroLeague 2010-20 All-Decade Team. 
Totally dominating Europe's best competition well before he celebrated his 20th birthday. 
"I think Luka is equal parts a phenomenal basketball—one of the world's best basketball players—and probably one of the world's most joyous people," Craig Williams, President at Jordan Brand, tells KICKS. "He's a humble, good human being. And it's nice to see both of those combinations intact. It's nice to be able to recognize that you can be fearless on the basketball court while at the same time just being a wonderful person, a friend, you know, for us, a partner. It's just…it's fabulous seeing both sides of him at the same time, all the time."
Williams brings up the joy that Doncic displays after he catches a big on a switch in the pick-and-roll. Double between-the-legs, stepback to the left, cash out. Then a huge grin when he backpedals down the court. It happens at least once a game. But there's no special secret to it, as confirmed by No. 77. 
"I just have fun with the game," Doncic says.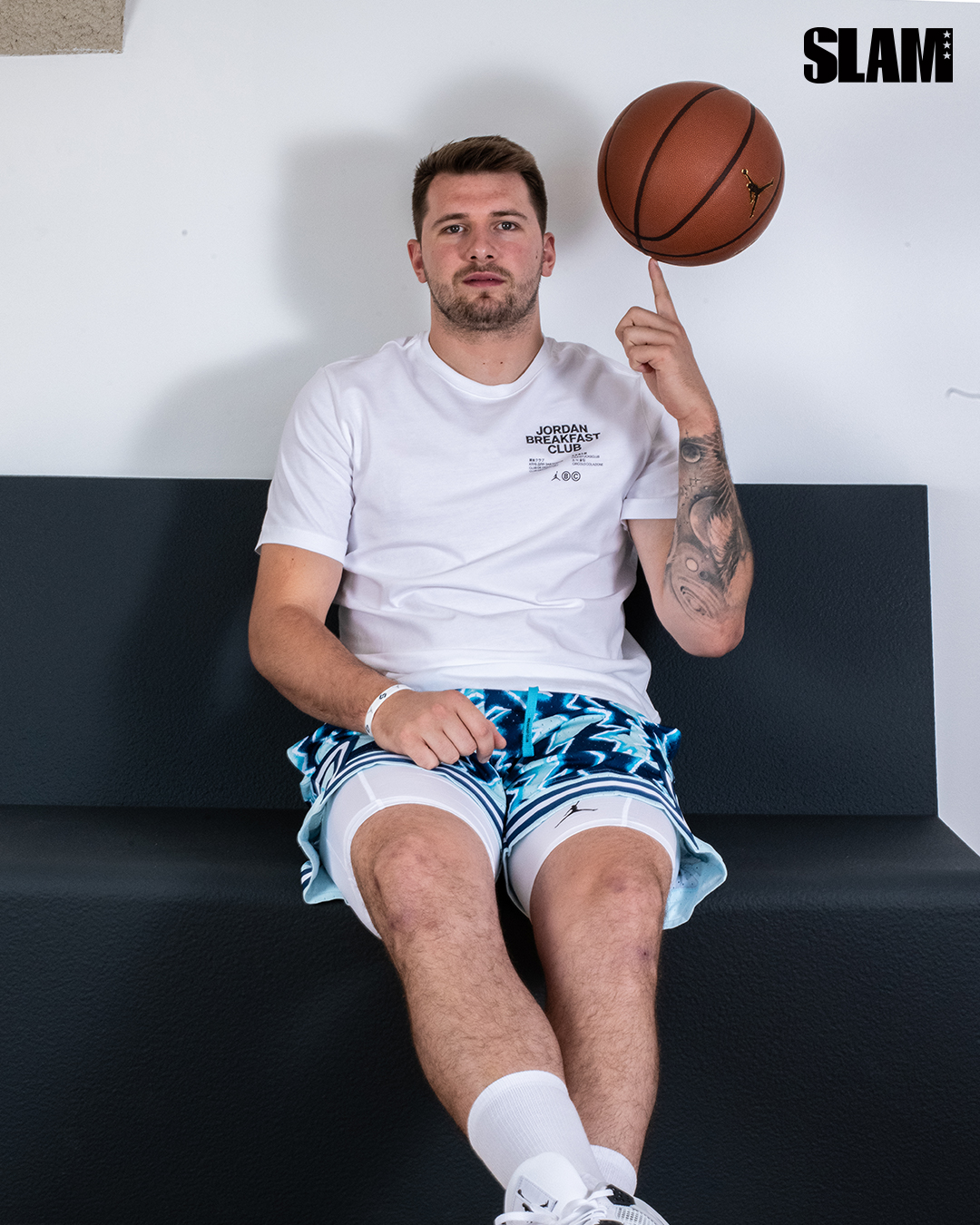 The game sure is fun when there's as much winning as he's experienced. He played with legendary figures over in Madrid, lofty names like Rudy Fernandez, Sergio Rodriguez, Andres Nocioni, Felipe Reyes and one of his favorites ever, Sergio Llull. They are all battle-tested vets who hold the secrets to the game in their minds. Together, all of that knowledge and experience equaled up to a whole lot of winning. 
"In Europe, it was different rules, their court is a little smaller, and there is no three-second rule on defense," Doncic says. "So I think from there comes my reading the game, all the passing skills. It's a tough league to play in. EuroLeague is super tough to play."
It was tough, but he made it through the middle and up to the top, learning an entirely new language and culture in between teaching the world who he was and giving a glimpse at who he'd become. His basketball journey had already spread out nearly 2,065.0 kilometers (1,283.1 miles) and he proved himself against grown men when he was still a teenager. 
But this tale doesn't end in Madrid. 
Luka has been a sneakerhead for a long time. Scroll back through his Instagram page for a trip down memory lane of the early 2010s releases from the Swoosh and the Jumpman. He was a NikeiD fanatic. His oldest shots on Getty Images show him in Jordan XIs, Kobes and KDs. He's known that footwear is a huge part of hoops since forever. And even though Llull, Vassilis Spanoulis, LeBron James and Kobe Bryant hold a place in his heart, MJ is MJ. Doncic is well aware of the weight that comes with being a Jordan Brand signature sneaker athlete. 
"I wouldn't say all my life, but everyone in my country was MJ! MJ! It was unbelievable the first time I met him, and I was really nervous," Doncic remembers. "I didn't know what to say. His legacy is unbelievable, since I was 1 year old."
Doncic finally got to meet the GOAT at his second trip to All-Star Weekend. His response to Mike running up at him during this year's ASW is hilariously endearing. 
"It was amazing," he says. "I was asking people to give me that video so I could post it. If MJ knows you, like, that's unbelievable."
The table was properly set for his first sneaker. He had the enthusiasm and he knew the history. Jordan Brand's lengthy team of designers, engineers and artists were ready. They crafted the IsoPlate and Formula 23, two new technologies, just for him. 
Chad Troyer, Senior Product Line Manager at Jordan Brand, says that the new tech "acts as a team" to help Luka move and play better. 
"If you think about the way that Luka plays on the court, he's really focused on creating separation and creating space," Troyer tells KICKS. "He's hunting for space. He's trying to create separation for himself in tight spaces. Obviously, we all know his step-back jumper is his go-to move. When he plants and he goes into his step-back jumper, his foot can slide off the footbed. So we really started there around, like, OK, how can we help him create separation on his step-back jumper? How can we also keep him contained in a low-top? So that brought us to Formula 23, which is a really exciting technology for Jordan Brand. It's a very soft, responsive foam. Think Nike React for Jordan, essentially. It's a little softer. It's also a little bit more sustainable. So we're really pushing to make Luka's product as sustainable as possible, and that's a big focus for us. So basically what Formula 23 does, it gives him a really soft, even ride. It keeps him balanced, it keeps him cushioned and he gets to feel the ground."
The soft and smooth full-length ride from Formula 23 leads to the IsoPlate in the lateral forefoot section. 
"So the IsoPlate, the way that it's designed and crafted in the forefoot, it protects him on the lateral side," Troyer goes on. "So when he's stepping back, it helps him stay on the footbed. But then as he's engaging his forefoot, it also helps propel him. It's a little bit of a Luka-only kind of system that's almost like an extra weapon under his foot for the way that he plays. The IsoPlate and the Formula 23 is a little system underfoot that really helps players make those moves better."
Doncic does spend a ton of time on his forefoot. Break down any of his jumpshots for just a minute and that's an extremely obvious takeaway. Troyer says that he and the team noticed that the way No. 77 plants and pushes off his forefoot is a way for him to find his balance, even when it seems like the defense has him bottled up. (But they never actually have him bottled up, do they?) 
The upper of the 1 is another separate part of the project. There are embroidered Flightwire cables on the lateral side of the upper. 
"That is strategic, to be lightweight, but to be very strong to help him when he plants specifically for his step back," Troyer says about the upper. "But that embroidery cable system helps keep him, in conjunction with the IsoPlate, it keeps him on the shoe. Secondly, what that does for us, is it's also very sustainable. It's a pretty complicated science project to create footwear that hits sustainability scoring."
Watching over the "science project" was Martin Lotti, Vice President and Chief Design Officer at Jordan Brand. Lotti has worked at both Nike and Jordan for a combined 25 years. He refers to himself and his team members as sponges, tasked with going out and soaking up as much information as possible to find a single droplet that can be distilled into something that makes sense for their work. They found it on the Luka 1. 
"I think maybe it's an appropriate analogy because we are in Paris," Lotti says from a conference room in Nike's Champs-Élysées location. "If you look at the Mona Lisa…if you look at it from a distance, you can see her. But then you get closer and there is the background, and then you get closer and there's so much dimension within this one painting. That's the same approach we have with good footwear. If we can then marry not just the visual but then the actual function, that the main icon is actually attached to specifically a new innovation for Luka—the IsoPlate—that's why it's amazing working with athletes. We would have never come up with an IsoPlate without Luka and without his push and his new insights and him coming, obviously, with a totally new perspective, coming from this European and/or this global view. He's the first homegrown European signature athlete in our lineup. Having our first one that comes from Europe is special for us."
Lotti says that the IsoPlate turned out to be the single droplet that they squeezed. He talks about the wisdom that Doncic has earned through all of his travels that will give them not only a fun mathematical playground to frolic through, but also a rich narrative backdrop to pull from. 
That's where another member of the "science project" comes in. It's Kelsey Amy's job to design promo and player edition colorways that Jordan athletes wear in games. She and her team have to pull stories from everyone and then translate them visually. Her designs have already made waves in the WNBA and the NBA. In fact, she's so nice with it that she had already known about Ljubljana's relationship with dragons and she put us on to the famous Postojna Cave back in Slovenia that Luka has visited before. "Yeah, it's like a little train and it goes around the cave," Doncic says. "It's awesome."
Amy conceived of the Luka 1 colorways as more of a thought-out album than a random playlist. She says we'll be taken on an already mapped journey of Luka's life throughout the launch cycle of the 1. 
"I think with every single colorway that we had, there's a purpose in telling that story of Luka, the basketball player, and then Luka, the person," Amy tells KICKS. "So, upbringing, roots, what are the things he loves? What are the things he's inspired by?"
She also looks at her job as an educational platform. Doncic has made it to Dallas, where they don't praise dragons, but they do praise cowboys. She has a chance to help him explain his background to those people. 
But this tale doesn't end in Dallas.
The majority of the Luka 1 was designed over Zoom. Doncic didn't find any similarities in being in front of the computer screen for his signature and being in front of the computer screen for his NikeiD silhouettes. 
"I think it's very different, because now you are designing your own shoe," he says. "I had a lot to say about the colorway and how the shoe looks. Jordan gave me an opportunity to be involved. Fifty-fifty, we chose the colors together. It's a long process. It's not easy, but for me, it was easy. The guys on the Jordan side, it was more tough on them deciding on the shoe."
He says that the pressure was alleviated because if he wasn't feeling a new development, the Brand team moved on from it. They listened to him throughout the whole process, which started all the way back when he was in the bubble during the 2020 playoffs. 
Joël Greenspan, Jordan Sport Footwear Designer and lead designer of the Luka 1, remembers the design process really clicking after a trip to Dallas. 
"While the majority of meetings with Luka happened over Zoom, a true unlock came in November of 2021 when our team was able to visit Dallas and meet with Luka in person," Greenspan tells KICKS. "This was our first interaction with Luka in person, which was huge for us. It's one thing to show a bunch of decks over Zoom and get a thumbs-up or thumbs-down, but to be able to show him the shoe in person, get his reaction and see him appreciate how he thought it would fit his style of play is what makes the process so rewarding. We spent the entire day with him, went out to dinner together and learned more about him, which inspired us to finish the shoe with renewed energy looking forward to future iterations. The next night, we were all at the game with his team, and he hit that game-winning three against Boston. That was truly galvanizing. It all felt like Luka Magic to me, and I hope people feel that magic when they lace up this shoe."
"Not many people can say they have their own shoes, especially with a brand like Jordan," Luka says. "It's unbelievable."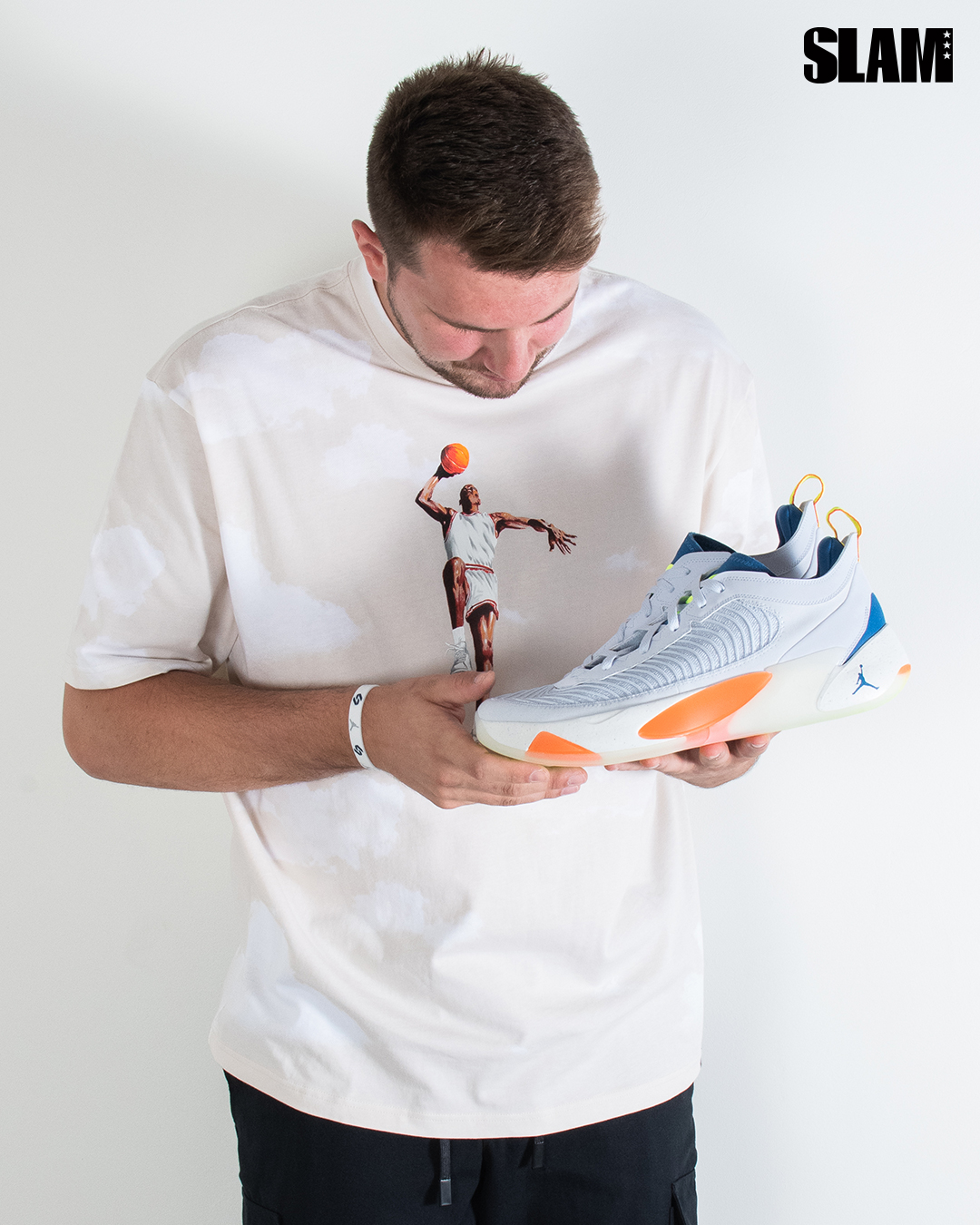 Finally, after working through the design virtually and getting to hold his first pair—but not wear it because it wasn't in his size in the initial shipment—Doncic laced up the Luka 1 against the Utah Jazz in this past summer's playoffs. 
"It was an amazing feeling," he beams. "It was playoffs, an important game, I had just come back from injury. I was so excited to show my shoe. It was unbelievable."
The roads have finally converged. Dragons have guided him, winning has followed him and magic has swirled around him for so many years that the wizardry might actually, somehow, be real. The way he plays ball, ruthlessly destroying while gleefully smiling, discovering small pockets of previously uncharted excellence, has made the world stop and watch him. No matter what he's worn, every time he's laced up, he's brought with him a promise of the astonishing. On-court miracles don't feel that far away when he's playing. His personal map is expansive, and it's only growing more. That's why he can't pick just a single moment that has felt the most cinematic. It's all been a mythic quest.  
"I would say the whole journey. I was dreaming of just playing in the NBA, and now here with my signature shoe, it's an unbelievable journey. I could only dream of it as a kid to be like that. It's unbelievable. I am only 23. It's a hopefully long journey to go," Doncic says.
He's taken the road that no one has traveled. And it's made all the difference. 
But this tale is just getting started. 
---
KICKS 25 is also available in this exclusive gold metal edition. Shop now.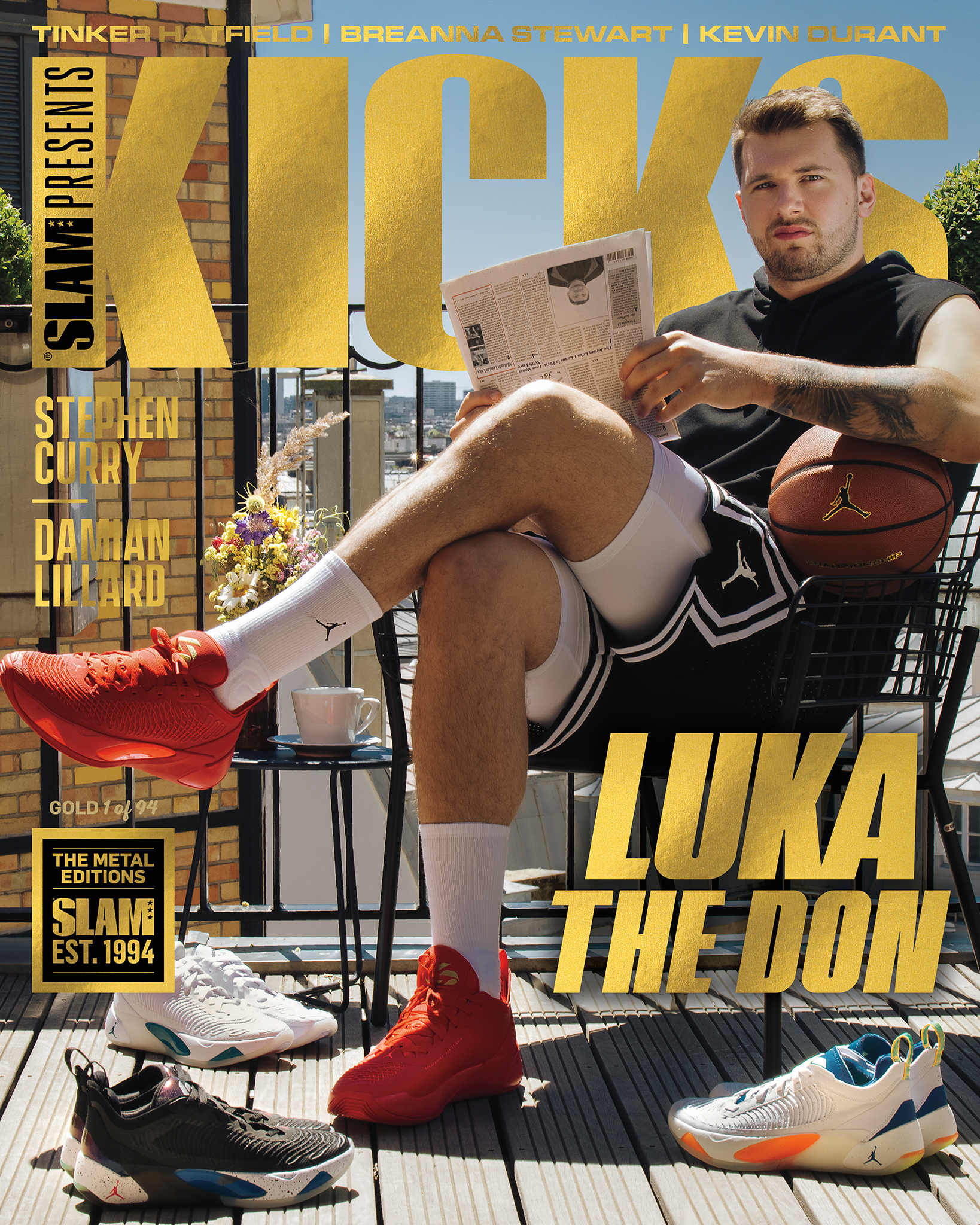 Portraits by Alex Woodhouse.