This story appears in SLAM 244. Shop now.
The United States will enter the 2023 FIBA Basketball World Cup in August as the second- ranked country in the world.
Yes, the second-ranked country.
For the first time in more than a decade, US men's basketball slipped to No. 2 in the FIBA world rankings back in November. The top spot currently belongs to Spain, winners of the 2022 FIBA EuroBasket—the championship of Europe for men's national teams—and the 2019 FIBA World Cup (a tournament in which the Americans finished seventh). The US does not send its A-team to events such as the FIBA AmeriCup, where it came in third last year after being knocked out by Argentina, but the results of those tournaments still impact the rankings. And while the squad put together for the Tokyo Olympics emerged victorious two summers ago, it lost to France during the preliminary round and only won by 5, 87-82, in a rematch in the Final. 
You don't have to look hard for proof that the game is growing around the world. The three finalists for the 2023 NBA MVP hailed from countries outside the United States—winner Joel Embiid (Cameroon) and runners-up Nikola Jokic (Serbia) and Giannis Antetokounmpo (Greece)—as well as six of the top eight vote-getters. Shai Gilgeous-Alexander (Canada) finished fifth, followed by Domantas Sabonis (Lithuania) in seventh and Luka Doncic (Slovenia) in eighth. This marked the fifth straight season that a foreign-born player was crowned MVP, dating back to Antetokounmpo's first triumph in 2019.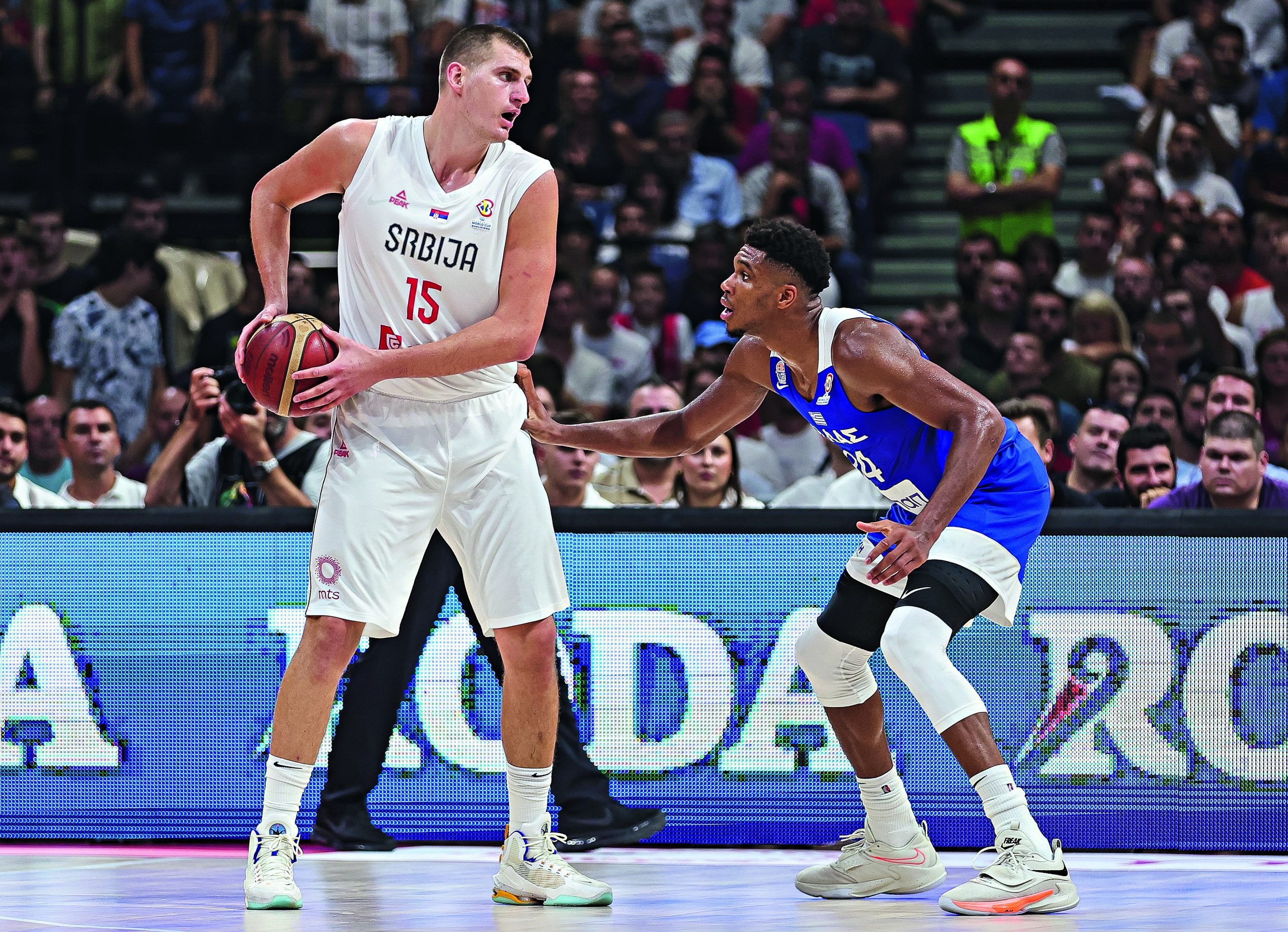 Most of those stars have confirmed that they intend to play in the upcoming World Cup, which will take place in the Philippines, Japan and Indonesia. This year's event will be the second to feature 32 teams and the first to be hosted by multiple nations. It's also the gateway to the 2024 Olympics in Paris, as seven countries will qualify based on their performances: two from the Americas, two from Europe, one from Africa, one from Asia and one from Oceania.
For the US, the tournament will be far from a cakewalk, regardless of who lands on the team's final roster. 
"There are quality players around the world—I think we're starting to see that," says Carlan Gay, deputy editor at The Sporting News and an announcer for international competitions. "Four of the five that finished at the top of the MVP voting aren't American born—that just tells you that the world isn't catching up, it has caught up." 
"I think that we have this idea that, well, if it's not American, it's not as good," says Jeff Taylor, an international basketball commentator since 1997. "I understood immediately watching the [1997] EuroBasket—watching a game between Poland and Germany—I was struck by how good they were." 
Taylor has covered most of FIBA's flagship events since then, observing firsthand how the level of talent has risen in other countries. "It's grown exponentially," he tells SLAM. "I think it was already good at the time, but I think there are different factors at work here [that have made it even better]."
For one, an increasing number of Europeans jumped to the NBA in the late 1990s and early 2000s, and the success of guys like Dirk Nowitzki, Pau Gasol and Tony Parker helped erase stigmas about foreign players—mainly, that they were too soft and not athletic enough to succeed in the States—and inspired others to follow in their footsteps.
Emerging talents overseas join top professional organizations as teenagers, where they are exposed to elite coaching and stiff competition that accelerates their development. Doncic signed a five-year contract with Real Madrid at the age of 13, and No. 1 NBA draft prospect Victor Wembanyama has been a pro since he was 15. Of course, those high-level prospects also join their respective national team programs early on, which facilitates even more growth.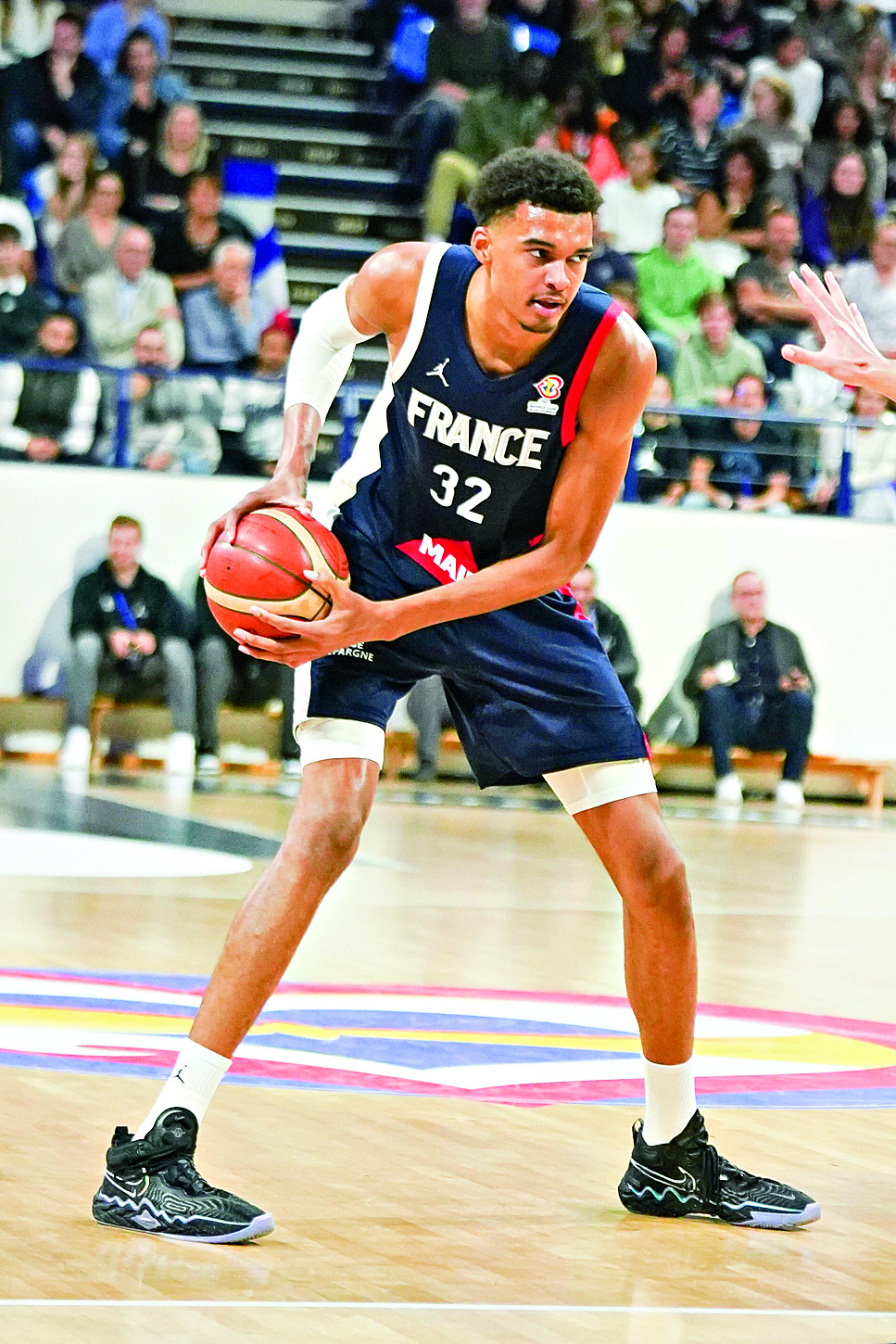 "There's more opportunity for development within your national team program [overseas]," says University of Alabama assistant coach Ryan Pannone, who has previously coached in the NBA,
G League, China, Germany, Slovakia and Israel. "And the pressure those guys are playing under and the pride for their national teams is really high. [For example], Luka was playing within the national team obviously from a very young age in Slovenia, and he was in the academy within Real Madrid in Spain. So he's getting professional coaching seven days a week from coaches whose full-time jobs are to make sure he develops; and then in the summer, he's in the national team system of Slovenia, where he's playing in high-pressure-filled games."
Basketball journeyman Scotty Hopson, who has played in 10 countries and suited up for the 2018 USA World Cup Qualifying Team, notes that the "athleticism level" has increased among international players. "Whenever I go to these countries and play against other teams and players, I feel like they always have a knowledge of basketball that's pretty high level," says Hopson. "And now you add the component that guys are starting to get more athletic, starting to understand how to take care of their bodies, how to train more."
It's important to mention that the FIBA game is different—harder, in a lot of ways. Quarters are 10 minutes long as opposed to 12. The court is smaller (91 feet-10 inches by 49 feet-2.5 inches, compared to the NBA's 94 feet by 50 feet), and the three-point line is about a foot closer. There's no defensive three seconds, and goaltending rules are modified: players are allowed to swat the ball off the cylinder as soon as it touches the rim.
All of these changes result in a distinct style of play: more strategic and methodical, less spaced. Teams value possessions more because there are fewer of them. On defense, it's easier to pack the paint and provide help. Closeouts are faster—there's not as much ground to cover—so coaches emphasize shooting and making quick reads. "The game internationally can be very physical, very tactical. And if you're going to play it, you have to be very intelligent," explains Taylor.
"The game in Europe is way harder than the game in the NBA," Antetokounmpo said last September. "The talent obviously in the NBA is way higher, but the space [is better]—you have a lot of lanes to drive the ball, a lot of lanes to create. Over there it's more intense." 
During the 2022 FIBA EuroBasket last summer, Antetokounmpo had to work extremely hard for his points, as opponents clogged the middle and sent double or triple teams his way. "And in the past, this has helped me a lot, like when I came back from [the World Cup] in 2019," he added. "That was the year we went to the bubble. The first couple of games, I felt like the court was huge."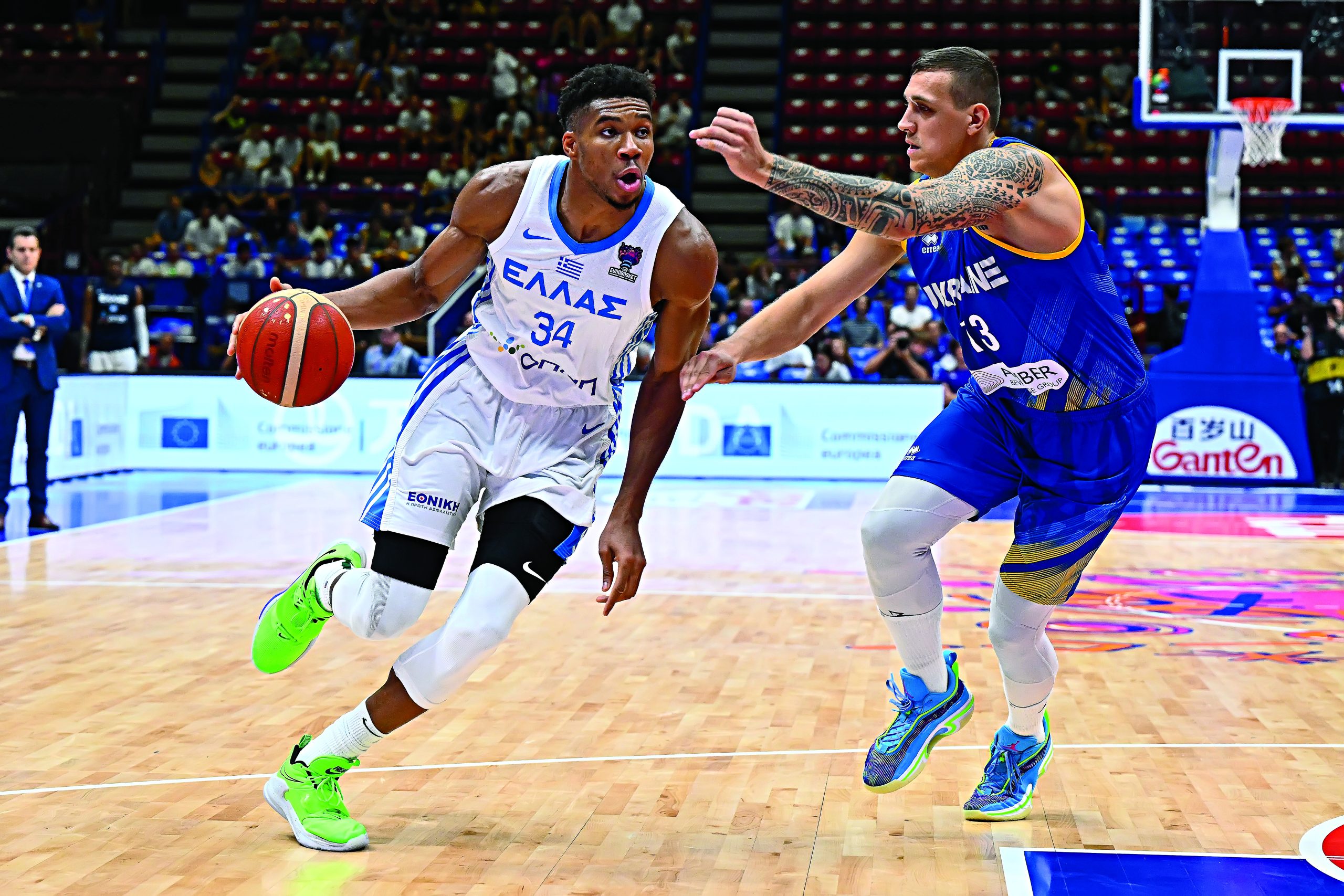 "Is it harder? Yes, because I think you really need to have quick thinking," Jokic said about the international game after EuroBasket. "In the NBA, if you go by the guy, you can see the help is coming. In Europe, help is always there. So you need to think and play ahead." That challenge helped Jokic evolve into the playmaker that he is today and made transitioning to the NBA much easier. Similarly, Doncic told SLAM in 2022: "I think from [Europe] comes my reading the game, all the passing skills."
Thus, current and future NBA players can benefit tremendously from participating in FIBA events, especially given the intensity of those environments. Many of those players also assume bigger roles for their national teams, which allows them to showcase other parts of their games. Utah Jazz forward Lauri Markkanen, for example, shined as the number one option for Finland at the 2022 EuroBasket, averaging 27.9 points on 54 percent shooting from the field and 41 percent from three.
When he returned to the States for the 2022-23 NBA season, Jazz head coach Will Hardy encouraged Markkanen to play exactly as he had for Finland—confident, assertive, in more of a central role. And Markkanen had the best year of his NBA career, making his first All-Star team and winning the Most Improved Player award.
Says Coach Pannone, who was an assistant for the New Orleans Pelicans in 2022-23, "Obviously, Lauri Markkanen and the way that panned out doesn't happen for every [NBA] team, but [FIBA events] certainly give you the chance to see one of your players in more of a star role—how they're used, how they handle it, how successful they are. And you get that opportunity without it costing you games by trying to experiment with that throughout the NBA season."
Markkanen will be with Finland again this summer for the World Cup. Other international players expected to compete include Antetokounmpo, Doncic, Jokic, Gilgeous-Alexander, Sabonis, Wembanyama, Rudy Gobert (France), Karl-Anthony Towns (Dominican Republic), Kristaps Porzingis (Latvia), Franz Wagner (Germany), Josh Giddey (Australia), Nikola Vucevic (Montenegro), Jordan Clarkson (Philippines) and more. The US will likely enter the tournament as a significant favorite, but the depth of talent this year will once again make the road to the Naismith Trophy very difficult.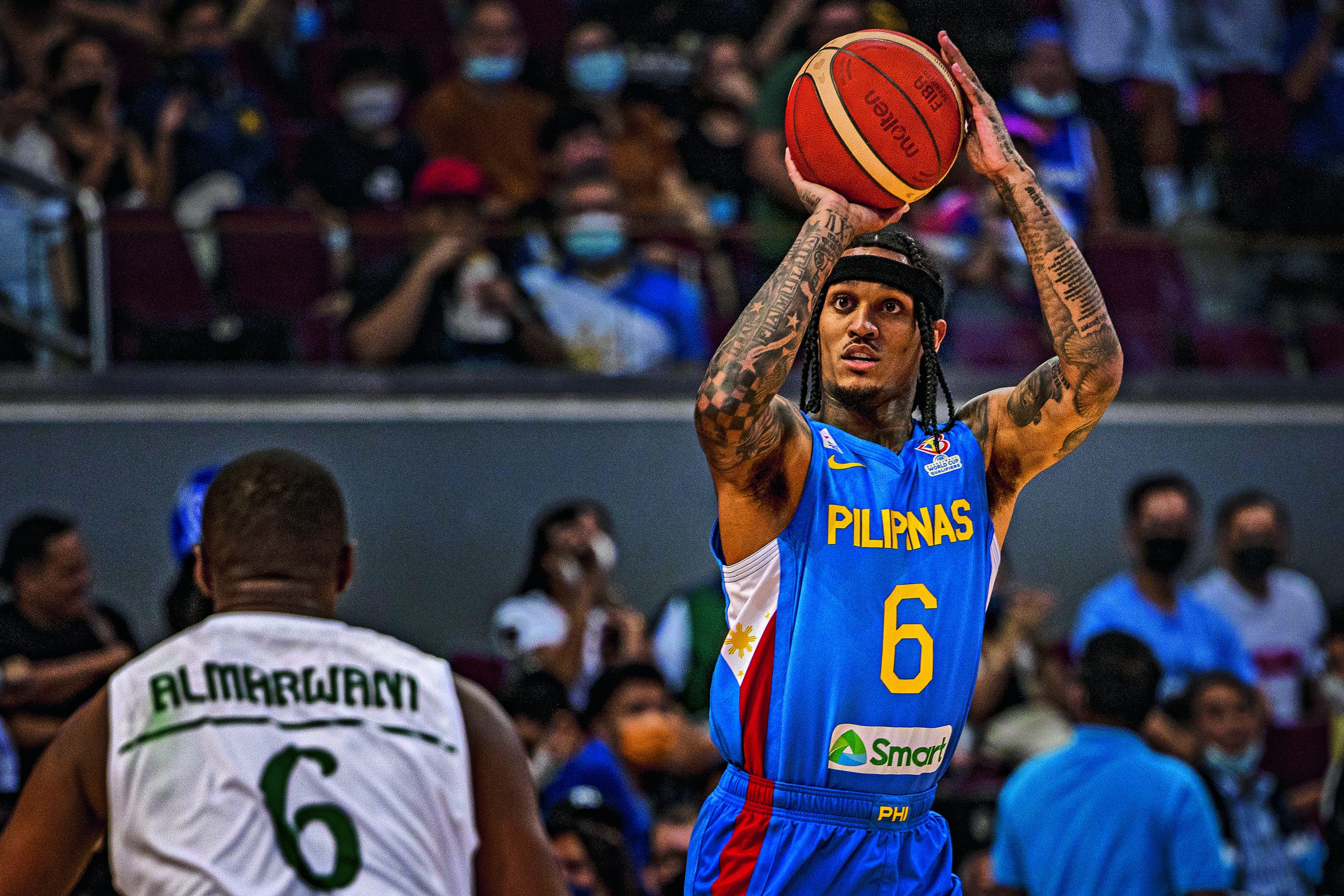 "Whether you're from the United States or not, there's going to be amazing competition here because the level of basketball in this World Cup, I think, will be unprecedented," NBA deputy commissioner Mark Tatum said during an episode of One Sports' The Game.
Defending champions Spain should have another formidable roster, led by veteran point guard Ricky Rubio, MVP of the 2019 FIBA World Cup, and Willy Hernangomez, MVP of the 2022 FIBA EuroBasket. Australia, ranked third, should have Giddey and several other NBA players, including Patty Mills, Joe Ingles, Matisse Thybulle, Josh Green and Jock Landale. The likely presence of Antetokounmpo, Doncic and Jokic ensures that Greece, Slovenia and Serbia will all be tough opponents. Canada could be stacked with household names: Gilgeous-Alexander, Jamal Murray, RJ Barrett, Andrew Wiggins, Kelly Olynyk, Dwight Powell, Lu Dort, Dillon Brooks and more. And then, of course, there's France, a country that nearly toppled the United States in the Tokyo Olympics and should have a similar squad, plus the 7-4 phenom Wembanyama. 
The list of worthy competitors for the '23 World Cup title goes on and on—each one composed of prideful players determined to reach the podium for their countries. 
"You can go down the list of guys who really take pride in putting on that [national team] jersey," says Gay. "I don't think it's something that we truly understand in North America—how much passion there is for basketball outside of these borders and how much passion there is for performing on the world stage for your country—because of the NBA factor. I think kids around the world grow up not dreaming to be in the NBA but dreaming to play and win a World Cup and win an Olympic gold medal."
"Representing your national team, it's heavy," said Antetokounmpo in September. "You represent your whole country."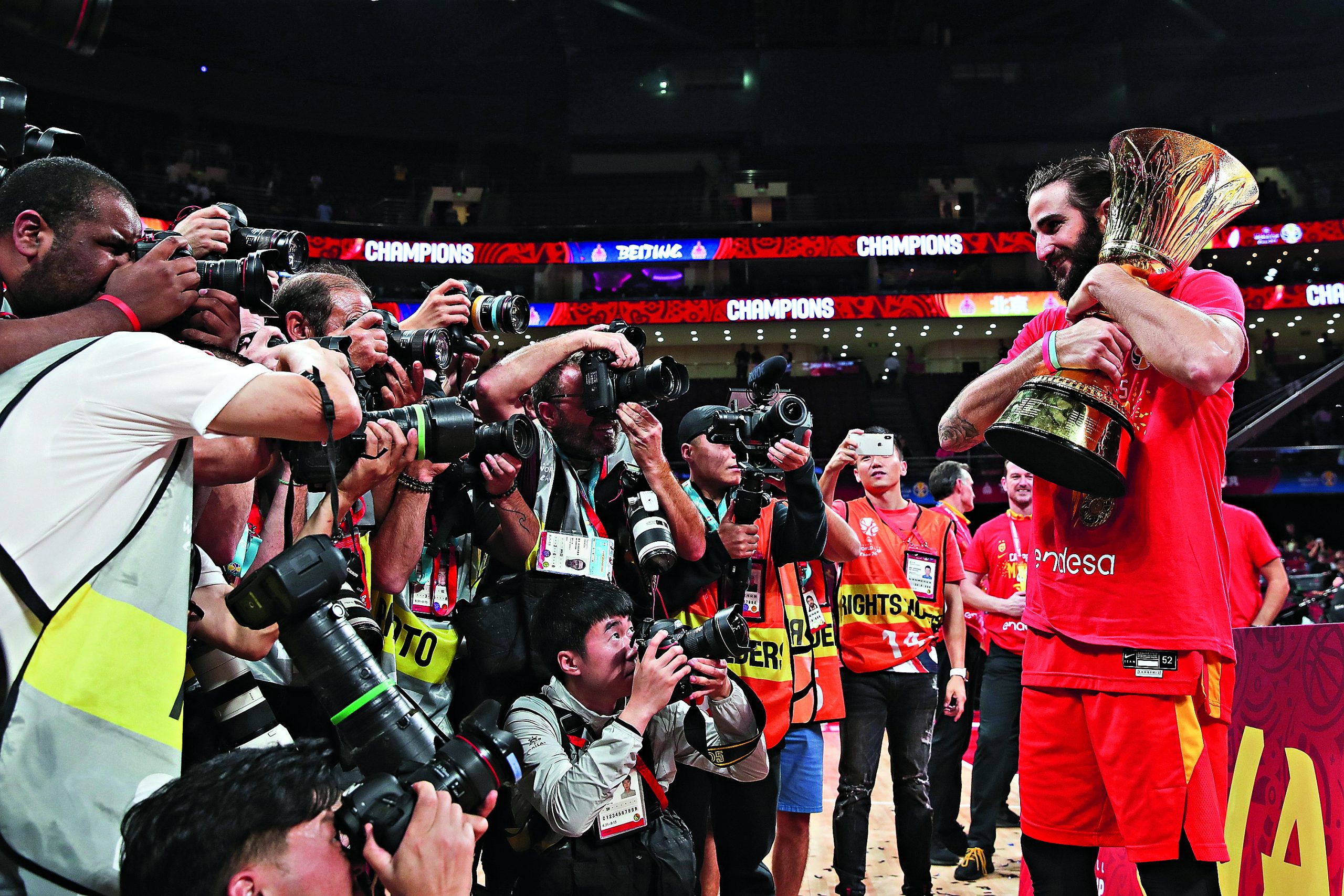 Asked about facing Antetokounmpo during the 2019 FIBA World Cup, then-United States head coach Gregg Popovich said this of international superstars: "When they play for their countries, we like to say that they become superheroes. They get together and, through their relationships and their views about their game, they just form a team that—they fall in love with each other. They enjoy playing with each other. And that goes across the board for everybody that's in the tournament. A lot of them have grown up together, a lot of them have spent a lot of time playing together, and you can see that."
"The biggest advantage I felt like [other countries] had was that those teams play together for years and years and years," Hopson reiterates. He speaks from experience, having lost to a cohesive and well-coached Argentina squad during qualifiers for the 2019 FIBA World Cup. "You're going into a situation where you're playing against guys who have probably been playing together since they were kids. They have an advantage with that because the chemistry is already built." 
Combine that chemistry with the rising talent and the hunger of players to win for their countries and the US will certainly have its hands full trying to reclaim the World Cup title and the No. 1 FIBA ranking.
"The gap has closed, but also, the fear factor is gone," Gay says. "No one's afraid to play Team USA. In fact, they're circling that date on the calendar to try to make history."
---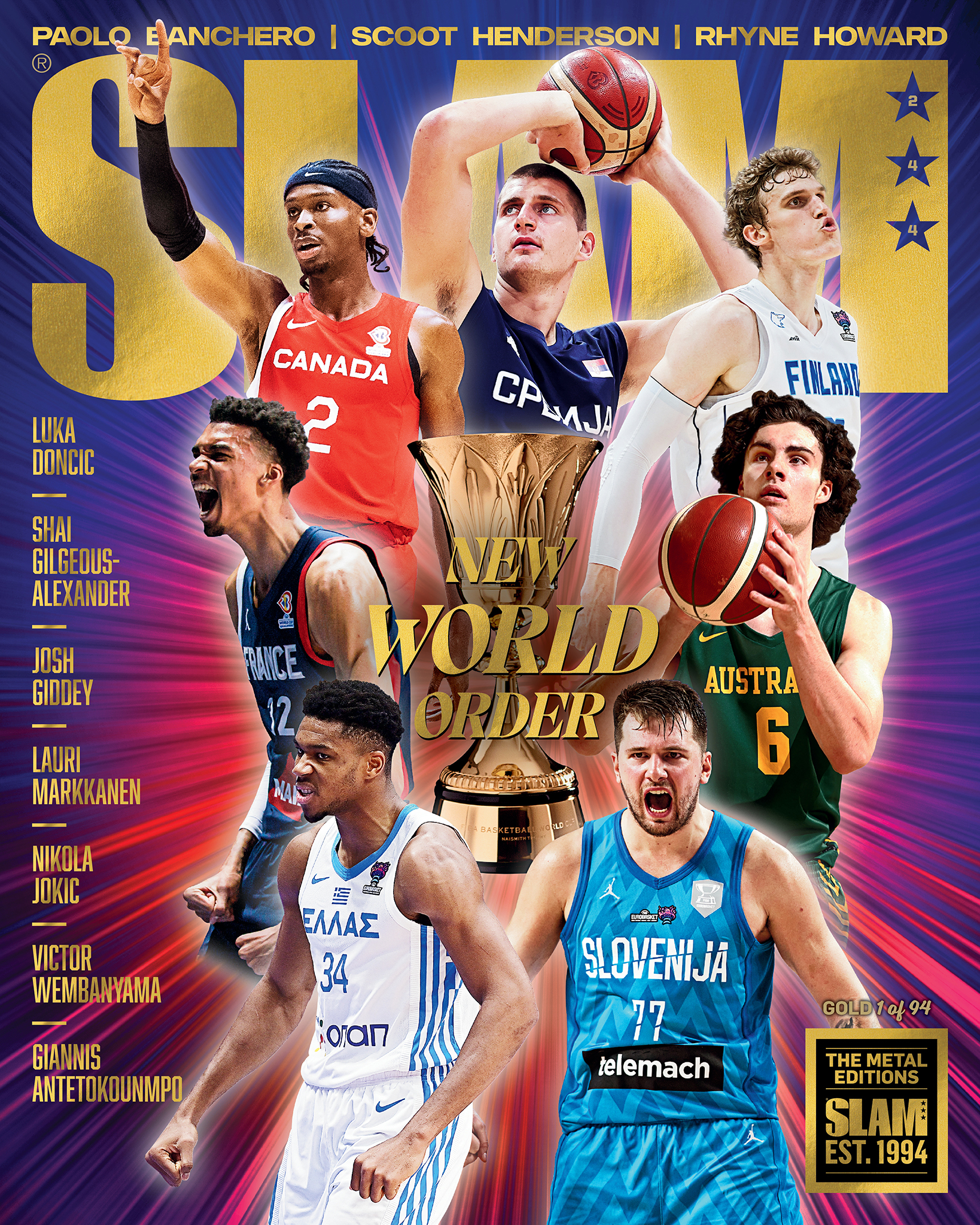 Photos via Getty Images.